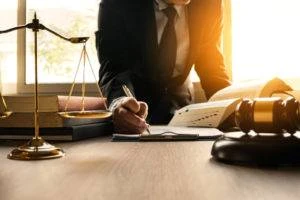 Truck drivers for UPS are supposed to safely deliver packages to your home. But if drivers don't adhere to safety standards and the rules of the road, it can result in a severe car accident. In a severe accident, you can get injuries that can prevent you from doing the things you love and result in expensive medical bills.
Our team of UPS truck accident attorneys in Long Beach, NY, at Morelli Law Firm can help you discover your options for compensation if you have a case. We're passionate about our work, and if you qualify for a case, we can fight for your rights.
Long-Term Impacts of a Car Crash with a UPS Truck
If you were in a car accident with a UPS truck in Long Beach, NY, the impact of the truck can cause severe and lifelong injuries. Some of the most common injuries with long-term consequences in a UPS truck crash are:
Traumatic Brain Injury
A traumatic brain injury (TBI), a form of brain damage, is one of the most common types of severe injuries that you can suffer in a UPS truck accident. A TBI usually results from a strong impact to the head that damages the brain tissue. It's important to get treatment as soon as you can to lessen the severity of the consequences of your injury.
A TBI can cause a variety of health issues such as memory loss, paralysis, mood changes, difficulty concentrating, difficulty learning new things, and changes to your vision. These long-term effects can make it hard for you to do everyday things.
Spinal Cord Injury
A spinal cord injury is another common injury that has long-term effects that you can sustain in a truck accident. This injury is also most often caused by a high impact that can occur in truck accidents. When your body gets hit with force, your spinal cord and its nerves can get damaged.
Your spinal cord is responsible for your reflexes and the overall ability of your brain to send messages to your limbs so you can move. If your spinal cord was damaged in a car accident with a UPS truck in Long Beach, NY, you may experience issues like loss of sensation in your hands or feet, difficulty breathing, lack of coordination, difficulty walking, and loss of bladder control.
Burns
If you were in a UPS truck accident where there was any type of explosion, you may have been burned. Small burns will heal with time, but larger and deeper burns can leave permanent scars and consequences.
Severe burns from a truck accident can cause weakness in the area of the burn, nerve damage, post-traumatic stress disorder, and disfigurement. These long-term consequences can significantly affect your ability to return to your normal activities.
Before you contact a UPS truck accident lawyer in Long Beach, NY, you should get all your injuries diagnosed. This will give your attorney a better idea of your potential damages and settlement if you qualify for a case.
Damages Available After a Car Accident with a UPS Truck in Long Beach, NY
After a car crash with a UPS truck, medical providers are likely contacting you and asking you when you're going to pay them for the treatment they provided you. This does nothing but stress you out and delays your injuries' recovery time. But a UPS truck accident attorney in Long Beach, NY, may be able to help you recover damages such as:
Loss of income
Pain and suffering
Loss of enjoyment of life
Current and future medical costs
In-home services
Mental anguish
Loss of society
Depending on the details of the UPS truck accident you suffered and the severity of your injury, you may qualify for a case and some of the damages listed above. If you'd like to get a free estimate of your case's value, one of our lawyers can evaluate your situation.
How a Lawyer Can Help You Prove Negligence in a UPS Truck Accident
One of the most important things in a strong UPS truck accident case is evidence. When you have strong evidence, one of our UPS truck accident attorneys in Long Beach, NY, can easily demonstrate who was liable for the truck accident.
After one of our truck accident lawyers has established that you have a case, you and an attorney from our firm can start collecting evidence to prove the negligence of the proper parties. As lawyers, our team can access essential information like truck drivers' logs and maintenance records which can help you prove negligence.
If you try to prove the parties' negligence without an attorney, you can lose your case due to the lack of relevant evidence and the knowledge of effectively presenting it. Our lawyers have years of experience working with UPS truck accidents, so they know how to handle your case.
Contact Morelli Law Firm to Talk to Our New York Attorneys
If you were in a car crash with a UPS truck, our UPS truck accident lawyers in Long Beach, NY, can help you determine what to do next. We can take a look at your UPS truck accident situation and confirm if you have a case. At Morelli Law Firm, we care about your physical and financial recovery.
If you'd like a free case evaluation, call us or fill out the contact form on our website.