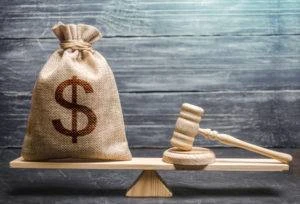 Like all personal injury lawyers, truck accident attorneys typically charge their clients on a contingency fee basis. That means that they only get paid if they are able to secure compensation for their clients.
While the percentage that a truck accident lawyer receives can vary, in standard cases, truck accident lawyers will receive 33-40% of the total compensation they are able to secure for their clients.
How Does a Contingency Fee Work?
When people think about the cost of hiring a lawyer, they typically think about being charged another line item for every action that their lawyer will take in their case. However, with personal injury lawyers, the procedure is a bit different. In most cases, truck accident attorneys work on a contingency fee basis.
This means that they only receive payment for their services if they are able to get money for their client. Before hiring a truck accident lawyer, they will explain how they will receive a percentage of your compensation package along with the exact percentage they will take. Often the percentage will be lower if the case settles out of court than it will be if you go to trial.
There is no risk in this procedure, as you will never pay them a single cent out of pocket. The lawyer's fee comes entirely from the money you receive from the liable party. Even if yours is one of the rare personal injury cases where your lawyer fails to recover any compensation, you won't be any worse off financially.
Have You Been Injured In An Accident? Contact Morelli Law
877-751-9800
Those Who Hire an Attorney Often End Up with More Money
Forty percent sounds like a lot of money, which it certainly can be. If your attorney is able to secure you compensation in the amount of one million dollars, they will take home 400,000, and you'll be left with 600,000. Many people hear these numbers and think that they will be better served in representing themselves and taking home all of the money they receive.
However, this approach is unlikely to work in your favor. Studies have shown that even after paying a personal injury lawyer, accident victims will likely end up with more money than they would have through self-representation.
Where a lawyer might be able to secure one million dollars for their client, it is unlikely that the client would succeed in retrieving 600,000 dollars on their own. While there certainly are exceptions where an accident victim is able to win ample compensation on their own, these cases are rare. Most of the time, your finances will be in much better shape with a professional.
Hiring a Lawyer Can Reduce Your Stress Levels
In addition to most likely receiving more compensation by hiring a truck accident attorney, you also minimize the stress of the process by doing so. Even in the small percentage of cases where an accident victim can recover more money than what they would have received after a lawyer has deducted their fee, it is still often worth hiring an attorney.
The amount of work and stress that goes into building your case, negotiating with insurance companies and lawyers, and potentially fighting your case in court is so significant that it is unlikely worth the trouble. It is typically much better to have an experienced professional come in and take over the whole process for you.
With an experienced truck accident lawyer on the case, you can feel confident that you will likely end up with more money, while not having to do all of the heavy lifting yourself. When dealing with a serious injury, the last thing you need is the stress of fighting a legal battle. Hiring a lawyer is typically going to mean a win on all fronts.