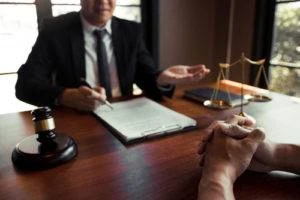 Businesses engage in different transactions on a day-to-day basis. No matter how careful a business might be about their transactions, conflicts may still occur. When these conflicts happen, our role as legal counsel is to help you settle your case as fairly and cost-effectively as possible.
Taking into consideration the high costs of litigation, we encourage our clients to adopt pragmatic strategies and policies and expedite litigation only when it is unavoidable. In the event of unavoidable litigation, we strive to understand your needs and mobilize cost-effective strategies that align with your business interests.
Our legal team can work with you to assess the ramifications and legal implications proceeding with litigation might have toward your business. Whether you are a defendant or a plaintiff in commercial litigation, we aim to fight for your business objectives.
Let us provide your business with aggressive representation both in and out of the courtroom. Contact the Morelli Law Firm at (212) 751-9800 for a free case evaluation. One of our team members can explain how a Yonkers commercial litigation lawyer may be able to help you with your case.
Our Commercial Litigation Services May Be Useful for Various Cases
Our practice covers a spectrum of litigation services. Our lawyers handle arbitrations, administrative proceedings, hearings, trials, and appeals for disputes involving the following areas:
Breach of Contracts
Noncompliance with contract provisions is one of the most common commercial disputes in businesses. Examples of a breach of contract include issues like delays in performance, defective products, and late payment. In situations like these, our lawyers may review your case and determine if a breach of either party's legal obligations occurred based on what is indicated in the contract.
We may then seek resolutions of claims before filing a lawsuit. If the informal resolution does not work, our legal team will not hesitate to escalate the issue to a lawsuit. Some common cases involving breach of contract include:
Non-payment of goods and services
Non-delivery of goods and services
Breach of royalty agreements
Breach of contract involving lease agreements for commercial property
Breach of a shareholder agreement
It is important to be aware that there are time limits for filing commercial litigation lawsuits. According to the New York Civil Practice Law & Rules (CVP) §213, you generally have six years to bring a lawsuit against another party about a breach of contract.
If you have concerns about a breach of contract, feel free to contact our legal team at the Morelli Law Firm. You can call us at (212) 751-9800 and ask any questions you might have about your case. A team representative may help you and discuss what legal options you might have.
Trademark and Trade Secrets Protection
In a bid to create brand value, companies often file for trademarks to set themselves apart from their competitors. With a recognizable brand name for goods and services, a company can value their products a bit higher than the going rate. Additionally, a good brand name helps potential customers remember and identify with a company and purchase their products.
After having a unique product or service, it becomes imperative to protect it. Our lawyers are ready to fight hard for your company and represent you in trademark litigation.
Wrongful Termination
When operating a business, you might find yourself entangled in a dispute about an employment agreement, compensation, or severance pay. Navigating through employment law by yourself can be difficult. However, the good news is that our legal team can handle such cases.
If you are an employee who was wrongfully terminated, you might be entitled to compensation and other benefits, depending on your employment agreement. Our lawyers may try to negotiate with your employer in an attempt to avoid having to go to court. However, in the event that a court trial is unavoidable, our legal team can prepare your case and serve as your advocate.
Negligence and Malfeasance
Corporate malfeasance issues arise in companies when executives or employees use the company's resources to achieve illegal goals. Corporate malfeasance can arise in many different ways, such as fraud, embezzlement of finances, and failure to monitor performance metrics (e.g., income and debt to asset ratios).
Legal issues revolving around malfeasance can be dangerous due to the potential criminal penalties that may be connected to them. However, our lawyers understand this complexity. We aim to protect your business and pursue damages you might be entitled to collect.
Corporate Tax Evasion
When a company deliberately evades paying taxes or becomes dishonest about reporting their taxes, they may be held liable for tax fraud and evasion. An independent authority might launch an in-depth investigation into a company's taxes in a bid to establish tax evasion and recover the undercharged tax. According to the New York Department of Taxation and Finance, tax evasion is illegal and may give rise to substantial monetary penalties.
There are many reasons why your business might be audited and sued for tax evasion. However, regardless of the case, seeking legal representation might help you defend yourself against alleged claims of tax fraud or evasion. Our legal team may review your case and determine a strategy to build your defense.
Whistleblower Cases
Whistleblowers are invaluable members of society. They display sheer courage to expose wrongdoing, injustice, or corruption. At the core of our practice, we believe in accountability, justice, and fairness. For that reason, we represent whistleblowers in litigations. Our legal team can offer support and legal guidance to help you as a whistleblower understand the possible outcomes of litigation and the legal avenues there may be for you and your case.
Contact the Morelli Law Firm Today
The Morelli Law Firm offers creative solutions to a spectrum of commercial litigations. Whether you are bringing a lawsuit or being sued, we do our investigations to understand the problem and protect your interests. If your business is in an uncomfortable legal situation, do not hesitate to contact us at (212) 751-9800 to speak with a Yonkers commercial litigation lawyer.