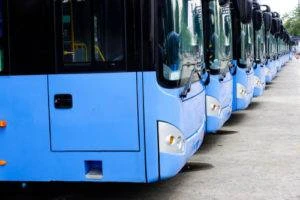 If you or a loved one suffered injuries due to the negligence of a bus driver or bus company, you might be able to fight for compensation. Our bus accident lawyers in Yonkers are ready to work with you throughout the litigation process.
Our team at the Morelli Law Firm can investigate the cause behind the accident, compile supporting evidence, and pursue the compensation you may be entitled to collect by law.
While there are similarities between car accidents and bus accidents, the underlying legal issues in the latter can be far more complicated. Nonetheless, our attorneys understand the nuances and intricacies in such cases and are ready to tackle the hurdles.
A Bus Accident Lawyer From Our Firm Can Help You Fight for a Fair Settlement
Bus accidents are often chaotic. As a result, people involved in bus accidents can suffer serious, life-altering injuries and even death. In addition, if you were involved in a bus accident, you might face a challenging financial situation due to your injuries or accident-related damages.
A lawyer from our firm can help you file an injury claim or lawsuit to pursue the money you need to recover from your losses.
At this time, you might have enough to deal with without the additional hassle of managing a lawsuit. However, with the help of an attorney, you can focus on healing while your lawyer handles your case. You may also want to choose to work with an attorney on our team because:
We Handle All Communications With the Insurance Company
Insurance companies might offer you lower compensation than what you are entitled to receive based on your damages. Understandably, insurance companies make their profits through premiums, not by paying out claims. For that reason, they work with adjusters and lawyers to find reasons to lower their coverage amounts or deny your claim altogether.
We Identify All Liable Parties
More than one party may be involved in the cause of your accident, and they might be financially liable for your accident, too. By handling your case yourself, you might not be able to identify other at-fault parties, potentially missing out on additional compensation for your losses.
A Yonkers bus accident attorney can thoroughly investigate all aspects of your claim by:
Speaking with witnesses

Getting a copy of your police report

Visiting the scene of your accident

Working with experts
Our investigation helps us determine who caused the accident and allows us to gather evidence that supports your account of what happened.
We Protect Your Rights
The defendants may try to put the blame on you for causing the accident. This strategy may affect the amount of compensation you are likely to recover. Our lawyers have your legal interests at heart and will fight for you against such claims.
We Calculate a Value for Your Claim
It can be hard to determine the value of your bus accident case, meaning that you might be at risk of receiving a lower amount than what you are entitled to collect. However, our lawyers can calculate your damages and reach a fair monetary value for your claim.
Our Attorneys Can Help Establish Who Is Liable for Your Bus Accident
Bus accidents happen for many different reasons, and multiple parties may be at fault, making it complicated to determine liability. Our bus accident lawyers can investigate which parties might potentially be at fault for the bus accident.
We may pursue the following individuals or companies as an at-fault party in your bus accident claim:
The Bus Driver
If a bus driver failed to exercise reasonable care while behind the wheel, they might be held legally liable for your injuries. If a bus driver is found guilty of one or more of the following actions, they may be considered negligent:
Driving under the influence of alcohol and drugs

Speeding

Running a red light

Driving while drowsy

Driving while distracted, such as texting while driving
In some cases, you may sue the bus driver, taking them to court. However, you also have an option to settle the claim with insurance agents in many situations.
The Bus Company or the Owner of the Bus
Bus companies have an obligation to hire and train qualified staff. Additionally, they must buy safe buses and inspect and maintain them regularly. Therefore, if you get into an accident caused by a bus malfunction, you might be able to hold the bus company or the owner responsible for your injuries and losses.
The Bus Manufacturer or the Bus Parts Manufacturer
A defective component in a bus may cause a bus accident. In this case, you might be eligible to file a product liability lawsuit against the manufacturer. To prove this, our lawyers may conduct an independent investigation to verify whether the bus had defects before the accident and whether the defects caused the accident.
Other Negligent Parties
Bus drivers and companies are not always responsible for the accident. Other parties, such as motorists, pedestrians, or cyclists, can contribute to the bus accident. Based on New York's comparative negligence doctrine in the CVP § 1411, you may recover damages from anyone who shares the fault.
The Statute of Limitations for Personal Injury Cases
Keep in mind that you have a limited amount of time to file your personal injury claim or lawsuit for your Yonkers bus accident. According to CVP § 214, you only have three years from the date of the accident and your injury to pursue compensation via a claim or lawsuit.
While three years may seem like a lot of time, symptoms of your injuries may not appear right away and could manifest months down the line. Filing a claim early not only allows you enough time to consider all aspects of your accident, but it gives your Yonkers bus accident lawyer the time they need to build your case and maximize your compensation.
What if I Was Injured in a City Bus Accident?
In some cases, you may experience a bus accident involving a vehicle operated by the city of Yonkers. The state of New York uses a different statute of limitations for these accidents, found under GMU § 50-E. In these cases, you may only have 90 days to file your claim.
What if My Child Was Injured in a School Bus Accident?
Accidents involving school buses can add an extra layer of complication to your personal injury claim. These accidents can involve multiple vehicles and children, often increasing the stress associated with handling the claim.
The statute of limitations for children injured in school bus accidents is different. Because they are minors, the statute of limitations for their right to compensation is tolled until their 18th birthday, at which point the three-year deadline begins.
If you are an adult, you may also have less time to move forward with a claim involving a school bus, since school districts are also government entities. Suing a school district can be tricky. Because they have sovereign immunity, proving negligence can be more challenging.
Allow us to help you get started right away.
Our Team Wants to Fight for Your Financial Recovery
Following a bus accident, you may have the legal right to pursue compensation for a personal injury claim caused by the negligent parties. Our bus accident attorneys in Yonkers want to fight for your compensation, especially if you suffered damages, such as:
Medical expenses for treatments, hospitalizations, therapies, and medications

Lost wages and loss of earning capacity

Disfigurement or permanent disabilities

Pain and suffering

Mental anguish

Vehicle repair or replacement costs
In some situations, you may also receive punitive damages after a bus accident in Yonkers. These damages act to penalize the driver who caused your accident instead of relating directly to the losses you experienced. Not all bus accident cases provide you with punitive damage.
Many individuals wonder how much compensation they can receive following a bus accident. The damages available in your case vary based on the facts surrounding the accident. Your lawyer can assess the specifics of your case to provide you with more information.
We Achieve Winning Results for Our Clients
At Morelli Law Firm, we are passionate advocates for our clients. If you sustained injuries due to someone else's negligent or reckless actions, you should not have to bear the financial burden of those actions on your own. Take a look at some of the verdicts we have won for our past clients:
$12 million

for the estate of an 85-year-old man who was struck and killed by an MTA bus

$3.5 million

for a woman who got run over by a New York City Transit Authority bus

More than $2.2 million

for seven passengers injured while traveling on a bus from New York through South Carolina
We use our decades of combined experience to help clients in your situation. While we have many successful cases in our history, we treat every case we take on as a unique challenge, providing personalized support for clients like you.
We also maintain open communication throughout your claim to answer any questions that arise as we resolve your case. Take proactive steps to secure compensation today.
Call the Attorneys at Morelli Law Firm to Represent You
If you or a loved one was a victim of a bus accident, Morelli Law Firm could help you file a claim or lawsuit. Our initial consultation is always free, and we work on a contingency-fee-basis, meaning that you owe us no attorney's fees unless we win your case.
Call us for a free case evaluation and learn how a Yonkers bus accident lawyer can help you with your case.