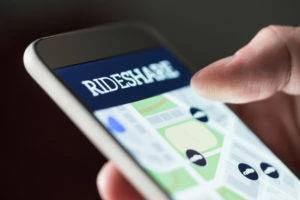 If you were injured in an accident involving a rideshare vehicle in Yonkers, our personal injury law firm can help you seek compensation from the rideshare company or their insurance provider. When a ride in an Uber or Lyft results in an accident, you might be entitled to receive payment for your medical care, lost wages, pain and suffering, and more.
We can help you identify the cause of the accident, prove the value of your injuries and their related expenses, and understand the rideshare company's insurance coverage limits. When you are ready to get the compensation you deserve, our rideshare accident lawyers can help you build a solid case for financial recovery and negotiate a fair settlement.
Put the power of our legal team behind your pursuit of compensation.
Getting Compensation After a Rideshare Accident
When you log into a rideshare app to request transportation, you expect a safe ride from your location to your destination. If you are injured in an accident with a rideshare vehicle as a passenger, as the occupant of another involved vehicle, or as a pedestrian, you are entitled to compensation.
According to New York Insurance (ISC) §5102, the financial damages you can recover include:
Accident-related medical care
Accident-related financial losses
Vehicle repair or replacement
Lasting physical impairments
Physical pain and suffering
Mental and emotional angst
These damages can easily be divided between economic damages and non-economic damages.
Economic Damages
Economic damages are the simpler of the two. These include anything that has a direct monetary value, such as medical bills, lost income, and property damage. All these damages are financial losses incurred by an accident victim. They can be replaced directly with equal value in compensation.
Non-Economic Damages
Non-economic damages are far more complex. It is much more difficult to assign a dollar figure to things like pain and suffering or lowered quality of life caused by a permanent disability. Quantifying these damages is impossible. Unfortunately, it is the best option available through our legal system for providing compensation.
Because the things covered under non-economic damages tend to be priceless, these damages tend to make up the greatest portion of a compensation package.
In the midst of physical recovery, it can be easy to accidentally omit collision-related expenses and losses you are entitled to recover. When our car accident attorneys help assess the value of your lawsuit, we take an objective look at your post-accident expenses and ensure we include every eligible recoverable damage in your lawsuit's valuation.
Make Sure Time Is on Your Side
One of the most important things we do is remove the risks that come with an expired statute of limitations. The personal injury lawsuit statute of limitations in Yonkers is governed by New York Civil Practice Law & Rules (CVP) §214. It generally limits you to three years from the date of the accident to file your lawsuit.
After a car accident that results in injuries, it can be difficult to split your focus between recovering from your injuries and taking an active role in your personal injury case. With our support, you can focus on recovery while we build a solid case for you.
New York Insurance Requirements for Rideshare Companies
To legally operate in the state of New York, rideshare companies must provide a minimum level of insurance to cover injuries related to crashes involving their vehicles. There are strict rules regarding the amount the company must cover depending on when the accident occurred.
During an Active Trip
From the moment a driver accepts a trip until that customer has been dropped off, rideshare companies must provide a minimum of $1,000,000 in coverage.
Logged in and Waiting for a Request
When a driver is logged in to the rideshare app and is waiting for a ride request, the amount the ridesharing company is required to cover drops dramatically. In this situation, the ridesharing company must provide $50,000 in coverage per person and $100,000 per accident.
Not Logged in to Application
If a driver for a rideshare company is not logged into the app at the time of the accident, the rideshare company holds no liability for the accident. They will not provide any coverage to those who have been injured.
Who Is Responsible for Paying a Ridesharing Accident Claim?
Ridesharing companies are legally required to provide this insurance coverage. However, an accident victim may still be making their claim with the driver of the vehicle rather than the company that employs them. Drivers for ridesharing companies are not true employees under the structure these companies have set up.
Instead, they are independent contractors. To become a driver with these companies, one of the requirements is that the driver obtains their own insurance coverage for the vehicle.
While the company is liable for damages if a driver fails to obtain this coverage, or if the amount of damages exceeds the coverage level of the driver, they may not have to pay a dime if the driver's coverage is sufficient.
An experienced ridesharing accident attorney in Yonkers can help you decipher whose insurance you should file a compensation claim with and when you may need to file a lawsuit instead.
Understand the Coverage of Uber's Insurance
When you rely on Uber's insurance policy for compensation after an accident involving one of its drivers, your monetary recovery might be limited to their policy maximums. Accordingly, they offer the following coverage:
If the driver is waiting for a request at the time of the accident, and their private insurance does not cover your costs, Uber provides $50,000 in bodily injury coverage per person or $100,000 per accident. They also provide $25,000 in property damage per accident.
If a ride is in progress, Uber provides $1,000,000 in coverage, uninsured or underinsured bodily injury protection, and comprehensive and collision protection. It also provides vehicle replacement costs if your car is declared a total loss, which might involve a $1,000 deductible.
Our Yonkers rideshare accident attorneys can help you understand Uber's coverage, communicate with requests for information from their insurance company, complete and submit claim forms, and provide evidence of your right to recovery.
Understand the Coverage of Lyft's Insurance
If you are involved in an accident with a Lyft driver waiting for a ride request, they might be required to request coverage from their own insurer. If their request gets denied, Lyft's insurance policy might provide the following coverage:
$50,000 per person in bodily injury protection
$100,000 per accident for bodily injury protection
$25,000 per accident for vehicle damage or loss
In addition to the coverage above, if a driver is on the way to pick up a passenger or is actively engaged in transporting a passenger, Lyft offers these protections:
$1,000,000 in third – party liability coverage
Uninsured and underinsured motorist coverage
Contingent comprehensive and collision coverage
If your car is declared a total loss, a deductible of $2,500 is assessed. We can help you decipher Lyft's insurance policy and determine whether to seek compensation from the at-fault driver's insurance policy or Lyft. We can also help you deal with insurance company claim forms and paperwork.
What Does a Ridesharing Accident Lawyer in Yonkers Do?
After you have been injured in an accident, hiring a Yonkers rideshare accident attorney should be one of the first steps you take to get your life back on track. When you hire a lawyer in these cases, one of the first actions they will take is to begin an investigation into your accident. Common steps they will take include:
Visiting the scene of the accident to take pictures and gather evidence
Collecting witness testimony
Consulting experts
Obtaining a copy of the official police accident report
Reviewing your medical records related to injuries sustained in the accident
Once they have completed their initial investigation, your attorney will then review the full range of damages you have suffered and calculate the total value of your claim.
Next, your lawyer will prepare your lawsuit or insurance claim and file the appropriate paperwork with the court or insurance company. Then, your lawyer will begin preparing for a potential courtroom trial. Finally, if necessary, your lawyer will represent your interests in a courtroom trial.
After your lawyer has submitted your lawsuit or compensation claim, they will enter into negotiations to attempt to reach a fair settlement agreement. Throughout the process, your attorney will keep you up to date on all the latest developments in your case, including any settlement offers, and provide legal counsel.
The Cost of Hiring a Yonkers Ridesharing Accident Lawyer
After an accident in which you have sustained significant injuries, the last things you need to worry about are additional costs and fighting a legal battle. Fortunately, when hiring an experienced attorney, you avoid both. A ridesharing accident lawyer in Yonkers will take charge of your legal battles, allowing you to focus on recovering from your injuries.
What's even better is that they will do it at no cost to you. Personal injury lawyers work on a contingency fee basis. That means that they only get paid if you receive compensation. When you receive a payout, your lawyer's fee will be assessed as a predetermined percentage of the compensation package. That means you will never pay a penny out-of-pocket.
In the majority of cases, those who hire a lawyer receive a significantly greater compensation package (even after a lawyer's fees have been deducted) than those who attempt to fight for compensation without legal representation.
We Fight Hard for Injured Clients
Our rideshare accident lawyers treat each Uber or Lyft crash as unique. We never provide one-size-fits-all legal services. Instead, we listen to you with compassion and empathy and build a case based on your unique circumstances, financial picture, and desired outcome. Let us present your evidence to the insurance company to strengthen your case, including:
Medical records
Employment history
Crash report
Photos and videos
Witness testimonials
We keep track of your expenses, gather your evidence into a comprehensive file, and present it to the at-fault driver's insurance company. We also negotiate on your behalf to ensure you receive a favorable settlement or represent you in court if a settlement cannot be reached.
Is It Better to Settle or Go to Court?
When dealing with a ridesharing company, lawsuits can get confusing. Because of the fact that drivers for these companies are technically independent contractors, it can be difficult to know who to file against and how to deal with a claim. Fortunately, a ridesharing accident attorney is well aware of the intricacies involved.
When negotiating with a rideshare company, a driver, or an insurance company, it is important to come from a position of power. That's why you should always be prepared and willing to take a case to court. However, despite being ready to go to court, in most cases, it is best if you can avoid it.
Taking a settlement offer will save you a lot of time and energy. Additionally, taking a deal means that you will avoid the uncertainty of a courtroom trial. Unfortunately, the other side may not always be willing to agree to a fair settlement deal. If you are forced to battle it out in court, the silver lining is that you have the potential to take home a greater payout than you would get in an out-of-court settlement.
Contact a Rideshare Accident Attorney in Yonkers Today
Were you injured in an accident involving a rideshare vehicle and driver? Our team of Uber and Lyft rideshare accident lawyers is waiting to help you build a car accident case that leads to financial compensation. When you are ready to fight for compensation, the personal injury attorneys at Morelli Law Firm are here to fight with you.
If another driver's recklessness or negligence caused the accident, you are entitled to monetary recovery. Get the compensation you deserve by calling for a free case evaluation today.