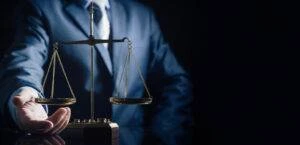 Morelli Law has been a trusted commercial litigation law firm for decades. Whether you need representation in a contract dispute, a bankruptcy proceeding, or a complex business tort case, our team of experienced St. Louis commercial litigation lawyers can provide effective advocacy and counsel at every stage of litigation.
As a business owner involved in a legal dispute, you want representation from St. Louis personal injury attorneys who know and understand commercial law and can strategize to achieve the best outcome.
Our commercial litigation department has helped numerous local and national companies effectively resolve issues involving breach of contract, fraud, trademark infringement, and more. If a trial is necessary, we aren't intimidated by corporate giants or their legal teams. We're ready to fight for the rights of your enterprise.
What Is Involved in Commercial Litigation?
Commercial litigation refers to legal disputes that arise between businesses or between a business and individual(s) over a contractual agreement or business transaction.
Common causes of commercial litigation might include:
Breach of contract
Fraud
Misrepresentation
Copyright or patent infringement
Employment disputes
When a legal issue arises involving your company's contracts, intellectual property, or business dealings, having experienced legal counsel can be critical.
Complex commercial litigation cases often involve extensive pre-trial procedures like motions, depositions, and discovery. If a negotiated settlement can't be reached, the case may go to trial before a judge or jury.
Retaining a qualified commercial litigation lawyer in St. Louis provides important advantages like:
In-depth understanding of commercial law and litigation strategies
Ability to effectively gather evidence and question witnesses
Knowledge of how courts interpret contracts and business disputes
Credibility and negotiation skills to secure favorable settlements
Why Choose Morelli Law?
With decades of experience handling complex business litigation cases, Morelli Law has the skills and track record St. Louis companies rely on. Key reasons to choose our firm include:
Seasoned Litigators:

Our trial attorneys focus exclusively on litigation. We know what it takes to build strong cases and handle trials.

Business Savvy:

Beyond the legal expertise, we understand how companies work and the impacts disputes can have. Our advice considers both legal and business implications.

Proven Results:

Our record of successful verdicts and settlements proves we know how to effectively advocate for clients. We aren't intimidated to go to trial when necessary.

Client Focus: Morelli Law takes time to understand each client's specific needs and objectives. We tailor legal strategies to efficiently resolve issues for our clients.
Our Approach to Commercial Litigation
When you choose Morelli Law for a business dispute, our commercial litigation attorneys follow a focused process designed to protect your interests and resolve issues advantageously:
Investigate Thoroughly
We dig into the details to build the strongest case foundation possible. This includes reviewing contracts, communications, financial records, and other evidence.
Determine Strategy
Based on the particulars of your case, we devise legal theories and strategies tailored to secure the best outcome according to your goals.
Pursue Settlement
When appropriate, we first attempt to negotiate favorable settlements that avoid prolonged litigation.
Litigate Aggressively
If a reasonable settlement can't be reached, we are fully prepared to litigate through motions, discovery, and trial. Our thorough preparation pays off.
Communicate Proactively
We recognize business disputes can be highly disruptive. We make it a priority to provide clients with prompt and clear updates throughout the legal process.
We Can Handle Your Business Dispute
Morelli Law has represented local and national companies of all sizes in diverse industries and guided them through many types of business-related legal conflicts, including:
Breach of contract:

We have extensive experience fighting to enforce contract terms or recover damages from breaches of all kinds. Our attorneys are skilled contract litigators.

Business torts

: We regularly pursue strong claims involving fraud, misrepresentation, unfair competition, interference with business, and other business torts.

Intellectual property:

Our lawyers are prepared to prosecute or defend copyright, trademark, patent infringement, and other IP claims. We understand the complexities of

intellectual property

disputes.

Real estate disputes

: We frequently handle conflicts over property leases, sales, boundaries, easements, titles, zoning issues, and more. Real estate law is a focus of ours.

Shareholder/partnership disputes:

We often litigate cases stemming from disputes between owners, shareholders, or partners. We know how to handle internal business conflicts.

Employment litigation: Our attorneys have successfully defended numerous companies against claims of wrongful termination, discrimination, harassment, and other employment issues.
The St. Louis business attorneys at Morelli Law have the litigation experience and strategic skills to effectively resolve these and other complex commercial law disputes.
Contact a St. Louis Commercial Litigation Law Firm Today
At Morelli Law, our commercial litigation attorneys are ready to put their experience to work for you. We understand the challenges businesses can face when confronting complex legal issues, which is why we aim to provide effective, solutions-oriented representation.
Contact us to schedule a consultation and see why many companies have relied on us as their trusted commercial litigation law firm in the St. Louis area. Resolving disputes efficiently and getting your business back on track is our highest priority.
Let us help you find practical resolutions that minimize costs and limit disruptions to business operations.