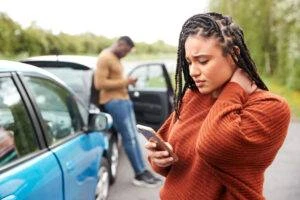 In the bustling city of St. Louis, rideshare accidents have become an unfortunate reality for many commuters. When faced with the aftermath of such incidents, the guidance of a St. Louis rideshare accident lawyer can be invaluable.
This article delves into the intricacies of rideshare accidents, highlighting their common causes and providing essential steps to be taken after an incident. If you've been in a rideshare accident, don't wait to contact a St. Louis car accident lawyer at Morelli Law Firm now.
Understanding Rideshare Accidents in St. Louis
While rideshare services like Uber and Lyft have become increasingly popular in St. Louis, it is important to understand the potential risks and legal implications associated with rideshare accidents. Rideshare accidents can occur due to a variety of factors, including driver negligence, vehicle malfunctions, and other road hazards.
In the event of an accident, it is crucial to gather evidence such as photographs, witness statements, and medical records to support any potential personal injury claims. Additionally, it is important to note that rideshare companies may have different insurance policies depending on whether the driver is actively transporting a passenger or is available for hire.
Understanding the specific policies and regulations in place can help accident victims navigate the often complex legal landscape and ensure they receive the compensation they deserve.
The Role of a Rideshare Accident Lawyer
A rideshare accident lawyer plays a vital role in assisting accident victims in navigating the legal process and seeking the compensation they deserve. When individuals are involved in accidents while using rideshare services, such as Uber or Lyft, they often face numerous challenges in pursuing their claims.
Rideshare accident lawyers are well-versed in the laws and regulations specific to these types of accidents and can provide invaluable guidance to their clients. They help accident victims gather evidence, negotiate with insurance companies, and file lawsuits if necessary.
Additionally, a St. Louis rideshare accident lawyer will understand the complexities of insurance coverage in these cases, as both the driver's personal insurance and the rideshare company's insurance may come into play.
Common Causes of Rideshare Accidents
One of the most significant factors contributing to rideshare accidents is the increased number of distracted drivers on the road. With the rise of rideshare services, such as Uber and Lyft, more drivers are using their phones or engaging in other distracting activities while behind the wheel. This heightened level of distraction can lead to a greater likelihood of accidents occurring.
Other common causes of rideshare accidents include:
Fatigue: Rideshare drivers often work long hours to meet their income goals, leading to fatigue and drowsiness. This can impair their ability to react quickly and make safe decisions while driving.
Inexperience: Many rideshare drivers are new to the profession and may have limited experience navigating unfamiliar roads or dealing with challenging traffic situations. This lack of experience can increase the risk of accidents.
Negligence: Some rideshare drivers may engage in reckless behavior, such as speeding or aggressive driving, putting both themselves and their passengers at risk.
What Should You Do In the Event of a Rideshare Accident?
After being involved in a ridesharing accident in St. Louis, it's crucial to take the right steps to protect yourself and ensure you receive the compensation you deserve. Here are some important actions to consider:
Seek Medical Attention: Your health and safety is your top priority. Even if you feel fine immediately after the accident, some injuries may take time to manifest. Get a medical evaluation as soon as possible to identify any potential injuries and begin treatment.
Document the Scene: Snap photographs of the accident scene, including damage to the vehicles involved, road conditions, and any visible injuries. This evidence can be valuable when filing an insurance claim or pursuing legal action.
Gather Information: Exchange contact and insurance information with the rideshare driver and any other drivers involved. Additionally, collect the contact information of any witnesses who saw the accident occur.
Report the Accident: Contact the police to file an

accident report

. This official documentation will be essential when filing an insurance claim or seeking compensation.

Notify the Rideshare Company: Inform the rideshare company about the accident as soon as possible. They may have specific protocols in place for handling accidents involving their drivers.
Call Morelli Law Firm:

Our attorneys

are well-versed in these types of cases. They can guide you through the legal process, ensure your rights are protected, and help you navigate the complexities of your claim.
Determining Liability In Rideshare Accidents
Determining liability in ridesharing accidents can be a complex process. Unlike traditional car accidents, where liability usually falls on the at-fault driver, ridesharing accidents involve multiple parties that could potentially share responsibility.
The Rideshare Driver
In general, rideshare drivers are considered independent contractors, which means that they are not technically employees of the rideshare company. This distinction can complicate matters when it comes to liability. In some cases, the rideshare driver may be at fault for the accident, either due to recklessness or negligence. In these instances, the driver could be held liable for any damages or injuries.
Rideshare Companies
However, rideshare companies also have a level of responsibility. They are required to conduct background checks on their drivers and ensure that they are properly licensed and insured. If a rideshare company fails to adequately vet their drivers or maintain appropriate insurance coverage, they may also be held liable for accidents caused by their drivers.
Other Parties
In addition, other parties may also be responsible for rideshare accidents. For example, if a faulty or defective part in the rideshare driver's vehicle contributed to the accident, the manufacturer or maintenance provider may be held liable.
Contact a Rideshare Accident Lawyer In St. Louis, MO
It is important for individuals involved in rideshare accidents to seek the assistance of a St. Louis rideshare accident lawyer. These lawyers play a crucial role in helping victims understand their legal rights and pursue compensation for their injuries.
By taking the necessary steps after an accident and seeking appropriate legal representation, victims can increase their chances of receiving the compensation they deserve. Contact Morelli Law Firm for a free case evaluation now.