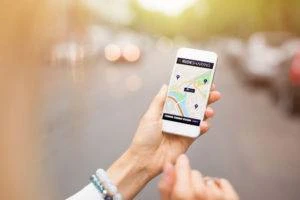 Sorting out potentially liable parties and the intricacies of insurance policy is an extra headache you shouldn't have to deal with after a rideshare accident. If you or someone you love was injured in a car crash involving Lyft or Uber, you can count on Morelli Law Firm for help.
A Philadelphia Lyft accident lawyer will seek just compensation on your behalf. You can learn more about your legal options and next steps during a free consultation with us. The sooner you start, the sooner we can get to work for you.
Legal Counsel Can Give You an Advantage in Personal Injury Cases
Securing legal counsel after a Lyft car accident can ease the burden of figuring out how to pay your medical bills, support your family, or pay for property damage while you recover. Generally, people with legal representation receive on average higher compensation than those without it in claims against insurance companies.
We'll Pursue the Maximum Monetary Compensation
The personal injury attorneys at our firm will seek damages that can cover various losses, such as:
Lost wages
Reduced earning ability
Medical bills
Rehabilitative care
Car or property repairs
Mental anguish
Permanent disability
Persistent physical pain
Loss of enjoyment of life
Loss of intimacy with a spouse
Any number of injuries suffered in a car crash may entitle you to monetary compensation from the negligent or liable party. This includes common injuries like:
Broken or fractured bones
Loss of a limbs
Traumatic brain injury (TBI)
Back, neck, or spinal injuries
Whiplash
Muscle strains
Concussions
Organ damage
Internal bleeding
Paralysis and more
Our Lyft Accident Attorneys Will Determine Your Case's Value
On your own, you may not know what your case is worth. Our attorneys serving Philadelphia will calculate the value of your case by itemizing your losses, investigating their costs, and assigning them a monetary value.
We Will Hold the Liable Parties Accountable
In these types of cases, it's hard to know who to file a personal injury claim against. There may be more than one person responsible for your Lyft accident. Multiple liable parties could mean financial responsibility lies with more than one person or entity. Potentially liable parties could be:
The rideshare driver
The driver's insurance provider
The rideshare company
The rideshare company's insurance provider
Third-party vehicles
Pedestrians
Automobile manufacturer if a defective vehicle is to blame
Local government if the infrastructure is to blame
We work to pinpoint the rideshare accident's cause and identify all who may be responsible. If the applicable insurance does not cover all your losses, pursuing the other liable parties allows you to seek full compensation.
Our Accident Lawyers don't Shy Away From the Courtroom
Should your insurance claim be met with resistance, e.g., denied or reduced unjustly, our Philadelphia accident lawyers will file a lawsuit against the insurance companies to get you the financial award you need and deserve. We will file your case before the statute of limitations in Pennsylvania expires. The state gives two years from the accident date to file your case, per Pa. C.S.A. § 5524
There Are No Upfront Costs for Our Services
Our firm does not collect any fees, which means we're ready and available to aid you in your case right away. We charge only if we secure you a financial outcome.
How You Could Receive Financial Compensation
Before pursuing any legal action, your first resort for compensation is tapping the liable party's insurance. When companies like Lyft or Uber are involved, insurance coverage can get complicated.
Rideshare Networks Must Provide Insurance Coverage in Pennsylvania
There was a time when ridesharing companies, legally known as "transportation network companies" or TNCs, were not allowed in Philadelphia. It was the only city in the state to ban their operation. Pennsylvania's governor legalized rideshare activity for the entire commonwealth in 2016 but not without specific protections in place for drivers and passengers.
Pennsylvania requires TNCs and their drivers to carry a minimum amount of insurance coverage. In fact, insurance that a rideshare network provides acts as the primary insurance from the moment a driver accepts a ride to when he drops off a passenger.
State law recognizes two distinct periods in which TNCs must provide insurance coverage:
When the driver logs on to the rideshare platform and is available for rides
When the driver accepts a ride request or is transporting a passenger
Lyft Covers Drivers When They Have Its App on
If the driver is logged in to Lyft's app but has not yet received a ride request, Lyft's third-party liability insurance kicks in.
While the driver is signed in to the app waiting for a ride request, Lyft provides the legal minimum coverage:
$50,000 per person for bodily injury
$100,000 per accident for bodily injury
$25,000 per accident for property damage.
First-party medical insurance is also provided to Lyft drivers in Philadelphia and around the state by law.
Drivers Picking up Passengers Receive Maximum Coverage
Once the driver accepts a ride request, travels en route to pick up the passenger, or transports the passenger, he is automatically covered by Lyft's primary third-party liability insurance. Additionally, he receives medical pay benefits. Lyft maintains third-party auto insurance well above the Pennsylvania requirement of $500,000. Coverage for this period of driving includes:
$1,000,000 for death, bodily injury, and property damage
Uninsured/underinsured motorist protection
First-party medical pay
Contingent comprehensive and collision insurance
Pennsylvania does not require uninsured/underinsured motorist insurance. Lyft has added it to its policy at will; however, the company does not specify the amount of protection it provides.
By law, TNCs must give first-party medical benefits such as PIP (personal injury protection) or MedPay. Lyft does not openly specify the amount. Pennsylvania requires a minimum of $25,000 for passengers and pedestrians and $5,000 for the driver.
Offline Drivers Are Not Covered
Rideshare companies are under no obligation to cover a driver who is not logged in to their platform. If you experience an accident while offline, your personal car insurance is liable for the damages.
How to Direct Your Personal Injury Claim
If the Lyft driver is at fault, your compensation could come from the insurance coverage Lyft provides or the driver's personal insurance. However, Lyft drivers injured because of another party's fault will file a claim against the at-fault party's insurance. If the third party does not have insurance or their coverage is insufficient, uninsured/underinsured motorist protection may cover the driver and their passengers.
Lyft Safety Precautions to Prevent Accidents
To avoid Lyft ridesharing accidents, the company has put together several tips and requirements (some by law) to ensure safety, including:
Requiring six-hour breaks from driving to prevent fatigue
Encouraging hands-free cell phone use
Zero tolerance for driving under the influence of drugs or alcohol.
Annual or biannual vehicle inspections
Driving record checks
Background checks
Our Philadelphia Lyft Accident Lawyers are Here for You
Despite all these safety precautions, motor vehicle accidents still happen. If you've suffered injuries from a Lyft car accident, Morelli Law Firm's Philadelphia Lyft accident lawyer can assist you in your pursuit of a civil remedy.
Call (212) 751-9800 for your free case evaluation today.