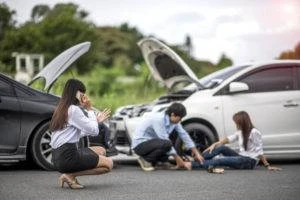 Lyft drivers and passengers can both face lifelong losses after ridesharing accidents. Neither Lyft drivers nor their passengers nor third-party drivers have to face the aftermath of an accident alone, though. Instead, you can turn to Albany Lyft accident attorneys.
New York allows injured parties in a Lyft accident to pursue compensation under certain circumstances. If you are unsure what to do after an accident, you can rest easy knowing that the Morelli Law Firm team is here for you. We have recovered several million dollars for car crash victims throughout New York, and we're ready to put our expertise to use for you.
Who Can File a Claim in Lyft Accident Cases?
In the aftermath of a Lyft accident, you and other drivers have to ask yourselves: who is liable for this accident? New York operates on a no-fault standard. This means that each person who suffered losses in the accident has to file a claim with their own insurer. Only after residents file their claims can they pursue additional avenues for compensation.
That said, whose insurance you're protected by during an accident varies in a Lyft. Some circumstances can see your losses reimbursed by Lyft, while others may not.
The Rights of En-Route Drivers
Lyft drivers who have accepted a request for a ride or who have a passenger in their vehicle at the time an accident takes place are protected by Lyft's company insurance. These individuals can file insurance claims through the company for immediate compensation.
Should a Lyft deny a driver's request for support, though, the driver may pursue a case in civil court. Our Lyft accident attorneys in Albany may only issue this case on behalf of the injured driver as opposed to on behalf of Lyft, the company.
The Rights of Waiting Drivers
A Lyft driver who is not actively on the road may still be protected by Lyft's insurance. This is only the case when the driver in question is logged into and actively using Lyft's app. Drivers on the app at the time of an accident may file insurance claims and civil complaints like drivers on duty during an accident.
Drivers who are waiting for a ride request without using the Lyft app are not covered by Lyft's insurance. These drivers must submit insurance claims with their own providers before pursuing civil suits. If these drivers' claims are denied, they may consult a lawyer and start composing a legal complaint.
The Rights of Passengers and Other Drivers
Passengers in active Lyft vehicles benefit from Lyft's insurance. As such, injured passengers must file personal injury protection (PIP) claims through Lyft before they can file civil suits against either the company or another driver.
Passengers who believe they have the grounds to file a suit against the Lyft driver may do so, but they will have to contend with Lyft's legal team throughout the process.
Other motorists hit by Lyft drivers must file PIP claims with their own insurers before considering legal action. Much like passengers intending to sue their drivers, these motorists will also have to face Lyft's legal team if they choose to pursue a civil suit.
Fortunately, doing so may open the injured driver to conversations about post-accident settlements. Our personal injury lawyers can help injured parties determine whether or not a posed settlement meets their needs and how to negotiate for more comprehensive support.
Assessing Your Damages After an Albany Lyft Accident
Your recovery after a Lyft accident may seem less daunting when you know what kind of compensation you can fight for. If your insurance provider or Lyft representative proves uncommunicative, you can work with a Lyft accident attorney in Albany to estimate how much you may deserve.
Estimating Your Non-Economic and Economic Damages
After most car accidents, injured parties may deserve economic and non-economic damages. Of the two, economic damages are simpler to calculate. These damages are the ones with pre-assigned dollar values and can include:
The cost of renting a car until yours is replaced
The cost to replace any personal belongings lost in the crash
Medical expenses, aids, and physical therapy needed to contend with serious injuries
Expenses related to your employment, should injuries prevent you from working
Comparatively, non-economic damages do not have a set material value. Rather, these damages include any pain and suffering or loss of overall enjoyment of life you may endure as a result of your accident. You can work with an attorney to reference old cases and, in turn, assign a dollar value to your distress or discomfort.
File Your Complaint Within New York's Statute of Limitations
No matter who you're filing your suit against, the state of New York only gives you a set amount of time to do so. According to New York Civil Practice Law and Rule Section 214, you have three years from the date your accident takes place to file a complaint. You will not have the opportunity to pursue compensation if you fail to deliver your paperwork within this set deadline.
Fortunately, our rideshare accident attorneys can make the process of submitting essential documents simpler. You can work together after an accident to establish reasonable liability and an estimate of that compensation you may deserve.
Arrange a Free Albany Lyft Accident Case Consultation ASAP
Our team understands the stress tied up in your post-Lyft accident recovery. That is why you are under no obligation to approach your economic or legal demands on your own. Instead, you can connect with Morelli Law Firm to discuss your options for compensation.
To schedule a free consultation with our Albany Lyft accident attorneys, you can call our office or reach out via our website.