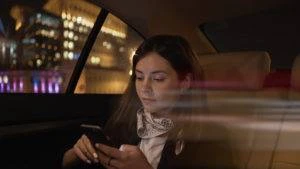 When you put your safety in the hands of another person, you want them to take that responsibility seriously. Rideshare drivers can't control every other driver on the road, though. Human mistakes can even lead to collisions that change the whole of your life.
Just because you can't control what happens on the road doesn't mean that you can't respond to it, though. Our Union City Lyft accident attorneys can fight for you as you file your rideshare claim. Whether you need representation in court or a mediator outside of it, Morelli Law Firm is here to help.
Defining Your Role in a Lyft Accident
The role you took in a rideshare accident is going to impact your course of action after the accident concludes. Note that your "role" here doesn't describe whether or not you were at fault in an accident. Rather, your role in a rideshare accident describes your relationship to both the accident and to Lyft as a company.
There are some circumstances in which Lyft will act to make your post-accident life simpler. In other situations, depending on your role, Lyft may try to redirect liability away from itself. In either of these cases, you can consult with our attorneys to better understand where you stand and how you can react to your circumstances.
What to Expect As a Lyft Driver
Lyft drivers are expected to have insurance coverage before they apply to work with the company. Lyft doesn't allow drivers without insurance to operate under the company's banner. As such, Lyft will match its on-duty driver's insurance should said driver find themselves involved in an accident.
Lyft is concerned about its bottom line, though. As such, the company may try to offset its driver's coverage. Lyft only considers its drivers to be on duty if they have passengers in the car. Drivers may also claim on-duty status if they're using the Lyft app to wait for passengers or are on their way to a passenger's pick-up.
This same definition of on-duty comes into play when considering liability in a rideshare accident. Lyft will only bear the responsibility for an accident if the company believes its rider was on duty at the time. Off-duty drivers may have to bear the legal front of an accident on their own.
What to Expect As a Passenger
When you get into a rideshare, you want to know that both the driver and the affiliated company have your best interests at heart. It's with that intention in mind that Lyft covers all passengers under its insurance policy. If you're involved in a Lyft accident, you can file an insurance claim with both your provider and with Lyft.
That said, passengers do retain the right to seek out civil suits against the applicable parties. If a Lyft driver appears liable for a passenger's losses, the passenger can file a civil suit against Lyft as a company. That said, passengers involved in accidents where an independent driver was at fault must pursue claims against that individual.
Regardless of liability, passengers will not receive any legal guidance from Lyft. Instead, you can work with an attorney through our office to determine your best course of action.
Independent Drivers Versus Lyft
If you're an independent driver who's been hit by an on-duty Lyft driver, you don't file a civil claim against that individual motorist. Instead, you'll want to take your civil claim against Lyft. While Lyft may attempt to claim that the driver in question was off-duty at the time of an accident, you still have the right to pursue your claim based on liability-establishing evidence.
That said, you can also pursue a claim against an off-duty driver. In these cases, however, you'll be pursuing a personal injury car accident case instead of a Lyft case. Either way, you can sit down with a Union City Lyft accident attorney to discuss what your legal opportunities look like.
Financial Support After a Union City Lyft Accident
Lyft accidents involve both economic and non-economic damages. As you go to file a complaint, you'll want to know what kind of compensation it is that you're fighting for. You can reference previous cases to value all your non-economic losses. That said, don't be afraid to discuss the different means through which you can increase your personal injury statement.
In general, you can request compensation for medical expenses, property damage, and lost opportunities for employment after a Lyft accident. Depending on the extent of your losses, you may even press for pain and suffering or long-term trauma.
If you lost a loved one in your accident, or you want to file on behalf of a passed loved one, you can pursue compensation for a wrongful death. Sit down with one of our representatives to talk about representation rights before getting started.
Filing a Complaint in Time in New Jersey
Make sure that you've gathered all the complaint information you need within New Jersey's statute of limitations. New Jersey Revised Statutes §2A:14-2 allows residents two years from the day a Lyft accident takes place to file a complaint with a county clerk.
If you try to file your complaint outside of this deadline, there's a good chance that you won't be able to pursue compensation through the state. Of course, you don't have to try and gather all your essential information alone. A Lyft accident attorney in Union City, NJ, can bring your case together.
If you do end up missing your filing deadline, don't think your opportunities are out the window. Our team can explore alternative means through which you can pursue compensation.
Break Down Your Case With a Lyft Accident Attorney
You never have to approach a Lyft civil suit without professional guidance. If you're not sure where to begin, give our team a call. Not only can we assess your case, but you can count on our team to:
Gather evidence to establish liability
Communicate with liable parties and their representatives
Manage negotiations
Calculate and argue in favor of your compensation package
Represent you in cases that go to trial
It's our job to make your post-accident recovery as simple as possible. Whether you need to seek medical treatment for injuries or get back on the road, our team will help you work to get your life back.
Tackle Lyft Accidents With Our Team
Contending with the legal aspect of a Lyft accident doesn't have to be as daunting as it seems. If you're ready to pursue compensation for your losses, get in touch with our Union City Lyft accident attorneys. The team with Morelli Law Firm is ready to represent you.
For more information about your upcoming Lyft accident claim, contact us for a free case evaluation. You can reach us by phone or through our online form.