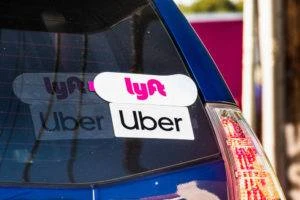 Jersey City's proximity to Manhattan means there is no shortage of Lyfts available for a quick and convenient ride. Unfortunately, although Lyft is usually a safe transportation option, accidents involving the rideshare service are on the rise. Lyft crashes can leave victims with severe injuries and expensive medical costs.
If you suffered injuries in a crash involving Lyft or another rideshare service, our legal team could help. A Jersey City Lyft accident lawyer from Morelli Law Firm can explain the recovery process and work with you on your claim. In addition, we can help you determine which insurance policies may apply in your case and negotiate a settlement that includes your future losses.
Our Lyft Accident Lawyers Can Help with Your Case
When you work with our lawyers after your Lyft accident in Jersey City, we represent your interests among the various parties involved to get you the compensation you need. Many Lyft accidents can involve severe injuries and leave you needing lasting medical treatment to recover and adjust to life after the crash.
Our Lyft accident attorneys can help by:
Explaining New Jersey accident and insurance laws and how they apply to your case
Advising you on the potential legal options available for recovery in your case
Working with medical experts and providers to determine the scope and long-term prognosis of your injuries
Gathering key evidence from Lyft, including information about the driver's background check and driving history
Contacting potential witnesses to testify about the collision
Surveying nearby businesses for surveillance or dashcam footage of the crash
Investigating all potentially liable parties and insurance policies that may apply
Negotiating on your behalf to ensure you receive a settlement value that includes all your losses
Advocating for your interests at every stage of your claim
At Morelli Law Firm, we have helped countless accident victims pursue the compensation they deserved. Our legal team has secured over one billion dollars in settlements and verdicts for our injured clients. Additionally, we work on a contingency basis with no upfront cost to you. Instead, we receive payment for our services (usually a percentage) if you recover an award.
Understanding the Types of Damages Available in a Lyft Accident Case
After a car accident involving a Lyft in Hudson County, you might have a range of damages available to cover your losses. Therefore, an essential first step of determining your case value is understanding the categories and types of damages available based on the facts of your crash.
In Lyft accident cases, you could recover economic damages for your monetary losses such as:
Medical expenses
Expected future medical costs
Lost income
Future lost wages
Property damage
Additional out-of-pocket expenses
Additionally, you could pursue noneconomic damages for these intangible losses you have due to the accident:
Pain and suffering
Loss of enjoyment
Emotional distress
Worsening of existing conditions
Additional Considerations That May Impact Your Claim Value
Depending on the specific facts of your Lyft accident, other laws or regulations could impact your recovery. For example, whether you have a standard or basic insurance policy could affect your claim. In addition, New Jersey's modified comparative negligence law (NJ Rev. Stat. § 2A:15-5.1) could also bear upon how much you recover.
Regardless of the specific circumstances involved, if you have been in a Lyft accident in Jersey City, our attorneys can help you understand the value of your case and how New Jersey laws may affect your settlement.
Insurance Considerations After a Lyft Accident
An essential aspect of pursuing compensation after a Lyft accident in Hudson County is determining which available insurance may apply to cover your injuries and other losses.
When Lyft's Insurance Policy Applies
NJ Rev Stat § 39:5H-10 requires Lyft and its drivers to provide specific insurance coverage in an accident. However, the policy limits vary and generally only apply when the driver has either logged onto the app or is in the process of completing a ride:
Driver logged on, not completing a ride:

$50,000 for death or bodily injury per person
$100,000 for death or bodily injury per incident
$25,000 for property damage

Driver completing a ride:

$1,500,000 for death, bodily injury, and property damage
At least $10,000 for medical benefit payments
$1,500,000 for uninsured and underinsured motorist coverage
When Other Insurance Policies Apply
Drivers must carry personal insurance policies. In cases where the driver had not logged on to the app, you could seek coverage under this policy. Additionally, your personal injury protection (PIP) insurance policy may offer primary coverage for some of your expenses. Our Lyft accident lawyers can help you identify which policy may apply.
There Are Time Limits to File a Lyft Accident Lawsuit in New Jersey
In cases where you cannot settle with the other parties involved in your Lyft accident, you may need to file a lawsuit. It is vital to be aware of the specific time limits that apply in your case when this situation arises.
According to NJ Rev Stat § 2A:14-2, the statute of limitations is two years from the date of the accident to file your case with the appropriate New Jersey court. Our Lyft accident lawyers can work with you to ensure you do not miss the deadline to file your lawsuit in court.
Contact Our Jersey City Accident Lawyers for Help with Your Claim
If you suffered injuries in a Lyft accident in Jersey City, our attorneys could work with you to determine the best options for recovery. In addition, our legal team can determine liability, applicable insurance policies, and how much compensation you can expect for your injuries and other losses due to the crash.
Call Morelli Law Firm today at (212) 751-9800 to discuss your potential options for recovering compensation after a Lyft accident.