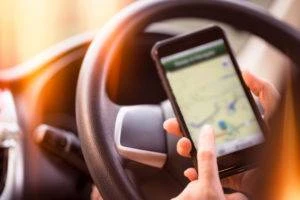 Every driver on the road owes the others a duty of care. Lyft drivers have to take this responsibility a step further. Ridesharing drivers have to protect themselves, their passengers, and the other motorists on the road. Deliberately foregoing or neglecting that responsibility can spell big trouble for anyone involved in an accident.
If you're living with the aftermath of a Lyft accident, turn to Morelli Law Firm's Lyft accident lawyers in North Bergen. We can work through your legal options with you. Whether you need help writing a complaint or representation in court, we'll make sure you have the resources to fight for financial support.
Responsibility in a Lyft Accident
A driver's duty of care reflects their responsibility to other drivers. Motorists who neglect their duty of care can be held liable for car accidents they may be involved in.
However, New Jersey is a no-fault state. This means that regardless of a person's liability, all parties involved in a Lyft accident are responsible for reaching out to their own insurers. All parties are expected to file an insurance claim before they pursue a civil suit against a liable party.
Lyft's involvement in an accident complicates insurance, however. It also challenges an easy interpretation of liability.
Liability for Lyft Drivers
Lyft drivers are covered by ridesharing insurance under certain conditions. Drivers must be on-duty at the time of an accident to benefit from Lyft's liability insurance. However, Lyft only considers drivers to be "on duty" if they're using the Lyft app at the time of an accident.
This means that drivers who are driving passengers, picking passengers up, or using the app to wait for a ride may file personal injury protection (PIP) claims with Lyft. Drivers using their car for personal purposes or who are not on the Lyft app are not protected from their losses. Rather, these drivers have to turn to their own providers when looking for loss compensation.
Unfortunately, Lyft won't offer on or off-duty drivers legal assistance if they choose to pursue a civil claim. However, Lyft drivers who are on duty at the time of an accident, and are deemed liable for an accident's losses, will not have complaints filed against them.
Instead, injured parties can work with our North Bergen Lyft accident lawyers to file complaints against Lyft specifically.
Liability for Other Drivers
Drivers unaffiliated with Lyft are not covered by Lyft's insurance. These drivers should go to their own insurers to seek out coverage after an accident.
That said, unaffiliated drivers may take Lyft to civil court if it appears an on-duty Lyft driver may be liable for an accident. That's why it's important to know whether or not the Lyft driver was on duty at the time of an accident. Drivers who are off-duty at the time of an accident must bear the brunt of a civil suit on their own, though.
Liability for Passengers
Lyft's insurance always protects a driver's passengers. If you were in a Lyft at the time of an accident, you can file a PIP claim with the ridesharing company.
That said, Lyft will not offer passengers legal representation after an accident. Passengers who want to pursue civil suits must contact a personal injury attorney on their own time. These parties can hold Lyft accountable for their losses if it appears the Lyft driver contributed to their losses.
If an unaffiliated driver hit a Lyft you were riding in, your legal options differ. You can file a civil suit against that unaffiliated driver instead of Lyft.
Holding Someone Accountable for a Lyft Accident
It isn't always another driver who may be responsible for your losses in a Lyft accident. The conditions on the road around you can play a role in your losses, too. With that in mind, consider all options for liability when writing up a complaint for your case.
For example, the other parties that may be liable for your losses in a Lyft accident can include:
A car's manufacturer

A car's mechanic

Construction crews on the road

Governmental officials who delayed roadwork

Truck drivers or their parent companies
If you're not sure who to hold liable for your losses, don't head into the unknown alone. Our North Bergen Lyft accident attorneys can break your accident down and assess responsibility at the scene.
Your Financial Support
When filing a Lyft accident complaint, you need to present an estimate of the compensation you expect for your losses. While you can list the exact dollar value of your physical losses, you also have the right to pursue compensation for conditions like emotional distress or suffering.
A North Bergen Lyft accident lawyer from Morelli Law Firm can help you file a complaint requesting compensation for:
Medical bills

Property loss

Property replacement

Property repair

Loss of opportunity to work

Loss of companionship

Pain and suffering

Loss of enjoyment of life
You and your attorney can turn to previous Lyft accident cases in New Jersey to estimate the value of your non-economic damages. There may even be ways for you to increase your personal injury settlement.
Filing a Lyft Accident Complaint
It takes time to bring all the aforementioned information together. That said, you'll still need to try and do so within a reasonable time frame. New Jersey only gives its residents two years to bring their cases to the attention of local courts.
This time limit comes with consequences, too. New Jersey Statutes § 2A:14-2a notes that failure to bring a case forward within this period of time can see you waive your right to compensation.
Your two-year block begins on the same day that your Lyft accident takes place. Regardless of your role in the accident, you'll want to consult with a legal team as soon as possible. A lawyer can bring your Lyft complaint together.
Call on Morelli Law Firm For More Post-Lyft Accident Options
If you're not sure where you legally stand after a Lyft accident, let our North Bergen Lyft accident lawyers guide your way. After an initial consultation, you can start fighting for your post-accident financial support.
To learn more about the process of filing a Lyft accident complaint, get in touch with Morelli Law Firm. You can speak to one of our representatives via phone or by filling out our contact form through our website to request a free case evaluation.