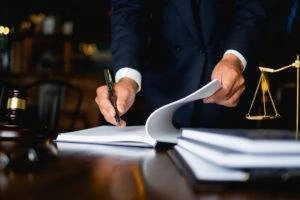 As the popularity of rideshare companies like Lyft grows, so does the possibility of rideshare accidents. Already, passengers and other drivers have been injured in collisions with Lyft vehicles in New York and other states. If you or someone you love was involved in a rideshare accident, we can help you seek compensation.
At Morelli Law Firm, we investigate your case, assign an appropriate financial value, and guide you through the negotiation process. The rideshare driver's status on the app will play an important part in determining where you seek compensation.
Dealing with this can get complex, but you do not have to take on the rideshare company or their insurer on your own. Our Yonkers Lyft accident attorney can help you understand Lyft's insurance coverage options and your right to compensation.
You Are Entitled to Seek Financial Recovery After an Accident
Proving Lyft or their driver is responsible for compensating you after an accident means proving their actions meet the legal definition of a liability. We work hard to prove the at-fault driver's negligence and liability by showing how they:
Owed you reasonable care

Breached their duty to provide it

Caused your physical injuries

Caused your resulting financial damages
The evidence a Lyft car accident attorney collects can help prove the validity of your case. Our team collects medical records, car accident reports, witness statements, accident scene and injury photos, and videos to show how the collision occurred and who is responsible. In addition, this evidence can establish the value of your case and your right to recovery.
The Timing of Your Compensation Request Is Important
Seeking compensation against a rideshare company can be a long process when you fight on your own. When our personal injury team represents you, we work hard to keep your case moving forward and comply with the state's filing deadline. In New York:
You generally have

three years

to file a personal injury lawsuit.

You generally have

two years

to file a wrongful death lawsuit.
If your potential lawsuit is not filed on time, Lyft's insurance company or the at-fault driver's insurance company can ask to have your case dismissed. Their request will be granted, and you could be left with no financial recovery options. When we handle your Lyft accident case, we make sure to file your lawsuit on time.
In certain situations, you may have more or less time to file a claim than the New York statute of limitations states. In that case, one of our lawyers can tell you exactly how much time you have to file a claim. If you aren't aware of how long you have to file, you could easily miss the deadline and become unable to file.
We Work Hard for Every Client We Represent in Yonkers
Going up against a rideshare company can be a trying experience on your own. When our personal injury team fights for injured clients, they leave us reviews like these:
Dillon John: Attorney David Sirotkin was amazing. He always kept me informed and was available to me whenever I needed to speak with him. I would recommend Morelli Law Firm to anyone who needs a top-flight law firm.

Brian Busche: Morelli Law Firm was the best to deal with, and David…was caring of how I was feeling…David was always on top of the situation through the whole process and made sure I received what I was due from my injuries.
You can read more reviews from clients we helped in the past and explore our history of financial recovery on our case results page.
How to Report a New York Lyft Accident
One of the most common questions people have regarding Lyft accidents is: how do I report an accident to Lyft? Since it's a third-party app, you may think that it's difficult to do. However, the process is simple.
All you have to do is go to the Safety Center in the app, and you can call 911 from there. Be prepared to give information such as your name, your Lyft driver's name, the make and model of the car, and the license plate number.
The police should arrive shortly and help you get any medical attention that you need. After you've been treated for your injuries, you can get in touch with a Lyft accident attorney in Yonkers, NY.
Seeking Compensation from the Right Insurance Company
After an accident with a rideshare vehicle, you are entitled to request compensation for certain economic damages. These are damages that have a direct and documented cost, including:
Medical bills

Loss of income

Future lost earnings

Diminished property value
You could also request non-economic damages, which are more challenging to assess on your own because they are based on a variety of factors related to your injuries and recovery. These intangible damages can include:
Physical disfigurement

Lasting scarring

Pain and suffering

Emotional distress and mental anguish
Our Lyft accident lawyer can help you fight for the compensation you deserve after an accident in Yonkers. Our team can assess your economic, non-economic, and wrongful death damages, if applicable, and represent you throughout the negotiation process.
When to Pursue the Lyft Driver's Private Insurer
Lyft drivers are required to carry the state's minimum insurance. Depending on the circumstances of your accident and the driver's status on the app, you may have to pursue compensation from their private insurance company. In New York, minimum insurance means your driver has the following:
$10,000 in property damage coverage per accident

$25,000 in bodily injury coverage per person

$50,000 in bodily injury per accident
If the Lyft driver who caused your accident was off-duty and off-app at the time of the collision, we can help you pursue appropriate compensation from their private insurer up to their policy's limits.
When to Pursue Lyft's Insurance Carrier
The rideshare driver's insurance coverage while driving with Lyft depends on their status at the time of the accident. Lyft's insurance policy is limited and only covers a driver who is:
Signed into the app and waiting for a ride request

Signed into the app and waiting for or transporting a rider
For example, Lyft drivers waiting for a ride request have coverage from Lyft for up to $50,000 per person and $100,000 per accident for physical injuries. They are also covered for up to $25,000 in property damage per accident. Meanwhile, Lyft drivers have up to $1,000,000 in third-party liability protection when responding to a ride request or transporting a passenger in their car.
Of course, other conditions and circumstances can alter the coverage you receive, so our team works hard to ensure the driver's status is accurately categorized, your damages are accurately calculated, and your case is complete when filed. One of our Lyft accident attorneys in Yonkers, NY, can answer any questions you have.
Average Settlement Amount for a Lyft Accident Case
When you have a valid case, you may be wondering about Lyft accident settlement amounts. There is no average settlement amount that one of our Lyft accident lawyers in Yonkers, NY, can tell you. However, there are a few factors that can affect the amount of your settlement.
The first factor that can affect your settlement is the number of people at fault in the accident. If there is more than one person responsible for your injuries, you may be able to recover damages from every party. This can result in a large settlement.
Another factor that can affect the settlement amount is when you filed your Lyft accident claim. If you filed your claim closer to the statute of limitations, your settlement amount may be smaller because you waited to file, which can decrease the value of your case.
One of our attorneys can go over the other factors that may affect your settlement in a free case evaluation.
Contact Morelli Law Firm to Get a Free Case Evaluation for Your Lyft Accident Case
Our Lyft accident lawyer can help you pursue compensation if you or someone you love was hit by a Lyft driver or the Lyft got into an accident. Whether you were a passenger in the rideshare vehicle or the driver of another involved vehicle in Yonkers, we can help.
Contact Morelli Law Firm to speak with a Lyft accident lawyer in Yonkers, NY, in a free case evaluation.