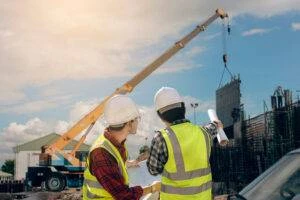 Crane accidents happen every day in thousands of workplaces across the country. And unfortunately, Wayne, New Jersey, is not exempt. With the severe consequences many of those accidents can have, talking to a crane accident attorney should be a priority for most victims.
Accidents involving cranes can cause serious injuries and even cause a person's wrongful death, leaving families with severe health, emotional and financial consequences that can sink them into debt for years or even decades. However, most victims are entitled to pursue damages, particularly when someone else was at fault for the accident.
Main Causes of Crane Accidents in Wayne, New Jersey
Many factors can cause crane accidents in Wayne, such as poor maintenance, inadequate training, failure to follow safety regulations, or even malfunctioning crane parts. For instance, a crane without proper maintenance can cause mechanical failures or collapse. Likewise, a crane operator without the proper training can also cause a crane accident.
Other common causes of crane accidents are bad weather, improper crane assembly, failure to properly secure loads, human errors, equipment malfunctions, and communication issues.
It is also worth keeping in mind the emotional toll of a crane accident can be significant for the victims and their families since they may develop anxiety, depression, and other mental health challenges as a consequence of their injuries.
What Damages Can You Recover After a Crane Accident in Wayne?
Victims of a crane accident injury may be entitled to compensation for damages. First, however, asking your attorney what damages you can claim in your particular case is important. A compensatory amount depends on the specific circumstances of your accident, such as your injuries and how negligent the other party was.
Our experienced crane accident attorneys constantly recover damages for our Wayne, NJ, clients that, include:
Medical bills, emergency services

Lost wages

Emotional distress

Property damage

Reduced earning capacity

Pain and suffering
Every crane accident claim is different, as are the damages you can recover. Talking to your attorney is the best way to calculate your compensation properly.
What to Do After a Crane Accident to Protect Your Rights
Crane accident injuries can be serious if not taken care of immediately. But the legal repercussions can also become a challenge for the victims and their families. However, you can take measures to recover your health and protect your right to recover compensation in Wayne, NJ:
Get medical attention.

That is the best way to prevent further consequences from your injuries. But medical records can also help your attorney build a strong case.

Report the accident.

Most crane accidents in Wayne happen during working hours. If that is your case, you must notify your employer or supervisor. You should also consider filing a report with the

Occupational Safety and Health Administration (OSHA)

.

Gather evidence.

You can take pictures or videos to document what happened. You can also ask for the witnesses' contact information. All of that can become crucial to obtain the highest compensation possible.

Contact a crane accident lawyer in Wayne.

Contacting a skilled crane accident lawyer as soon as possible can save you valuable time and allow you to focus on your recovery while they take care of the legal part.
Who is Liable for Your Crane Accident?
Determining liability for a crane accident can be a complex process that requires an experienced personal injury lawyer. That is because it may be necessary to review the specific facts and circumstances of the case to determine liability. In addition, multiple parties can be found liable, for instance:
Crane operators.

If an operator's error or negligence caused the accident, they might be held responsible for the consequences.

Crane owners.

When the accident was caused by a lack of maintenance, the crane's owner may be liable.

Construction companies.

Some accidents result from poor safety regulations or lack of training.

Manufacturers and distributors.

Malfunctioning parts or defects on the crane components can make the manufacturer liable.
Negotiating a Fair Settlement for a Crane Accident Claim in Wayne
If you were injured due to a crane accident or lost someone due to a crane accident in Wayne, you may be entitled to compensation. However, negotiating a fair settlement or compensation can be a complex process. That's why it's important to work with an experienced crane accident lawyer who can help you get damages for your medical bills, lost wages, and other damages.
Your attorney will investigate, interview witnesses and then use this information to negotiate a fair agreement with the responsible parties or their insurance. And if that means going to court, an experienced crane accident lawyer can do that too.
Besides, working with an experienced attorney can provide numerous benefits for crane accident victims in Wayne. Some of those benefits include:
Total legal support.

Our crane accident attorneys in Wayne, NJ, can provide legal guidance and support throughout the process. They can explain your legal rights and options to ensure you can make the best decisions about your case.

Investigation and evidence gathering.

A respected legal firm will thoroughly investigate the accident, gather evidence to support your claim, and determine who is liable.

Negotiation and settlement.

Sitting at the negotiation table can be daunting, but your crane accident lawyer is ready to do it on your behalf.

Court battle.

If the responsible party refuses to pay damages, your lawyer can represent your best interest in a

courtroom

.
But the main reason to get legal representation is your attorney will ensure that your legal rights are protected and that you get the compensation you deserve.
Crane Accident Lawyer in Wayne, NJ
If you or a loved one has been injured in a crane accident in Wayne, you should talk to a lawyer as soon as possible. An experienced crane accident lawyer can help you understand your legal options and pursue compensation for all your damages.
Looking for an attorney or legal firm with experience in crane accidents is important. But you should also consider other factors, such as their reputation and record of success. Contact our Wayne offices to schedule an initial consultation, completely free of charge, so we can discuss your case and better understand how we can help you. Our experienced crane accident lawyers are willing to answer all your questions.