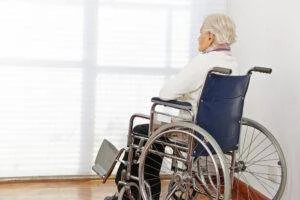 The trauma of nursing home abuse can leave deep scars, both emotionally and physically. For victims and their families, navigating the aftermath can be overwhelming, emphasizing the importance of having a nursing home abuse lawyer by your side.
The St. Peters personal injury lawyers at Morelli Law are committed to standing with you, ensuring you get the compensation you deserve, and helping you rebuild. This article will guide you through the nuances of nursing home abuse and when hiring a St. Peters nursing home abuse lawyer becomes necessary.
How Does Nursing Home Abuse Manifest?
Unfortunately, nursing home abuse in Missouri is far too common. Nursing home abuse manifests in various forms, each with its own set of symptoms and signs. Here are some of the most common types:
Physical abuse

: This often results in unexplained bruises, cuts, or other visible injuries on the victim.

Emotional abuse

: Victims may show sudden changes in behavior, exhibit signs of withdrawal, or display an inexplicable sense of fear.

Neglect

: This can be identified by poor hygiene of the resident, signs of malnutrition, or untreated medical conditions.

Financial exploitation

: One should be wary of unexplained withdrawals or sudden changes in financial documents, as these can indicate financial abuse.
Common Causes
There are several underlying reasons why nursing home abuse occurs. Some of the predominant causes include:
Understaffing

: This often leads to neglect as there aren't enough hands to provide adequate care.

Inadequate training

: When staff aren't properly trained, they may not be equipped to handle the diverse needs of residents.

Poor management

: A lack of proper oversight and accountability can create an environment where abuse goes unchecked.
Signs to Watch Out For
If you suspect a loved one might be a victim of nursing home abuse, there are certain red flags of nursing home abuse to be aware of:
Sudden weight loss

: This can indicate neglect or other forms of abuse.

Unexplained injuries or frequent hospital visits

: These are clear signs that something might be amiss.

Changes in behavior or increased agitation

: Such behavioral shifts can be indicative of emotional or physical abuse.
Who Can File a Nursing Home Abuse Lawsuit?
Nursing home abuse is a serious matter, and the law allows victims and their families to seek justice. But who's eligible to initiate a nursing home abuse lawsuit?
Direct Victims

: Residents of nursing homes who've faced abuse can directly file for compensation.

Spouses

: If the resident can't file, their spouse has the right to do so on their behalf.

Power of Attorney

: If a resident has designated power of attorney to a family member, this individual can file on the victim's behalf.

In Case of Fatality

: If abuse leads to the resident's death, the spouse or children can file a

wrongful death lawsuit.
How a St. Peters Nursing Home Abuse Lawyer Can Assist
When you're facing the aftermath of nursing home abuse, it's easy to feel overwhelmed. That's where we come in. Our team will tirelessly advocate for your rights, ensuring those responsible are held accountable.
If we take your case, here are some of the steps we'll take for you:
Review and gather evidence:

From medical records to witness statements.

Build a strong case:

Using the evidence, we'll craft a compelling argument.

Negotiate or litigate:

Whether it's settling out of court or taking the case to trial, we're prepared.
The legal system can be intricate and confusing. Having someone who knows the ins and outs can make a significant difference in the outcome of your case. We're here to guide, advise, and fight for you every step of the way.
Potential Compensation for Nursing Home Abuse Victims
Victims of nursing home abuse may be entitled to various forms of compensation. These can help alleviate the financial and emotional burdens they face.
Economic Compensation

: Covers tangible costs like medical bills and therapy sessions.

Non-economic Compensation

: Addresses intangible losses like pain, suffering, and emotional distress.

Punitive Damages

: Aimed at punishing the wrongdoer and deterring similar behavior in cases of extreme or intentional neglect. These damages are awarded at a judge's discretion.
The amount and type of compensation vary based on several factors. The severity of the abuse, the evidence provided, and the jurisdiction can all play a role. It's essential to document everything meticulously. This aids in building a robust case and maximizing potential compensation.
Navigating the legal landscape can be daunting. Our St. Peters nursing home abuse attorneys are well-versed in nursing home abuse cases. We'll advocate for your rights, ensuring you get the compensation you deserve.
Missouri's Statute of Limitations for Nursing Home Abuse Cases
Missouri has a specific time frame within which you must file a nursing home abuse case. This period is known as the statute of limitations. For most personal injury cases, including nursing home abuse, you generally have five years from the date of the incident to file a lawsuit.
Missing the statute of limitations deadline can have severe consequences. If you wait too long, you might lose the right to file a lawsuit altogether. The sooner you start the legal process, the better your chances of securing justice and compensation.
Contact a St. Peters Nursing Home Abuse Attorney Today
Nursing home abuse is a grave issue that can deeply affect victims and their families. The emotional and physical scars can last a lifetime. It's essential to address this problem head-on. Taking immediate action can make a significant difference in the outcome of your case.
The longer you wait, the harder it might become to gather evidence and build a strong case. Memories fade, and crucial documents can get misplaced. Don't let time slip away. If you or a loved one has been a victim of nursing home abuse, it's crucial to act now.
Morelli Law's St. Peters nursing home abuse lawyers will stand by your side, fighting for your rights and ensuring you get the justice you deserve. Contact us today for a free case evaluation.