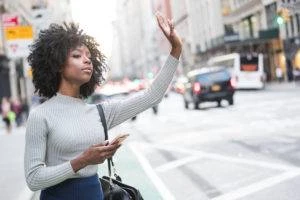 If you were injured in an accident involving a rideshare driver, recovering compensation can be tricky. Unfortunately, laws have taken time to adapt to this new technology. While things are starting to get settled in this regard, there is still some ambiguity, which makes insurance claims and lawsuits more confusing than in other car accident cases.
To help sort through the confusion, you should consider hiring a rideshare accident attorney in Long Beach. An experienced attorney will be up to the minute on the changing legislation regarding rideshare accidents. Contact the Morelli Law Firm today to get help from a team of legal professionals who will fight to get you the compensation you deserve.
Act Quickly After a Rideshare Accident
To ensure that your case is as strong as possible, it is important to get started on your legal claim as soon as possible. When filing a lawsuit after a personal injury, the state of New York gives accident victims three years from the date of the injury to file a lawsuit.
Three years may seem like plenty of time, but it can pass in a flash. There may also be mitigating factors that result in a shorter time frame in which to file. The best way to ensure that you do not miss any deadlines is to hire an attorney as soon as possible after your accident.
Not only will hiring an attorney early ensure that all paperwork is filed on time, but it will also put them in the best position to fight for you. When hired soon after your accident, your lawyer can speak to witnesses while their memories are still fresh and gather evidence while it is still available.
A Rideshare Accident Attorney in Long Beach Can Help You Determine Liability
When filing a lawsuit or making an insurance claim, one of the most important initial steps is to identify who is liable for your damages. Determining liability has the potential to be tricky in any car accident. When a rideshare driver is involved, things get even more complicated.
Rideshare companies try to limit their legal exposure by hiring drivers as independent contractors rather than employees. This system not only allows these companies to often avoid legal action when their drivers are involved in an accident but also enables them to avoid providing their drivers with employee benefits like health insurance and paid leave.
A rideshare accident attorney can help you identify who is liable for the damages you have suffered. Once this is done, they can help you to recover fair compensation.
The Different Stages of Rideshare Insurance Coverage
Rideshare companies like Uber and Lyft are required to carry insurance by law. However, these companies require their drivers to carry insurance as well. Because of this, the driver's insurance must typically pay out accident claims first, and the insurance for the rideshare companies only kicks in after the maximum coverage limit has been exceeded.
When a rideshare driver is covered under the company's insurance depends on their status at the time of the accident. If the driver has the app on and is either on their way to pick up a passenger or actively transporting a passenger, the highest level of insurance coverage from the rideshare company is in effect. For both Uber and Lyft, this coverage is up to $1,000,000.
If the driver has the app on but is waiting for a ride request, the coverage from the rideshare company greatly diminishes. In this case, coverage for both companies is up to:
$50,000 per person for bodily injury
$100,000 per accident for bodily injury
$25,000 per accident for property damage
What If the Driver Isn't Logged into the App?
In cases where a rideshare driver is not logged into the app, the insurance for the rideshare company is inactive. When a driver is not logged in, they are considered to be on their personal time and therefore are treated like any other driver on the road. Your only path to compensation, in this case, will be through the driver and their insurance.
An Experienced Long Beach Rideshare Accident Attorney Can Help You Collect Damages
Injuries suffered in a car accident can be quite extensive. People are not always aware of the full extent of the damages they have suffered. An experienced rideshare accident lawyer in Long Beach can review your case and inform you of what damages are eligible for compensation. They can also fully evaluate the total cost that you have incurred and will in the future as a result of your accident.
Some of the damages you may be eligible to claim include:
Medical expenses
Future medical expenses
Lost wages
Diminished earning capacity
Property damage
Pain and suffering
Mental anguish
Loss of companionship
Permanent disability
Lowered quality of life
Wrongful death
This is not an exhaustive list. Other damages may apply depending on the specifics of your situation.
Hiring a Long Beach Rideshare Accident Lawyer
It is important to find a lawyer with a proven track record of getting fair compensation for clients in similar situations to yours. Contact the Morelli Law Firm today to learn more about our case history and the results we have gotten for clients just like you.
Give us a call or fill out our contact form to schedule a free case evaluation. We will review your case and answer any questions you may have. We will then advise you of your options, all with no obligation to retain our services.