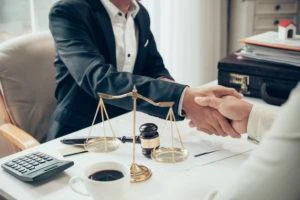 When you drive on the roads in Illinois, you trust other drivers to drive responsively. But unfortunately, other drivers don't always do so, which can lead to tragic car accidents. And irresponsible driving can result in severe injuries and expensive medical bills.
Our Belleville car accident attorneys at Morelli Law Firm are ready to help you hold negligent drivers accountable. We work hard to recover the full compensation amount for every case we get, and we succeed.
What Injuries from a Car Accident Qualify for Compensation?
Injuries from a car accident can range from minor to severe. The severity of your injuries can depend on the type of car crash you were in and how fast you and the other driver were going. Some of the most common injuries in a car accident are:
Lacerations
Broken bones
Traumatic brain injury
Organ damage
Burns
Facial disfigurement
The injuries that we listed above are only a few of the severe injuries that you can sustain in a car accident. After you have filed the police report, you should get medical help as soon as you can, whether it be at the scene of the crash or at the hospital.
After all your injuries are accounted for, you should call a car accident attorney in Belleville. If you aren't sure that your injuries qualify for compensation, one of our lawyers can give you a free case evaluation.
When Should You File Your Car Accident Claim?
As soon as you are able to, you should file your car accident claim. Illinois' statute of limitations is two years from the day of the accident, but filing early will give you the best chance of getting the full compensation amount. As time goes on, the value of your case may decrease, and you will not be able to get your full case's worth of compensation.
Also, there are some situations where the details of your accident may give you more or even less time to file. To avoid missing the deadline to file, you can speak with one of our Belleville car accident attorneys, who can tell you exactly how much time you have to file.
You should keep in mind that if you miss the statute of limitations deadline, you will not be able to recover any type of compensation at any time. This is why it's so important to know when your personal deadline is.
What Are the Recoverable Damages in a Car Accident?
You may feel overwhelmed after a car accident because of your injuries but also due to the amount of bills you will have to pay. And worrying about your financial situation will only slow down your injury recovery process, causing you to be out of work longer. When you work with a dedicated team of lawyers like ours, you can recover damages to cover your costs such as:
Loss of income
Property damage and replacement
Current and future medical bills
Pain and suffering
Loss of quality of life
Disfigurement
Loss of earning capacity
Our law firm works tirelessly to help you recover all the damages you qualify for and the ones that the negligent parties try to prevent you from obtaining. In our free case evaluation, we can tell you what damages you can receive and their amounts.
What Are the Advantages of Hiring A Belleville Car Accident Attorney?
Navigating the legal process on your own can be intimidating, and our car accident lawyers in Belleville, IL, understand this. When you choose our team of attorneys, we can guide you through every step of the process, from filing your claim to understanding the details of how your settlement is paid out.
Meeting and speaking with the insurance company is important, but it can be challenging without the help of a car accident attorney. Insurance companies' goal is to retain as much of their money as possible, including your own insurance company. By having one of our lawyers by your side, they can defend against the claims adjuster's tactics, advocate for your rights, and ensure that you're getting the proper compensation amount.
Hiring a lawyer can also help to build a strong case against the negligent parties who are responsible for your injuries. Your lawyer can access crucial documents, connect photos of the accident to the injuries you sustained, and contact eyewitnesses to strengthen your case.
Contact Morelli Law Firm to Get Started on Your Belleville Car Accident Case
If you were in a car accident in Belleville, IL, your injuries may qualify you for compensation. A car accident lawyer at Morelli Law Firm can help you get justice and compensation for the injuries you have suffered.
If you're ready to start building your case, a lawyer from our team is waiting to hear from you. Call us or fill out the contact form on our website to start your free case evaluation.