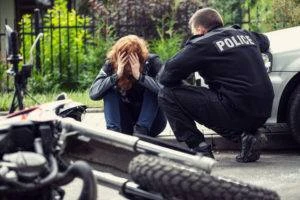 What happens when you get hit by a motorcycle depends on where you were at the time. If you were in a car, for example, you may suffer fewer bodily injuries and more property damage than if you were a pedestrian. Either way, you could end up suffering serious injuries.
After a motorcycle accident, you may want to seek immediate medical treatment for your injuries. Then, you can consider pursuing compensation for your damages.
A personal injury lawyer from our firm may be able to represent you and manage all of the legal work in your case.
First Things First: Ensuring Your Health
After any sort of an accident, including a motorcycle accident, it is very important to do what you can to protect your health as well as your right to damages. One way to accomplish both is by seeking medical attention as soon as possible.
Going to a doctor or an emergency room may seem like an obvious course of action if you are bleeding a lot or in significant pain. However, it is just as important to do so even if your injuries are minor. This is because:
Some serious conditions do not present symptoms right away
Untreated conditions, even minor ones, can lead to more serious conditions (e.g., infection)
Seeing a doctor right away may help to prove a link between the accident and the injury if you decide to file a lawsuit
How Your Case May Proceed
Your lawsuit may go much more smoothly with our team on your side. We can give you the time you need to relax and recuperate by taking care of legal tasks such as:
Investigating your case to prove that the liable party caused the accident and that you deserve damages
Quantifying your injuries so that you know how much money you should settle for – and so that the insurance company cannot shortchange you
Notifying the liable party about your suit and maintaining all communications with them on your behalf
Managing all paperwork, including drafting the settlement agreement and submitting trial exhibits
Meeting with the insurance company and negotiating for an appropriate settlement
Preparing for trial and representing you in the courtroom, if the liable party refuses to cooperate
Establishing Liability After a Motorcycle Accident
Motorcyclists are supposed to follow the rules of the road, just like any other driver. If a motorcyclist's negligence causes an accident, they may owe the victims compensation.
To seek financial compensation after a motorcycle accident, we can file a personal injury lawsuit. Your case's success could hinge on whether or not there is sufficient evidence to prove your version of events. We may be able to prove negligence with evidence that shows:
The motorcyclist did not exercise the reasonable care you were entitled to, such as obeying traffic laws
Their negligence led to your physical injuries and property damage
The injuries and damage you sustained have had a measurable, negative impact on your health, your career, your finances, and/or your personal life
Contributory Negligence
Note that in New York, victims may still be able to recover compensation if they were partially at fault for the accident. However, a judge may reduce their compensation by their percentage of fault. This system, detailed in CPLR § 1411, is known as contributory negligence. We can help you to navigate this and other relevant laws.
Establishing Your Case's Monetary Worth
When you get hit by a motorcycle, you could end up with many physical injuries and financial losses, including:
Pain and suffering, including mental trauma
Loss of consortium
Impaired quality of life, including a loss of independence
Partial or total disability
Disfiguring scar tissue
Short-term loss of wages
Long-term loss of wages/earning capacity
Past and future medical bills
Costs associated with repairing property damage
One of our motorcycle accident attorneys may able to collect evidence of your damages on your behalf, such as paystubs or receipts. We can work closely with you to ensure that you do not inadvertently omit expenses and losses from your case, and that all future expenses and losses are projected accurately.
Evidence in a Motorcycle Accident Case
To further boost your case after being hit by a motorcycle accident, you can preserve evidence, such as any photos you took or the motorcyclist's contact information.
Aside from these items, it is our job to find evidence to build your case, not yours. We may be able to use the following types of evidence to establish liability in a motorcycle accident case.
Surveillance footage from the accident scene
Statements from witnesses
Official crash reports
Your medical records
Testimony from accident reconstruction experts and other professionals
The Deadline to Sue in New York
Time is an important factor in your potential right to compensation. Like all states, New York imposes a statute of limitations that determines the amount of time you have to file a lawsuit against the responsible party.
CPLR § 214 imposes a general three-year statute of limitations on personal injury lawsuits. Failing to meet the relevant filing deadline in your case could mean you will not be able to recover any compensation from the at-fault motorcyclist.
Call Morelli Law Firm Today
If a motorcycle hits you, Morelli Law Firm may be able to help. Our firm can handle all deadlines, communications, and paperwork in your case. If you qualify, we may be able to represent you on a contingency-fee basis with no up-front payments required to start.
For a free, no-obligation case review with a member of our team, call Morelli Law Firm today at (212) 751-9800. We can discuss your accident, your legal options, and what may happen next if you were hit by a motorcycle.