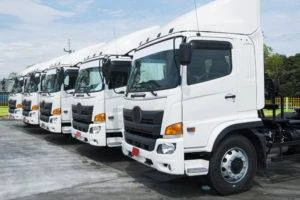 FedEx may be one of the most efficient mail deliverers in the nation, but that doesn't mean that the company's drivers don't make mistakes. Negligence behind the wheel of a FedEx truck can spell disaster for pedestrians, motorists, and everyone else on the road.
When you walk away from a FedEx truck accident, it's easy to feel as though you're left to suffer without recourse. This is not the case. You can work with our FedEx truck accident lawyers in Yonkers to bring legal action against the delivery giant.
Let Morelli Law Firm look over your case and bring forward evidence of driver negligence. We've pursued cases against corporations like FedEx before and have the experience to make your fight for financial support simpler.
You Deserve Financial Support After a FedEx Truck Accident
The last thing you want to deal with after a FedEx truck accident is an influx of bills. Unfortunately, essential medical care can be expensive to contend with. Property damage can be, as well. The good news is that there are ways to ask the party liable for your losses to help you through this financially trying time.
When you file a lawsuit against the party responsible for your accident, you can demand damages equivalent to your economic and non-economic losses. This coverage can cover expenses like:
Medical bills

Property damage

Emotional distress

Lost time at work

Inability to work

Pain and suffering
You can work with a FedEx truck accident attorney in Yonkers to determine which losses best apply to your case. We can then apply non-economic multipliers to your sum to better represent the toll your accident took on your emotional well-being.
You Can File a Lawsuit Against FedEx After a Truck Accident – Conditionally
New York gives you the means to take action against a corporation like FedEx after a severe accident. To bring your concerns forward, you need to fill out a legal complaint. You can use this complaint to present evidence of the negligence that caused your accident while arguing for your right to compensation.
That said, determining who to hold responsible for your accident can be a challenge. FedEx may want to shirk liability for your losses and may have the legal grounds to do so. Fortunately, our Yonkers, NY, FedEx truck accident attorneys can assess your circumstances and help you bring a complaint against the appropriate parties.
Independent Contractors Can Upend Your Assertion of Fault
FedEx likes to hire independent contractors and fleet owners to make up the bulk of their delivery drivers. The designation of "independent contractor" can unfortunately make a case against FedEx difficult to parse. FedEx, like many other employers, is disinclined to extend its legal protection to "contractors" as opposed to full-time employees.
What does this mean for you, though? It means that you need to determine where the driver who hit you stands in the eyes of the FedEx company. If the driver operates as an independent entity, you cannot take up a civil lawsuit against the company. Instead, you must name that independent driver or their agency in your initial complaint.
Alternatively, if the driver in question is on-duty, full-time, and under the protection of FedEx, your circumstances change. You can then take up your complaint against the delivery giant. Our team can help you distinguish between these options when you bring us your case.
Present Evidence of Truck Accident Liability
Once you've determined who you can hold liable for your losses, you need to determine how you can hold them liable. This is most effectively done with evidence gathered from the scene of your accident. Physical evidence paired with bystander testimony can help convince a county clerk that your case requires a closer look.
Explore Other Avenues Toward Compensation
You should also have the opportunity to pursue financial support as offered by your insurance provider after a FedEx accident. If an insurance provider ghosts you, though, or otherwise refuses to give you aid, you may feel as though you're out of luck.
You're not alone when facing off with your insurance provider, though. Our attorneys know what tactics providers like to use to try and get out of giving you the financial support you need. When you bring your losses to our team, we can challenge an insurance company's reticence and help you fight for the financial support you deserve.
File Your FedEx Truck Accident Lawsuit Within New York's Statute of Limitations
If you want to file a lawsuit against FedEx or any of their associates after an accident, you need to move quickly. New York Civil Practice Law & Rules § 214 puts a cap on the amount of time you have to bring forward a complaint. You must submit your paperwork within three years if you want your case to appear before a judge.
It is difficult to file a FedEx truck accident lawsuit past this statute of limitations. However, you can still bring your concerns to our Yonkers attorneys. A Morelli Law Firm representative can sit down with you, discuss your circumstances, and research ways to secure you compensation for your losses.
Talk to Our Team About Your FedEx Truck Accident
You can hold FedEx accountable for losses you face in the wake of driver negligence. Let a FedEx truck accident attorney in Yonkers, NY, know about your accident, and we can go to work on your account. We can break down the nature of your accident and present evidence that establishes FedEx or one of its contractors as liable for your losses.
Don't let New York's statute of limitations pass you by. The sooner you get in contact with Morelli Law Firm, the sooner you can benefit from the damages FedEx owes to you. You can request a free case evaluation from one of our experienced attorneys by calling our office or contacting us online.