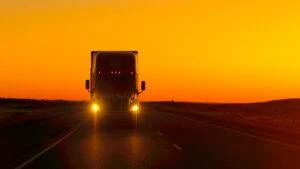 When you've been in a devastating crash involving a semi-truck, your whole world seems like it has been scattered. But there's hope – a Union City truck accident lawyer knows what it takes to help you get your life back, and they'll fight to make it happen.
In this article, we'll discuss the common causes of semi-truck accidents in Union City and offer tips on finding the best legal representation. We'll also delve into the intricacies of liability in these cases and provide steps to take after an accident.
Lastly, we'll shed light on the compensation available for victims and when to hire a Union City semi-truck accident lawyer.
Common Causes of Semi-Truck Accidents in Union City
Semi-truck accidents aren't like typical car accidents, as they are often more severe and may have more parties involved. There are several common causes of semi-truck accidents in Union City, which can result in serious or even fatal injuries. At our Union City law firm, we have seen firsthand the devastating consequences of these accidents.
One of the leading causes is

driver fatigue

. Many truck drivers push themselves to meet tight deadlines, resulting in impaired judgment and slower reaction times.

Another common cause is

distracted driving

. With the rise of smartphones and other electronic devices, it is all too easy for drivers to become distracted and take their eyes off the road.

Additionally,

improper maintenance

of the truck and its equipment can lead to accidents. Neglected brakes or worn-out tires can increase the risk of a collision.
Liability in Union City Semi-Truck Accidents: The Nuances
Understanding liability in semi-truck accidents in Union City can be complex, but it's crucial to determining responsibility for damages and injuries.
When it comes to these accidents, there are several parties that could potentially be held liable. The truck driver themselves may be at fault if they were driving negligently or violated traffic laws.
However, it's also important to consider the liability of the trucking company. They may be held responsible if they failed to properly maintain the truck or if they pressured the driver to exceed their hours of service.
Additionally, if the accident was caused by a defective part or equipment, the manufacturer or distributor of the truck could also be held liable.
How We Seek Maximum Compensation for Union City Semi-Truck Accident Victims
When seeking compensation for your injuries and damages after a semi-truck accident in Union City, it is important to gather all relevant evidence and consult with a legal professional to explore your options.
Here are three key factors to consider when seeking compensation for a semi-truck accident:
Establishing liability:

It is crucial to determine who is at fault for the accident. This may involve investigating the driver, the trucking company, or other parties involved.

Calculating damages:

Compensation can include medical expenses, lost wages, pain and suffering, and property damage. It is important to accurately calculate these damages to ensure you receive fair compensation.

Negotiating with insurance companies:

Dealing with insurance companies can be complex. Having a skilled attorney on your side can help you negotiate effectively and protect your rights.
Types of Compensation Available for Union City Semi-Truck Accident Victims and Why They Matter
In the aftermath of a semi-truck accident, victims face an overwhelming range of challenges: medical bills, lost wages, emotional trauma, and physical pain, to name a few.
Understanding what compensation may be available is crucial for mitigating the financial and emotional toll of the accident. Here's a breakdown of the types of compensation you may be eligible to receive, and why they are essential for victims.
Medical Expenses
Medical bills can quickly accumulate after a semi-truck accident. Compensation for medical expenses covers costs related to hospital stays, surgeries, medication, rehabilitation, and future medical needs related to the accident. This relief is essential as healthcare expenses can become a major burden for victims and their families.
Lost Wages
Victims often need time to recover and may be unable to return to work for an extended period. Compensation for lost wages helps offset the income you could not earn during your recovery. This is critical for maintaining financial stability during a trying time.
Pain and Suffering
While it's difficult to put a monetary value on emotional and physical pain, compensation for pain and suffering aims to provide some form of relief. This aspect is important as it acknowledges the non-economic toll that the accident has had on your life.
Property Damage
If your vehicle or other personal property was damaged in the accident, you could be compensated for repairs or the market value of the property lost. This helps victims regain a sense of normality by restoring or replacing what was damaged.
Punitive Damages
In cases where the conduct of the defendant is found to be exceptionally negligent or malicious, punitive damages may be awarded. These are meant to serve as a punishment and a deterrent for future misconduct. While not common, they can be significant and are important for holding the responsible parties accountable.
Loss of Consortium
If the accident has adversely affected your relationship with your spouse or family, you may be entitled to compensation for loss of consortium. This aims to provide some reparation for the emotional strain on familial relationships caused by the accident.
How to Find the Best Semi-Truck Accident Lawyer in Union City
Finding the best attorney for a semi-truck crash in Union City can be challenging. We understand the importance of hiring a skilled and experienced lawyer to handle such a complex case. When searching for the best semi-truck accident lawyer, there are a few key factors to consider.
Firstly, look for a lawyer who has experience in personal injury and understands how to handle semi-truck accident cases.

Secondly, ensure that the lawyer has ample resources and a strong network of experts to support your case.

Thirdly, choose a lawyer who is committed to providing personalized attention and is readily available to answer your questions and address your concerns.
Contact a Union City Semi-Truck Accident Lawyer Today
If you or a loved one has been involved in a semi-truck accident in Union City, it is crucial to seek legal representation.
By understanding the common causes of these accidents and finding the best lawyer, you can navigate the complexities of liability and ensure you receive the compensation you deserve.
Remember to take the necessary steps after an accident and don't hesitate to fight for your rights. Contact us today. Trust in the experience of a Union City semi-truck accident lawyer to guide you through this challenging time.