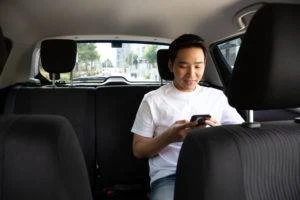 Negotiating traffic during rush hour is no one's idea of a good time. That's why it's so easy to turn to a ridesharing service like Uber. Uber drivers make it easier for you to get from Point A to Point B, all without requiring you to get behind the wheel.
When you rely on a ridesharing service like Uber, though, you put your safety in someone else's hands. If you get into an accident, that distributed responsibility can make your post-collision rights unclear.
Fortunately, our Uber accident attorneys in Clifton, NJ, understand your needs. In the aftermath of an accident, you can count on the Morelli Law Firm to break down your rights and represent your best interests.
Uber Accident Compensation
Uber accidents are costly for everyone involved. If you're a driver, damage to your car may keep you from work. If you're a passenger, property damage and personal injuries may limit your day-to-day capabilities. If you're a third-party driver, then these accidents can prevent you from getting to work or even put your family in harm's way.
Above all else, the aftermath of an Uber accident will be costly. Fortunately, a complaint for compensation can help you overcome some of those costs.
Property Damage and Loss
Car accidents tend to result in significant damage for both the driver and other injured parties. Unfortunately, this kind of damage can render a car undrivable. It may even compromise the integrity of someone's personal belongings.
If you lost any of the above or other forms of personal property in an Uber accident, include the cost in your complaint. So long as you can tie the loss back to your accident, the party liable for said accident may be responsible for reimbursing you.
Medical Bills
Uber accidents can result in injuries that require immediate attention. As the injured party, you're allowed to include the cost of emergency procedures in your request for compensation.
The cost of treatment doesn't end there, though. You can work to draw a correlation between your accident and any essential medications, treatments, or mobility aids. With the help of our Uber accident attorneys in Clifton, you can include the estimated costs of those procedures in your complaint. You can even elaborate on these damages with a personal injury lawyer.
Make sure to have a comprehensive conversation with a third-party medical practitioner before filing your paperwork. If you can submit a professional's recommendations for your health alongside your complaint, you may have an easier time arguing for the expenses you've listed.
Pain and Suffering
Pain and suffering is an example of an Uber accident's non-economic loss. This loss does not come with an inherent dollar value. However, it can detrimentally impact a person's life as they attempt to recover from a car accident. As a result, you can include this loss in your estimated compensation.
When trying to determine how much your non-economic damages may be worth, refer to previous Uber accident court cases. Our Clifton Uber accident lawyers can help you sort through these cases and establish an overall value for your losses.
How to Fight for Your Compensation
The simplest way to fight for compensation after an Uber accident is to file an accident complaint. Complaints allow you to bring together all of the information you have related to your accident and present it before New Jersey's courts.
Note that just because your information goes before a court doesn't mean that you're going to trial. Rather, a complaint allows you to approach your fight for compensation with the assistance of legal counsel.
You may opt to keep your settlement conversations out of court. Alternatively, if the other party in your accident appears unresponsive, you can have your case go to trial. At this point, whether or not you receive compensation for your losses will be up to a judge and jury.
Determining Liability in Clifton Uber Accident Cases
Before you can bring a civil complaint to New Jersey's courts, the state requires you to file an insurance claim with your insurer. Because New Jersey is a no-fault state, you'll be expected to cover your own losses to the best of your ability.
That said, Uber's role in an accident can make even filing an insurance claim complicated. Who you file your insurance claim is going to vary depending on your role in your collision.
Uber's Coverage for Drivers
Uber's insurance only covers drivers who are on duty during an accident. These drivers must be driving passengers, picking up passengers, or waiting for rides while using the Uber app. Should these drivers get into an accident, they may file insurance claims with Uber and expect the company's overriding coverage.
That said, Uber will not contact a civil attorney on its drivers' behalf. Any driver that wishes to take legal action against another party after an accident can do so with the help of an Uber accident lawyer in Clifton.
Uber's Coverage for Passengers
Uber's insurance always protects its passengers from injury or loss. Passengers can file an insurance claim with the company to seek out reimbursement for accident damages.
Passengers who wish to take legal action against a party after an accident have the right to do so. If passengers were injured by another driver, they may file a legal complaint against that individual. Comparatively, passengers injured by an Uber driver may file a complaint against the company.
Uber and Third-Party Drivers
Unaffiliated drivers who are hit by an Uber must determine the status of the driver behind the wheel before filing a civil complaint. If the driver was on duty at the time of the accident, then unaffiliated drivers may file complaints against Uber. If the driver wasn't on duty, then the injured party may file a complaint against that individual.
Unaffiliated drivers are not afforded protection under Uber's insurance. These parties must file a claim with their own insurers before taking legal action.
Understanding New Jersey's Statute of Limitations
New Jersey does not give you an unlimited amount of time to file your Uber accident complaint. New Jersey's Revised Statutes § 2A:14-2 states that complaints should reach an attending court within two years of an accident taking place. If you're not able to submit documentation of your losses within this time period, you may not pursue the financial support you were looking for.
There's no need to try and tackle the legalities of a Uber accident complaint on your own, though. Instead, you can turn to our Clifton Uber accident attorneys. A team of legal professionals can help you meet the deadlines set by the state.
Contending With Uber's Settlement Offers
When you get into an accident and believe Uber to bear the blame, the company may act before you can. Representatives may have the opportunity to offer you a settlement before you've had time to seek out legal guidance.
While these settlement offers can be tempting, know that they're always open for negotiation. You can reach out to a legal representative at any point and discuss the Uber settlement that's been sent your way.
Explore Your Post-Uber Accident Options in Civil Court
Every driver on the road deserves to feel as safe as possible. That's why accidents involving an Uber can be so devastating. Not only are you left with accident-related losses, but your sense of security on the road may be compromised.
You do not have to try and challenge Uber or another driver on your own. Instead, let our Clifton Uber accident lawyers do your case's heavy lifting. To learn more about your rights after an Uber accident, call Morelli Law Firm and schedule a case consultation. You can reach out to our representatives via phone or through our online form.