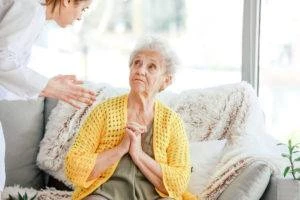 You may need to move your elderly loved one to a nursing home if they cannot live on their own or tend to their medical needs. While nursing homes can offer much-needed help, you must stay vigilant for signs of nursing home abuse and neglect.
Sadly, nursing home abuse can happen to anyone. Senior adults may withdraw or isolate themselves, refuse to accept guests, experience financial issues, carry physical marks of the abuse, refuse to eat, and more. If you see any behavioral or physical signs of abuse, you can reach out to an attorney and review your legal rights.
Withdrawal or Isolation
One of the more common signs of nursing home abuse is the need to isolate or withdraw. Someone experiencing abuse will likely withdraw from their friends inside the facility, hoping to avoid their abuser. At times, withdrawal may be universal, or the victim may withdraw from particular activities that involve their abuser.
Someone who chooses to self-isolate will often do so outside of their typical pattern of behavior. A victim who was once outgoing and gregarious will not withdraw unless they experience something terrible in their daily routine. While other conditions may cause these changes, it is important to take note and remember that they can also be a sign of elder abuse.
Refusal to Accept Guests
As part of the withdrawal or isolation an abuse victim experiences, they may refuse to take guests. This might take many members of the family by surprise, and you should not assume this new behavior is part of a slow decline due to aging or mental health issues.
They likely do not want to burden you with the problem, or they feel shame to even broach the subject. In a situation like this, try to bring up the subject. Also, you should speak with an attorney who can provide you with legal counsel.
Financial Issues
Financial abuse is just as prevalent in nursing homes as physical or sexual abuse. When an elderly person has trouble managing their affairs, they may be financially abused by someone they trust.
You may notice money missing from a loved one's account. They might make mention of money they are spending on someone you have never met, or they might share details of conversations that involve money they have not yet spent.
Physical Marks
The most heartbreaking signs of abuse include physical marks that can appear on any part of the body. This is especially true when bruises, welts, or marks are easy to see. Yes, there are times when the elderly fall and hurt themselves, but this is not a common occurrence. If your loved one's balance was that bad, they would have mobility aids, see a specialist for a neurologist, or require more supervision.
Bedsores are also a serious physical sign of elder abuse. Patients or residents who are in bed for long periods likely will develop obvious bedsores. While an abuser may attempt to explain away these symptoms, you should not ignore them. Apart from physical marks, abuse victims may have trouble sitting down, using the restroom, or feel uncomfortable removing their clothing for even routine things like taking a bath.
Refusal to Eat
Senior adults may refuse to eat if they are experiencing psychological trauma that stems from abuse. Their body is rejecting food because anxiety is causing physiological pain or discomfort. Yes, a patient may refuse to eat if they are ill, but refusing food is common among abuse victims. They may do so to avoid their abuser or isolate further than they already have.
As a result of malnutrition, lingering medical conditions may intensify in your elderly loved one. Seek medical attention on their behalf and ask the doctor or health care provider to examine them for signs of abuse.
Abuse that Results in Serious Injuries or Death
It is possible that an abuse victim's symptoms may lead to serious conditions or death. This is why it is important for family and friends to watch their elderly loved ones carefully. Under CPLR § 214, personal injury lawsuits have a three-year statute of limitations. If the victim dies, the family has two years to file suit against the abuser or facility under EPTL § 5-4.1.
Reach Out to Us for a Consultation
Reach out to the Morelli Law Firm at (212) 751-9800 for a free consultation to discuss your legal rights or the rights of your elderly loved one. When you notice the signs of nursing home abuse or you have experienced abuse, you have the right to seek compensation and retain an attorney.
You can focus on supporting your loved one while a member of our legal team determines what kind of abuse occurred, how to address the abuse, and if your loved one or family should recover financial compensation.