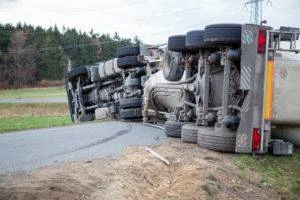 You can sue a trucking company for an accident caused by their driver, but you may have to show you have serious injuries, as defined in state statutes. In some accidents, the truck driver will be solely responsible for the crash after making an error while behind the wheel.
Other times, the driver's employer or the company that owns the truck may have made an error, making either one possibly responsible for an accident. This error could involve repairs or maintenance performed on the truck. In some cases, the company that loaded a trailer's cargo can be liable for a crash.
Incidents Where the Truck Company May Be Liable
In most cases, the person who caused the car accident is liable for it, and the accident victim usually files an injury claim after the crash occurs. However, when a commercial truck hits your vehicle and injures you, it is possible that other parties not directly involved in the accident may be partially or fully responsible for causing it.
It is possible that the truck driver did everything correctly while operating the truck, but another party made the error.
Company Hires an Illegal Driver
If the truck driver did not hold a valid commercial driver's license (CDL), but the trucking company hired them anyway, this is a potential sign of negligence on the trucking company's part.
Poorly Maintained Truck
The truck owner needs to make sure the vehicle undergoes proper maintenance and repairs. Failure to fix known mechanical issues with the truck or an inability to fix them correctly could make the trucking company liable if these errors directly cause the truck's mechanical failure, resulting in your accident.
Improper Cargo Loading
When the company that loads cargo into the trailer of the truck makes an error, it could overload the trailer, creating an unsafe situation for the driver and other motorists on the road. If the company loads the cargo in an unbalanced manner, the cargo could shift en route, causing the driver to lose control of the vehicle.
Have You Been Injured In An Accident? Contact Morelli Law
877-751-9800
Understanding How Personal Injury Lawsuits Against Truckers Work in Each State
Each state has different rules regarding personal injury lawsuits after car or truck accidents. Some states allow claims for pain and suffering in addition to claims for tangible economic losses, such as medical bills and lost wages. Other states place limitations on when a victim can seek a pain and suffering judgment.
New York Truck Injury Cases
New York statutes set up car and truck accidents as a no-fault situation. All drivers in New York must carry personal injury protection (PIP) insurance to cover medical bills and lost wages. To be able to sue for a pain and suffering judgment against a trucking company, you and your truck crash attorney must prove that a serious injury occurred, including:
An inability to perform everyday life functions
Disfigurement
Broken bones or fractures
Limited use of a body organ or function
Loss of a fetus
After proving you had a serious injury, you then would be eligible to bring a lawsuit against the trucking company or any other responsible driver. In New York, victims have up to three years from the date of the accident to start a personal injury case, according to CPLR § 214.
Pennsylvania Truck Injury Cases
Pennsylvania is a no-fault state regarding car insurance, but it does offer drivers a few other options. Drivers can carry PIP, limited tort, or full tort policies. With a full tort policy, you will pay more in premiums, but you are opting out of the no-fault coverage, allowing you to file a pain and suffering claim.
Even with PIP insurance only, victims of a truck accident in Pennsylvania also can sue the trucking company for pain and suffering if they can show they will have a reduced quality of life because of the accident. In Pennsylvania, victims have two years to meet the statute of limitations for filing a personal injury claim, according to Pa. C.S.A. § 5524.
New Jersey Truck Injury Cases
New Jersey is a no-fault insurance state, but it does allow an exception for accidents with trucks. If a trucker hits you and causes injuries, you have the right to sue any of the liable parties for a pain and suffering judgment.
In New Jersey, the statute of limitations gives victims up to two years to start the process of filing a personal injury claim, according to NJ Rev Stat § 2A:14-2.
Call Morelli Law Firm for a Free Consultation After a Truck Accident
Morelli Law Firm serves clients in New York, Pennsylvania, and New Jersey. We work on a contingency fee basis, which means we do not require payment ahead of time for our services. Our fee comes from a percentage of the final settlement amount in the case.
Call us today at (212) 751-9800for a free review of your case. If we do not win an award for you, you do not pay us anything.