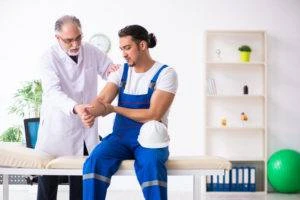 Falling from heights is one of the main types of accidents in construction. The average job site fall is likely to result in serious injuries, but scaffolding falls are known to cause the most severe and sometimes fatal conditions.
Fortunately, New York law protects construction workers at risk for gravity-related accidents. According to the state's labor laws, contractors and construction company owners can be held liable for injuries caused
Taking a Closer Look at the Scaffolding Law in New York
Under New York Labor Law § 240, construction site managers who oversee and assign work must offer appropriate protection to employees who work at elevated heights. The law protects those who work on buildings and structures in the following ways:
Cleaning
Altering
Painting
Pointing
Repairing
Erecting
Demolishing
According to New York's scaffolding law, construction site workers who fulfill the duties mentioned above on scaffolding or elevated surfaces must be offered the following protections:
Scaffolding Location Requirements
When scaffolding is placed too close to power lines, workers may come into contact with it accidentally, resulting in electrocution and a serious fall. The law states that all scaffolding in New York must be erected at least 10 feet from power lines.
The law also states that scaffolds can only be placed on level surfaces that are free of unnecessary objects and debris. This rule helps prevent falls caused by collapsing or shifting safety supports.
Competent Person Requirement
The scaffolding section of New York's labor law also requires job sites to have a "competent person" who can identify workplace hazards and other foreseeable problems that could cause a fall. This person must also have the training and authorization required to remove the hazards they identify.
Construction worksites using scaffolding must also have an individual in charge of safety systems that offer fall protection. The individual must know how to design, oversee installation, and supervise the use of fall safety equipment.
Scaffolding Railing Requirements
Safety railing for scaffolding 20 feet or higher above ground level
Railing must measure at least 34 inches high
Railing must be attached securely
Railing must surround the entire length and ends of the scaffolding
Scaffolding must hold at least four times its max weight
Additional Safety Requirements
In addition to railing and location requirements, all ropes, ladders, and other scaffolding work site equipment must be properly maintained. If a piece of equipment breaks, all work on the site must stop until it's repaired or replaced.
The law also requires that safety netting or canopies be installed on job sites where workers and pedestrians are at risk of injury from falling objects. The nets must also be well-maintained so that they are able to fulfill their purpose.
Exceptions to the Scaffolding Law
The scaffolding laws listed above apply to all construction sites in New York except for certain one and two-family homes. If you're working on a home that doesn't serve a commercial purpose or where the owner isn't in control of construction, you likely aren't protected by the safety law.
An experienced attorney can help you determine whether the scaffolding law protects your job site or not.
Eligibility Requirements for a New York Scaffolding Law Claim
If your employer's failure to provide one or more of the protections listed above caused you to fall and suffer an injury, you might be able to hold them liable for your medical bills and other losses. An attorney can determine if you're eligible to file a claim and help you pursue full compensation for your accident-related expenses.
If a lawyer agrees to take on your case, they'll have to prove three simple factors to secure the compensation you're owed. There's a high chance that your claim will be successful if your attorney can prove the following statements:
The individual or entity you are filing a claim against was the contractor or owner of the construction site you were injured at.
Your injury happened during an activity covered by New York's scaffolding law, such as erecting, repairing, demolishing, etc.
Gravity caused your injury
If your attorney is able to prove the three factors listed above and the contractor or owner is unable to prove that they provided the safety equipment and knowledge necessary to prevent injury, you have an excellent chance of receiving a settlement.
You Can Pursue a Scaffolding Law Claim and a Workers' Comp Claim
Seeking compensation under New York's scaffolding law doesn't prevent you from filing a workers' compensation claim. Since most construction workers have an employer who is a separate entity from their site owner or general contractor, they are able to file two separate claims.
The ability to file a scaffolding law claim and a workers' comp claim side by side can help you cover all the losses you've taken due to your injury. Doing so is actually recommended because each claim is intended to cover different losses.
Workers' comp claims can help you obtain the following forms of compensation:
Medical treatment expenses
Ambulance expenses
Cost of rehabilitative therapy and services
A portion of your lost wages
Disability benefits
Scaffolding law claims can help you recover the following damages:
Lost wages that aren't covered by a workers' comp claim
Future economic losses caused by long-term injuries
Pain and suffering
Diminished quality of life
Professions at Risk for Injuries Caused by Unsafe Scaffolding
Certain professions are at risk for injuries caused by a lack of scaffolding safety equipment and safety training. If you work in a field that uses scaffolding, it's important to familiarize yourself with the rules laid out in New York's scaffolding law. Doing so can help you identify when your manager violates a rule that is critical to your safety.
Make sure you are aware of the laws that protect your safety if you work in one of the following fields:
Window washer
Steeplejack
Maintenance worker
General laborer
Welder
Painter
Carpenter
Electrician
Bricklayer
Contact a Lawyer Today to File a Claim for a Scaffolding Injury
If you've taken a fall and sustained injury due to unsafe scaffolding at your workplace, you have the right to file a claim against the liable party. The attorneys at Morelli Law are closely familiar with the rules set forth by the New York scaffolding law. We can review your case and determine if you're eligible to move forward with a claim.
If we take on your case, we'll work hard to recover the compensation you need to pay for your medical treatment and support yourself throughout your recovery. Contact us today to schedule a free, no-obligation consultation.