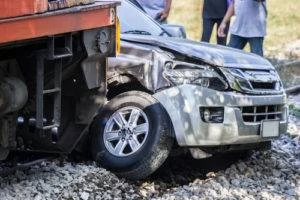 When determining if you need a lawyer for your railroad accident case, it's important to consider the scope of your case and the services a law firm can offer you.
Cases involving railroad accidents can get complex quickly, not to mention the serious damages you are likely dealing with. Our firm can handle all aspects of your claim and protect your rights through every step of the process.
Services Our Law Firm Can Offer in Your Railroad Accident Case
A lawyer from our team can assist you by:
Investigating the cause of the accident
Determining who is liable for your damages
Calculating the amount of compensation the liable party owes you
Filing your case on time and with the proper court
Responding to daily calls and emails from other parties in the case
Locating and retaining experts who can consult on your case
Reviewing insurance policies
Making sure insurance companies treat you fairly
Negotiating a settlement
Preparing for trial
Preparing you for any court appearances or depositions
Answering your questions and keeping you informed
If there is something else that you need help with during your case, you can always speak with our team about the situation. Legal counsel is meant to help you get through this experience with as few headaches as possible while seeking the financial recovery you deserve.
We Can Take the Legal Burden Off Your Shoulders
Another good reason to consider working with a lawyer is to allow yourself to focus on your recovery. Railroad accidents can lead to devastating injuries that sometimes have long-term or permanent impacts.
If you are unable to work, take care of daily chores, or care for your children, you are already facing a high level of stress. Knowing that your lawyer is looking out for your best interests and protecting your rights can be a huge relief.
Have You Been Injured In An Accident? Contact Morelli Law
877-751-9800
Railroad Accident Laws Can Be Confusing
Damages from a railroad accident could qualify you to file a personal injury lawsuit. However, because the defendant in these cases is usually a public entity, there are special rules that apply. Accidents involving common carriers that operate railroads fall under U.S. Code Title 49. This includes any situation in which someone who works for a railroad suffers injuries on the job.
These statutes set forth rules for who you can sue, how you must file your complaint, and what you have to show to be eligible for compensation. Most plaintiffs in railroad injury cases do not have the time or knowledge to read statutes and interpret them. Going up against a public railroad operator can also be intimidating. Some of these organizations have substantial resources and have experience navigating the court system.
Our team works with these rules and understands how they play out in court. We are not afraid to stand up to railroad organizations and other potentially liable parties to fight for your right to recovery.
It Can Be Hard to Establish Negligence in a Railroad Accident Case
In most railroad accident cases, you will need to prove that the railroad operator or another party was negligent and that these actions caused your injuries. This can be complicated, especially if you or your loved one was injured as a passenger on the train. Most railroad passengers do not know exactly what happened at the time of the accident or who is to blame.
One of the first things our team will do when you become our client is to investigate the cause of the accident and how it relates to your damages. Although there are countless types of railroad accidents, there are a few common causes that we could identify in your case. They include:
Poorly maintained trains
Poorly maintained tracks
Speeding
Intoxicated conductors
Lack of employee training
Lack of warning signs or instructions
Broken warning signal equipment
Improper track changes
Failure to supervise workers
Searching for Evidence to Support Your Case
Proving that a railroad operator engaged in one of these acts of carelessness can require a lot of evidence. We may need to track down eyewitnesses or interview the conductor to get the facts about what happened.
In many cases, the railroad company is not eager to share information about the incident. Insurance companies can also play hardball and try to avoid paying you the compensation you seek. Working with railroad accident lawyers in New York can give you the support you need to make sure that the other parties respect your legal rights.
Get a Free Consultation Today
If you are still considering whether you need a lawyer for your railroad accident case in New York, call Morelli Law Firm today. Our team offers free, no-obligation consultations. You can ask as many questions as you need about your legal rights and how we can help you.
You have nothing to lose by giving us a call. Take the first step towards getting the compensation you need by calling (212) 751-9800 now.