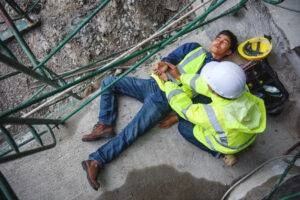 Scaffolds are used nearly every day to erect, demolish, and alter buildings throughout New Jersey. There are numerous guidelines and safety protocols to protect workers who use scaffolding. When contractors and other parties fail to adhere to scaffold safety requirements, construction accidents can happen, and workers can get severely injured.
Types of Scaffold Accidents That a Union City Lawyer Can File a Claim for
When site managers and contractors neglect to follow OSHA's scaffolding safety guidelines, a number of different serious accidents can occur. Fortunately, a scaffold accident lawyer in Union City, NJ, can help you pursue damages for injuries and losses suffered in any of the following types of incidents:
Fall from scaffolding caused by lack of proper guard rails
Injury due to object that fell from scaffolding
Scaffolding collapse
Electrocution caused by scaffolding that made contact with electrical wire
Slip and fall accident caused by slipper scaffolding surface or hazardous obstacle
And more
Regardless of what caused your accident, our attorneys can offer the legal advice and representation you need to obtain financial remedies.
Filing a Workers' Comp Claim After a Scaffolding Accident
If you've been injured in a scaffold accident, a Union City lawyer will likely advise you to file a workers' comp claim before you consider legal action. A successful workers' comp claim could give you access to a number of life-changing benefits, including:
Partial wage replacement
Compensation for medical expenses
Disability benefits
Death benefits, if your loved one has passed away in a workplace incident
An attorney can help you get the workers' comp benefits you need to pay your bills and get back to work, but there are a few things you can do to help make the process go smoothly. Here's what you can do to improve your chances of receiving a fair payment:
Report Your Accident to Your Employer ASAP
The first thing you can do to help your case is to report your accident and injury to your employer as soon as possible. According to New Jersey law, if you report your accident any later than 90 days after the day of the incident, you could risk losing your right to compensation.
Seek Medical Attention From an Approved Provider
Most workers' comp insurance companies have a list of approved medical providers you must seek care from after a workplace accident to get your medical bills reimbursed. Seeking care from a physician or facility that is included in the insurer's list of approved providers will give you an excellent shot at getting compensation for medical costs.
Give Your Scaffolding Injury Lawyer Important Records
When you work with a scaffold accident attorney in Union City, NJ, they'll aim to obtain the exact amount of compensation you're owed.
However, they'll need to know how much you've lost due to the incident to do that. Handing over copies of your medical bills, past pay stubs, and any other relevant documents to your attorney will help them calculate how much you're owed.
You May Be Eligible to File a Personal Injury Lawsuit
In some cases, a lawyer may advise you to file a personal injury lawsuit instead of or in addition to a workers' comp claim. If your employer doesn't have the workers' comp coverage that New Jersey law requires them to have, or if they intentionally caused your accident, you may be eligible to sue them.
If a party that is separate from your employer caused the accident by violating OSHA safety rules, you might be able to file a personal injury lawsuit against the third party in place of or alongside your workers' comp claim. Potentially liable third parties include but aren't limited to the following:
A contractor
A property owner
A job site manager
A Union City scaffold accident attorney from our firm can investigate your accident and determine if a third party should be held liable for your injuries and losses. Whether you file a lawsuit against your employer or another entity, your lawyer will represent your best interests in court and fight for you to receive the following damages:
Current and future medical expenses
Cost of prescription medication, assistive devices, and physical therapy sessions
Lost wages
Decreased earning ability
Property damage
Pain and suffering
Emotional distress
Loss of enjoyment of life
What to Do if You've Lost a Loved One in a Fatal Scaffold Accident
If your spouse or family member has died due to injuries suffered in a scaffold accident, our hearts go out to you and your loved ones. Dealing with the sudden loss of a family member can be incredibly difficult, but getting the compensation you're owed can help you stay financially stable and comfortable while you grieve your loss.
Our scaffold accident attorneys in Union City can help you seek compensation by filing a workers' comp claim or a wrongful death lawsuit. Depending on the route you take, you could receive one or more of the following forms of compensation:
Funeral expenses (up to $3,500 if obtained from a workers' comp claim)
Loss of financial support (Up to 70% of the decedent's wages if you file a workers' comp claim)
Loss of consortium
End-of-life-medical expenses
And more
Speak to a Skilled Union City Scaffold Accident Attorney for Free
At Morelli Law, we believe that learning about your legal options after a bad workplace accident should be risk-free. That's why we offer free case evaluations to all our potential clients. Even better, if you decide to work with us, we won't charge you any upfront or out-of-pocket fees.
Instead, we'll charge a contingency fee, which is a portion of the compensation you receive from your case. To get the experienced, affordable, and effective representation you need to move past your workplace injury, contact a Union City scaffold accident lawyer from our firm.
If you've been injured in a collapse, falling object accident, or electrocution incident caused by poor scaffolding safety, you could be eligible to file a workers' comp claim or personal injury lawsuit. A Union City scaffold accident lawyer from Morelli Law can determine which course of action is best for your unique situation and aggressively pursue the damages you're owed.