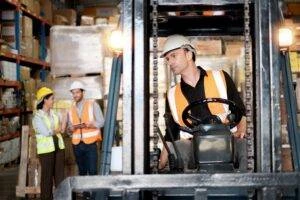 Forklifts injure thousands of people annually in the United States because of negligent accidents. Morelli Law has seen many forklift accident cases, and we know how serious and expensive they can be. That's why our firm has lawyers with extensive experience in forklift accident claims.
If you live in Union City, NJ, and you need help after a forklift accident, call our lawyers for a free consultation. We can explain your options for workers' compensation or a personal injury lawsuit and help you get the most money possible from your accident.
Types of Forklift Accidents
There are a few main causes of forklift accidents. Most of them put the people around the forklift in danger of injury, but sometimes the driver can also get hurt. The main causes are:
A lack of training by the driver creates a dangerous situation

A load is too high, so the driver's sight is blocked

A load falling off of a forklift

Someone falling off a pallet lifted by a forklift

Hitting someone with the forklift

A mechanical failure in the forklift created an accident

Forklift rollovers
Rollovers can be a common cause of forklift-related deaths. Drivers and bystanders can get crushed when this happens. Fortunately, rollovers rarely happen without negligent misuse of the forklift or an underlying mechanical failure.
Finding out the cause of your forklift accident is important because it will reveal who might be responsible. Once our forklift accident lawyers in Union City, NJ, learn this, we can start building a case to help you get compensation.
Isn't Workers' Compensation Enough?
Most forklift accidents will happen at a business among workers, so you may wonder why you would need a lawyer if workers' compensation will cover you. Workers' compensation is supposed to cover workplace accidents and even give survivor benefits if someone dies on the job.
Workers' compensation has limits, and your case could be worth much more. Claimants can get the costs of their medical bills, part of their lost wages, and possibly vocational rehabilitation costs, but there are other damages you cannot claim if you use this system.
If you have the help of a forklift accident lawyer, you may get additional compensation through a third-party lawsuit to cover pain and suffering, lost wages, disability costs, and more. Also, a lawyer can help you if you apply for workers' comp and get rejected or get too little. At the very least, you can find out how much your case is worth before applying.
Situations Where You Could Sue
Normally, if you pursue workers' compensation against your employer, you cannot sue them, but there are situations where a third party could get sued. Also, if you were a non-worker and got into a forklift accident, you can pursue a claim like any other personal injury lawsuit. Some situations where you could sue include:
A manufacturer defect in the forklift caused an accident

Another contractor at a job site caused the accident, and they didn't work for your employer.

A forklift operation company at your job site acted negligently

A delivery driver had a forklift at your work and caused an accident
If your case falls into one of these categories or another similar situation, you can claim both workers' compensation and sue for additional damages against the party that harmed you. To find out, contact Morelli Law to speak with our Union City forklift accident lawyers.
How Do I Win My Lawsuit?
Workers' comp is a no-fault system, so you don't have to prove someone was negligent to get compensation. A lawsuit is different, though. In order to prove negligence and win your lawsuit, you must prove four things.
Someone had a duty of care to keep you reasonably safe.

They violated that duty and created a dangerous situation.

That dangerous situation caused an accident.

The accident caused you some sort of damage, like physical injury or property damage.
Part of your lawyer's job is to prove these four things. Proving these isn't always easy, and there are situations where you might share responsibility for an accident. As long as you share less than 50% of the fault, you can collect compensation, though your amount gets reduced by your share of responsibility.
The insurance companies will try to pay you as little as possible by fighting these claims. They would rather have workers' comp pay for everything, even if it doesn't cover all the damages you could be entitled to receive. If you have a forklift accident attorney on your side, you can fight back and get what you truly deserve after your accident.
Are There Any Legal Deadlines?
There are, but they are easy to avoid if you start your case as soon as possible after your forklift accident. An early start gives your lawyer time to investigate your case and negotiate a settlement with the insurers before legal deadlines force them to file a lawsuit.
In New Jersey, you have two years after the accident to start a personal injury lawsuit before you reach the statute of limitations. This is a deadline for starting lawsuits. If you file your lawsuit after this point, you cannot claim compensation. The courts will dismiss your case.
Workers' compensation also has its own deadlines. The most important is to report your accident to your employer within 30 days of the accident. Your workers' compensation claim will be denied if you don't do this.
Hire a Forklift Accident Attorney in Union City, NJ
If you live in Union City and you've been hurt by a forklift, you could be owed much more than what workers' compensation will provide you. Get the full value of your case by speaking with Morelli Law. Our forklift accident lawyers will examine your case and explain your legal options for compensation.
We can help you with your workers' comp claim, including representing you in an appeal. You may also be eligible to sue a third party. We will work hard to help you get justice after suffering an accident that wasn't your fault. Call or email us today to get started with a free consultation.