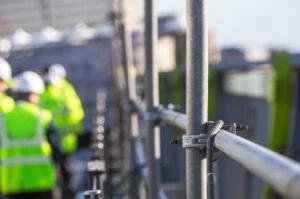 When you think about New York City and the Bronx, scaffolds probably aren't the first things that pop into your mind. Construction, however, runs eternally in the Big Apple. As such, construction workers may often find themselves gamboling up mile-high structures over the course of the average work week.
Unfortunately, some construction companies and property owners don't care for the safety of construction workers. These parties can forgo the safety measures that protect construction workers from dangerous accidents. In the wake of these accidents, though, injured construction workers like you can work with the Bronx's scaffold accident lawyers to take action.
Do Scaffold Accident Cases and Workers' Compensation Cases Overlap?
Scaffold accident cases and workers' compensation cases can overlap. If, for example, you're injured on the job, and your employer has workers' compensation insurance, you have the right to file a workers' compensation claim.
That said, your employer may attempt to deny your workers' compensation claim, or the claim may not cover the full extent of your scaffold accident losses. In these cases, you can work with a scaffold accident lawyer in the Bronx to file a personal injury claim, or a scaffold accident claim, against the party responsible for your accident.
You may also be entitled to a third-party injury claim if a subcontractor, landowner, or non-employer party's negligence resulted in your accident. You can discuss the specific classification of these accidents and the rights associated with them during an initial case consultation with Morelli Law Firm's personal injury lawyers.
What Losses Can Workers' Compensation Claims Cover?
A scaffold accident workers' compensation claim covers the economic expenses related to your accident. This means that so long as your claim moves forward, you can expect an employer's workers' compensation insurance to help you pay for:
Your post-accident medical expenses
Your lost or reduced wages
Your at-home medical assistance
The restoration of your damaged or lost property
Workers' compensation claims do not cover your non-economic losses.
What Losses Can a Scaffold Accident Claim Cover?
A scaffold accident claim falls under the broader umbrella of personal injury claims. This means that you can request economic and non-economic damages when pursuing compensation for your losses. The economic damages your claim entitles you to are the same as those available to you in a workers' compensation claim.
Your scaffold accident's non-economic damages can include:
Emotional distress
Mental anguish
Pain and suffering
Wrongful death, if applicable
If you pursue a workers' compensation claim at the same time you file a scaffold accident claim, you need to have a conversation with a scaffolding injury lawyer about your personal injury settlement. The damages you receive from your workers' compensation claim may reduce your personal injury settlement.
What Causes Scaffold Accidents?
Despite the safety features that the Occupational Safety and Health Administration, or OSHA, requires on worksites, many construction crews and property owners fail to implement scaffolding safety measures. The most common forces behind scaffold accidents today can subsequently include:
A lack of on-site safety features
Incomplete or neglected site training
Inappropriate or missing supervision
Inappropriate scaffolding maintenance
A lack of workplace safety equipment and/or gear
If a site manager, landowner, or related party fails to provide you with the means to keep yourself safe on scaffolding, you can accuse them of workplace negligence. You can subsequently pursue compensation for your losses through the aforementioned avenues.
When Should You File a Scaffold Accident Claim?
When you move to file a scaffold accident claim, you do so on a state-approved deadline. New York has a specific statute of limitations dictating when victims of scaffold accidents can file their civil claims. According to New York Law §5-4.1, you must file your scaffold accident claim within two years of your accident.
If the second anniversary of your accident passes, and you haven't brought a claim forward, you may lose the right to the scaffold accident compensation you'd have otherwise received in court.
Unfortunately, jumping through these legal hoops while you're contending with accident-related injuries can prove challenging. That's why it's important to call on an attorney as soon as you can after your accident. Attorneys can prioritize an investigation into your losses while you go to physical therapy or use other means to get back on your feet again.
How Can You Prove Liability in a Scaffold Accident Case?
When it comes time for you to hold a particular party liable for the losses you endured in a scaffold accident, you need to bring forward evidence of related negligence. This evidence can include:
Witness statements
Expert witness input
Accident recreations, if applicable
Videos or photos of your accident
Statements from first responders describing the nature of your accident and related injuries
Social media posts describing or otherwise depicting your accident
An attorney can analyze the evidence most relevant to your case and use their discoveries to draft a narrative of negligence entitling you to financial support.
That said, make sure you additionally present a civil court with an analysis of the contract you have with an employer or the relationship you have with a third party. Some employers may try to deny responsibility for an independent contractor's well-being. Fortunately, a scaffold accident attorney in the Bronx can help you get ahead of these counterarguments.
Morelli Law Firm Stands With Injured Workers
No construction worker should have to contend with a scaffold accident. OSHA regulations dictate how lot owners should care for their land, and site managers should protect their employees. If you've suffered as a result of someone else's negligence, you have the right to discuss a related settlement with a scaffold accident lawyer in the Bronx, NY.
Morelli Law Firm strives to help injured workers exercise all of their rights after negligence-based accidents. If you want to pursue a worker's compensation claim, a scaffold accident claim, or a related personal injury case, let our team know. We can meet with you during an initial case consultation and discuss your right to compensation.