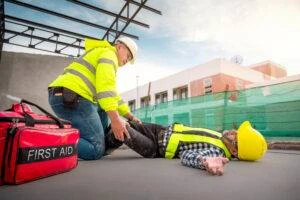 Unfortunately, workers across New Jersey are injured in serious scaffolding and construction accidents every year. Victims of such incidents can experience debilitating injuries, incur steep financial losses to get the medical treatment they need, and even suffer from chronic pain.
If you've been injured in a scaffolding incident, you could face challenges for months, years, or even the rest of your life. To get the financial remedies you need to move past a serious accident, consider working with an attorney from Morelli Law. An Englewood scaffold accident lawyer from our firm can offer helpful legal advice and assist you in pursuing compensation.
Scaffolding Accidents You Can Pursue Compensation for in Englewood
Whenever scaffolding is introduced into a job site, it brings the potential for a number of different incidents along with it. While abiding by OSHA's guide to safe scaffolding use can help prevent serious accidents, there's always a chance that something unexpected will happen or that a contractor will neglect to follow safety rules.
Fortunately, an Englewood scaffold accident attorney can help you recover compensation after nearly any type of incident, including:
Scaffolding collapse

Fall from heights

Injury from a falling object

Accident caused by defective or lack of safety equipment

Electrocution caused by scaffolding coming into contact with power lines

Slip and fall on hazardous scaffolding surface

And more
No matter how serious your accident was or how extensive your injuries are, a skilled lawyer from our firm can demand the financial remedies you need to afford medical care and support yourself while you take time off from work.
How a Scaffold Injury Lawyer Can Pursue Compensation
A scaffold accident lawyer in Englewood, NJ, can pursue compensation one of two ways. Filing a workers' compensation claim is the first and most common route to financial remedies after a workplace accident. The second route is to file a personal injury lawsuit against your employer or a liable third party.
Filing a Workers' Comp Claim
Since most employers are required to carry workers' comp insurance in New Jersey, filing a claim is likely the course of action your attorney will take. They'll make sure your claim is filed correctly, and when it comes time to negotiate a settlement with the insurance company, they won't agree to anything less than the full value of your claim.
If the insurance company rejects your claim, a scaffold accident attorney from our team in Englewood can help you file an appeal or seek damages another way. While a lawyer's assistance can be instrumental in securing workers' comp benefits, there are also a few things you can do to help your claim, including:
Reporting your accident ASAP

: You have

90 days

to report your accident and injury to your employer. Failure to report the incident within the 90-day timeframe could prevent you from receiving a fair insurance payment.

Seeking care from a qualified provider

: Most workers' comp insurance companies have a list of qualified providers that injured employees must seek care from to get their medical expenses reimbursed. If you're not sure which physicians and care facilities are covered under your employer's plan, ask them for a list of approved providers.

Keeping track of your losses

: Keeping track of your medical bills and other expenses is critical to the success of your claim. Make sure to provide your attorney with copies of medical care bills, physical therapy invoices, and past paychecks. They'll use those documents to get you the financial remedies you're owed.
Filing a Personal Injury Suit
While it's more likely that a scaffold accident attorney in Englewood, NJ, will advise you to file a workers' comp claim, there are a few situations where a lawsuit might be appropriate. For example, if a contractor or site manager's failure to provide proper safety equipment or follow federal scaffold safety rules caused your accident, they could be held liable for your losses.
You may also file a lawsuit against your employer if they intentionally caused the scaffold incident you were injured in or if they don't have a workers' comp insurance policy to cover your medical bills and other losses.
File a Workers' Comp Claim and a Civil Suit
In some cases, it might be possible to file a workers' comp claim and a lawsuit. For instance, if a third party was responsible for the accident, you can sue them and also pursue workers' comp benefits from your employer. That way, you'll receive compensation for all the challenges and financial setbacks you've endured.
Compensation You Might Receive From a Scaffold Accident Case
Whether our Englewood scaffold accident attorneys advise you to file a claim, a lawsuit, or both, they'll strive to obtain the damages you need to support your recovery and have peace of mind while you stay home from work to recuperate.
Depending on the type of claim(s) you pursue, you could receive any of the following financial remedies:
Medical expenses
Ongoing and future treatment costs
Full or partial wage replacement
Disability benefits
Pain and suffering
Loss of enjoyment of life
Death benefits
If your spouse or family member was involved in a scaffold accident that caused them to suffer fatal injuries, you have the right to pursue compensation and justice. A wrongful death attorney from our firm can offer compassionate legal counsel and demand the money you need to cope with your loss, cover funeral expenses, and support yourself financially.
Reach Out to Our Englewood Scaffold Accident Lawyers Today
The road to recovery after a scaffold accident can be long and painful. Fortunately, the attorneys at Morelli Law are here to help you along the way and advocate on your behalf. An Englewood scaffold accident attorney can calculate the value of your claim, determine your best course of action, and see your case through until a favorable conclusion is reached.
Contact our firm today to schedule a free case evaluation with a skilled attorney. They'll meet with you to discuss your scaffold accident and the losses you've suffered. If they believe you have grounds for a claim or lawsuit, they'll get started on your case immediately.