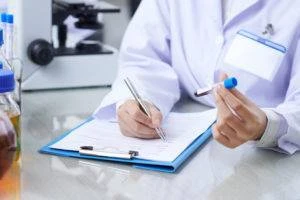 The loss of your medical records could cause a faulty diagnosis or lead to repeated tests and delayed medical care. If mismanagement of your medical records led to your current medical condition or exacerbated an existing condition, you can sue a hospital for losing test results.
Lost test results is one example of medical malpractice. Medical malpractice or medical negligence happen when a health care professional or entity veers from an acceptable standard of care and causes harm to a patient's health. You can file a lawsuit if the loss of your test results jeopardized your health or injured you.
How Can I Prove Malpractice?
To successfully sue for malpractice, your case must prove the following four elements.
The facility had a responsibility to take care of you by providing competent service, including performing appropriate tests and ensuring test results were sent to appropriate parties.
The facility was negligent and did not meet their responsibility toward you.
The facility's negligence caused the injury or illness you now suffer from.
Your injury has caused physical, emotional, and/or financial harm.
A medical malpractice lawyer from our firm can help you prove malpractice by speaking with relevant experts, requesting documentary evidence, and more.
Should I Hire a Lawyer if a Hospital Lost My Test Results?
When considering whether or not to hire a malpractice attorney, it is important to consider the following:
A lawsuit may take a long time, especially if you are unfamiliar with the law or end up taking the liable party to court.
It costs malpractice victims nothing to have their case assessed by a member of our team, and we never charge attorney's fees until after you recover compensation.
A personal injury lawyer from our firm can help you determine the impact of the loss of your records, how your resulting healthcare got compromised, and the damage to your health.
Our team can manage all aspects of your case on your behalf, including negotiating and communicating with the liable party.
We are not afraid to take your case to trial, if the insurance company is unwilling to cooperate.
We can also help build a strong case by reading and reviewing your medical history and consulting medical experts. This includes obtaining a certificate of merit on your behalf.
A Certificate of Merit Can Support Your Case
In New York, your medical malpractice insurance lawsuit must be supported by a certificate of merit. According to CPLR § 3012-A, the required certificate must come from your attorney and meet these criteria:
It must demonstrate that your attorney has reviewed your case and consulted a medical expert who is a professional peer to the at-fault party.
The consulted peer agrees with your lawyer's assessment that your case meets the definition of medical malpractice.
The certificate of merit must get filed with your lawsuit or within 90 days of its filing.
We may request additional supporting evidence to prove your claim has merit and assess its financial value. In addition to the certificate of merit, your case file may include medical records and bills, as well as laboratory and test results.
Compensation in a Medical Malpractice Case
It can be frustrating and stressful when the medical care you receive causes your health to worsen or decline. This is why malpractice victims have the right to sue for financial compensation. The damages you may be able to recover include:
Required current and future medical expenses
Reasonable current and future loss of income
Attorney's fees related to fighting your case
Physical pain and suffering and emotional trauma
Temporary or permanent disability
Reduced quality of life caused by pain or loss of independence
Lost test results that lead to misdiagnosis, failure to diagnose, or delays in treatment can form the basis of a medical malpractice suit. This is true whether you are filing a personal injury lawsuit or a wrongful death lawsuit. Our firm can help you with both types of cases.
How Much are Malpractice Settlements on Average?
How much you can win from a malpractice lawsuit depends heavily on:
The strength of your evidence
How significant the negative impacts of your damages are
How egregious the hospital's behavior was
In the past, our firm has won as much as $41 million for medical malpractice. Again, the amount you can receive depends on the specifics of your case.
How Long do Malpractice Cases Take to Settle?
The speed with which your case is handled is mostly out of your hands. While you can help to streamline the process by hiring legal counsel and keeping detailed records of the malpractice, you are also at the mercy of the insurance company. They may:
Offer an inappropriate or insufficient settlement and then refuse to negotiate
Enter negotiations but then never offer what you really need
Force you to take the case to court in order to receive fair reimbursement through a jury award
As a general rule, the sooner you begin your case, the sooner you can receive compensation.
What Is the Statute of Limitations?
Most civil compensation claims have a statute of limitations that defines how much time you have to file your lawsuit. According to CPLR § 214-A, you generally have two years and six months to file a lawsuit for medical malpractice in New York.
In medical malpractice cases, especially those involving lost test results, it may be difficult to determine when to start counting down and, therefore, if you are still eligible for damages. For example:
Does the countdown start on the day your test results were lost? Do you know what that date is?
Should you start counting down from the day your injury happened?
Do you get extra time to file if you did not discover the malpractice right away?
Our firm can help you figure out if you still qualify for damages and, if so, what you can do about it.
Get a Free Case Review
Medical malpractice can encompass a variety of negligent acts. If a healthcare facility lost your medical records and your health was negatively impacted, you can sue the hospital for losing test results. Get a free case review with the team at Morelli Law Firm today by calling (212) 751-9800. We provide legal representation on a contingency-fee basis with no advanced payments required.