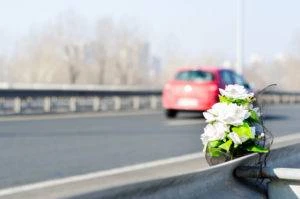 Data from the New Jersey State Police's fatal accident investigation unit show more than 500 fatal car crashes in 2020. If you lost a loved one in a motor vehicle collision, you may be able to recover compensation from the party responsible for the crash. A Newark fatal car accident lawyer can help you build a case against the liable party or parties and manage your case for you.
At Morelli Law Firm, our legal team is dedicated to helping victims recover fair compensation after a car accident. We represent families who lost loved ones due to negligence, and we don't stop until they recover everything they deserve. Our lawyers work tirelessly on behalf of our clients, allowing us to secure substantial settlements quickly.
Our Lawyers Establish Liability for Fatal Car Accidents in Newark
If you lost a loved one in a fatal accident, you have the right to hold every at-fault party liable for your loss of life. However, establishing liability can be challenging since your loved one cannot provide details on the collision. Instead, authorities have to rely on statements from the surviving members of the crash, including the at-fault driver.
That's where a Newark fatal car accident attorney from Morelli Law Firm can step in to help you and your family collect evidence to prove who was at fault or liable for the crash. Our attorneys will see that your automotive collision receives a thorough and detailed investigation.
What Kind of Evidence Helps Establish Liability in a Negligence Case?
Evidence you may want to collect for your wrongful death case includes:
Witness statements

Photographs or video footage of the collision

Testimonials from medical experts or accident reconstruction analysts

Police reports

Medical records of the decedent (the deceased), including an autopsy report

Black box information if available, which is useful in fatal accidents involving trucks
Our legal team can investigate your accident to retrieve this evidence on your behalf. We will use all available evidence to create your case against the liable party. Once we establish how the accident occurred, our lawyers will demonstrate how the liable party's negligence contributed to the crash.
Liability May Fall on More Than One Party in a Fatal Car Accident
In some cases, there may be multiple parties at fault. For example, if a commercial truck driver caused an accident, their employer may be held vicariously liable. Alternatively, if a defective vehicle part caused the at-fault vehicle to collide with yours, a parts manufacturer may be held liable for the accident.
Other potentially liable parties may include:
Maintenance companies

Municipalities

Construction companies

Third-party drivers or individuals
With our legal team on your case, we will identify every party that played a role in your loved one's fatal car accident.
Family Members May Collect Compensation After a Fatal Motor Vehicle Crash
After a fatal car accident, family members may receive compensation from the liable party to help them recover their financial and emotional losses. Successful plaintiffs receive payment through wrongful death claims or lawsuits. A New Jersey lawyer from our firm can pursue a fair settlement for your family based on your damages, both present and future.
In a wrongful death case, your attorney will pursue two types of damages: economic and non-economic damages. As we build your case, we will go over your damages and calculate an estimated value for them, which we will use as a goal when pursuing compensation for you.
Economic Damages for Wrongful Death
Economic damages account for all financial losses your family incurred due to your loved one's passing. They can include:
Medical bills leading up to your loved one's death

Funeral and burial costs

Loss of future income and benefits

Transportation and any other out-of-pocket expenses incurred from the accident

Loss of inheritance from your loved one
Our car accident lawyers will assess your claim and determine the total amount of financial losses your family suffered. We use medical bills, receipts, and pay stubs to calculate your total economic losses. Then, we fight to recover the damages from the liable insurance company.
Non-Economic Damages for Wrongful Death
Non-economic damages account for the emotional and psychological losses you incurred due to losing your loved one. Your wrongful death lawyer will fight for you and your family to receive fair compensation for these types of damages, which include:
Pain and suffering

Loss of consortium (for spouses)

Loss of parental guidance (for children)

Mental anguish
Determining the full scope of your non-economic damages may also require consulting expert witnesses, such as economists or psychiatric professionals. Additionally, insurance companies and juries use specific formulas to calculate pain and suffering damages, so we will want to use expert testimony to petition for fair compensation if these numbers differ.
Non-economic damages can make up a substantial portion of your settlement, but they are more challenging to prove. Our fatal car accident attorneys demand that you receive proper compensation for your emotional losses. We will pursue a settlement that appropriately covers your damages and take your case to court if necessary.
How Much Will a Newark Car Accident Lawyer Cost?
After a fatal car accident, your family may face funeral costs, medical bills, and other financial strains. That's why our Newark fatal car accident lawyers provide legal assistance on a contingency-fee basis. We only collect compensation when you win your settlement, and we never charge any upfront fees.
Your Initial Consultation Is Free
Our process begins with a free no-obligation case evaluation. One of our team members will review the details of your case and determine what type of legal action you should take next. During your consultation, we can discuss:
The legal services we can provide and what work we will need to do to build your case

Whether you should consider filing an insurance claim or pursue a wrongful death lawsuit

Facts about your loved one's death and other information you have available

Our legal fees
If you decide to work with our law firm, our lawyers will get to work on your case immediately.
How Our Services Get Paid
With a contingency-fee agreement, we get paid only if we win your case. If we are not successful, you are not obligated to pay any attorney's fees. So, it is our incentive to work hard for your case and reach a fair settlement.
Once we secure payment from the liable insurance company, we deduct our legal fees from your settlement check. Then, we mail the remaining compensation to your family. You will be able to learn more about our fee agreement system during your first consultation.
Deadlines for Filing a Wrongful Death Action in New Jersey
All states have a statute of limitations for filing wrongful death lawsuits. In New Jersey, a plaintiff may have two years from the date of death to seek a lawsuit, per NJ Rev Stat § 2A:31-3. If you fail to bring the claim within the two-year deadline, you may not be able to recover compensation.
Keep in mind that various factors can affect your statute of limitations, including how your loved one died or the party responsible for the accident. To ensure that you do not miss your statute of limitations, seek the assistance of a professional attorney. Our lawyers can review your case and get to work immediately to make sure everything gets filed on time.
Take Legal Action with Our Newark Fatal Car Accident Attorneys
Don't wait to take legal action after a fatal motor vehicle accident in New Jersey. Instead, let one of our Newark fatal car accident attorneys at Morelli Law Firm handle all the details of your case.
We are the personal injury law firm that Newark residents trust, and we are ready to secure justice for your case. Contact our legal team now at (212) 751-9800 to request a free case evaluation.