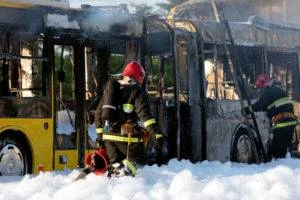 If you have been involved in a public transport accident, a Long Island public transport accident lawyer can advocate for your rights. Our team at Morelli Law Firm will gather the needed evidence to support your accident claim. You should not have to pay for someone else's mistake. Call us today at (212) 751-9800 to get started.
Causes of Public Transport Accidents
Many people on Long Island use public transportation. Public transportation vehicles could include buses, trains, subways, or taxis. You could be injured in an accident if you are a passenger in a public transportation vehicle or another car. Accidents can be caused by a variety of different factors, such as:
Reckless Driving
Drivers of public transportation vehicles could be driving recklessly. Driving a bus or taxi on Long Island can be difficult and takes patience. If a driver gets frustrated or is in a hurry, they might drive recklessly and cause an accident.
Speeding
Drivers are often in a hurry. They may have an appointment they are late for or are trying to get to work on time. However, speeding can be extremely dangerous, especially in high traffic areas. According to the National Highway Traffic Safety Administration (NHTSA), over 9,000 people died in 2018 in car accidents caused by speeding. In addition, driving over the speed limit reduces the amount of time you have to stop or react to objects that enter your path.
Distracted Driving
Distracted driving can happen to any driver. If a person is driving all day every day, it can be tempting to pass the time on their phone or listen to music. Passengers on public transportation vehicles and other road conditions can also be distracting.
Driving While Fatigued
Public transportation drivers are often working long hours at all hours of the day. If they are overtired, their reaction times are not as quick as they should be. They might be slow to react to a red light or something that crosses their path.
Driving While Intoxicated
Driving while intoxicated is illegal and dangerous for any driver. When a driver is responsible for the lives of other passengers in their vehicle, driving while intoxicated could be deadly for anyone in their vehicle.
Weather Conditions
Weather conditions can play a significant factor in public transport accidents. Bad weather can affect the roads' visibility, causing it to be difficult for drivers to see where they are going. If the roads are icy or wet, they can cause vehicles to slide on the road resulting in an accident.
Statute of Limitations
As stated in New York Civil Practice Law & Rules (CVP) §214, you have three years from the date of your accident to file a lawsuit. The longer you wait to file your lawsuit, the more difficult it can be to find evidence to support it. Evidence supporting how the accident occurred is needed to build your case. Evidence could include:
Photographs of the accident scene and your injuries
Police report
Doctors' statements
Mechanic's statements
Video footage of the accident
Dashcam footage
Witness statements
A Long Island public transport accident lawyer can help you gather this evidence to support your claim. Our team at Morelli Law Firm is here to help protect your rights and help you get the compensation you deserve. Get in touch with us today at (212) 751-9800 to schedule your free consultation.
Compensation
If you are involved in a public transport accident, the costs can add up quickly. Between emergency room costs and repairing your vehicle, the expenses can be life-changing. You should not have to pay for someone else's mistakes, and you could be entitled to more compensation than you realize.
Medical Expenses
You could be compensated for the medical bills you acquire because of your accident. These costs could be diagnostic tests, medications, doctors' appointments, surgeries, and other types of treatment.
Vehicle Damages
If you were driving your vehicle when the accident occurred, you could be compensated for the damage done to your car, as well as a replacement vehicle if your vehicle was totaled.
Decrease in Income
If you had a physical labor job prior to your accident, you might have to switch careers due to your injuries. You could be compensated if your salary is decreased because of your injury.
Loss of Income
Your injuries from the accident could have made you miss work. Your lost wages could be the result of your debilitating injuries, lack of transportation, or medical treatment you may need.
Pain and Suffering
Pain and suffering is any physical or emotional distress you have due to the accident. While this can be difficult to put a dollar sign on, it should be accounted for when determining compensation.
How We Can Help
If you were involved in a public transport accident, a Long Island public transport accident lawyer can help you by giving you legal support while fighting for your compensation. If you were in a public transportation vehicle, you should have been able to trust you were in good hands and kept safe.
Being in any vehicle accident can be terrifying. You should not have to be responsible for paying the damages someone else caused. Morelli Law Firm can help you fight for the compensation you deserve. Our law firm works on a contingency fee basis, so you will not be charged any money unless we secure compensation for you. Reach out to us today at (212) 751-9800 to see what options are available to you.