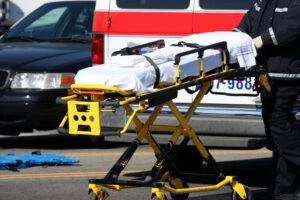 A Huntington fatal truck accident lawyer could help those who lost a loved one in a fatal truck accident in New York, which may be necessary if your relative's wrongful death came with expensive medical bills and funeral costs.
Filing a claim for a fatal accident may get complicated for the victims since there are many steps and factors to consider. But filing a claim for damages can be the best chance for them to recover after a significant loss. If you lost a loved one after a fatal truck accident, an attorney from Morelli Law may be able to help.
How Can a Surviving Family Member Pursue Damages for a Fatal Truck Accident?
If you lost a loved one in a fatal truck accident in Huntington, you may be able to pursue damages through a wrongful death claim. However, to pursue compensation, the surviving family members must prove a truck driver or another party was at fault for the accident that caused the victim's death.
These are some of the steps a surviving family member should take to claim damages:
Contact a wrongful death attorney:

An experienced wrongful death attorney can advise you on your legal rights and help you pursue a claim for compensation.

Investigate the accident:

Your attorney will investigate the accident and then determine who was at fault through police reports, witness' statements, and physical evidence.

Determining liable parties:

Your attorney will identify all liable parties, including the truck driver, trucking company, or even the truck manufacturer.
It is important to talk to your Huntington fatal truck accident attorney before talking to insurance adjusters or other party representatives. If you were in the same vehicle at the moment of the accident, it is important to get medical attention for yourself as well.
Do I Need a Truck Accident Wrongful Death Lawyer?
A Huntington wrongful death attorney can look at your truck accident to let you know the next steps. Having an attorney is the best way to navigate the legal process, but it also increases your chances of getting the compensation you deserve. People who hire a lawyer tend to get better and faster results than those who file a claim independently.
But a wrongful death lawyer can help in many other ways. For instance, Morelli Law attorneys can conduct a private investigation to determine liability, negotiate with insurance companies, and represent you in court. You can leave these tasks to your Huntington fatal truck accident attorney while you recover from the accident.
Causes and Factors Involved in Fatal Truck Accidents
Truck accidents are common in New York. The city's pace can turn any wrong decision on the road into a fatal crash. These are the most common accidents our attorneys handle in truck-related wrongful death claims:
Distracted driving

Speeding

Reckless driving

Driving while fatigued

Equipment failure

Negligent pedestrians
A Huntington law firm can help you determine the causes of the accident. This is an important step since it can also determine the accident's severity and who is liable for damages and compensation.
Who is Liable for Damages and Compensation After a Fatal Truck Accident
Truck accidents, unlike car accidents, tend to involve several parties. That's why liability can be difficult to determine. However, an experienced Huntington fatal truck accident lawyer will investigate and decide which party is responsible. Some of the most common liable parties are:
Truck drivers:

Driving while fatigued,

driving while distracted, and substance abuse are the main causes for truck drivers to lose control and cause an accident.

Trucking company:

When an accident is caused by a lack of maintenance, or the trucking company's tight schedule, they can be liable for damages.

Cargo companies:

Some fatal truck accidents occur because the cargo was wrongfully loaded and spilled, causing the trailer to sway and causing the driver to lose control.

Government entities:

The

New York State Department of Transportation

is liable for an accident when the cause was a hole in the road, bad signaling, or malfunctioning traffic lights.
Injuries That Can Lead to Wrongful Death After a Fatal Truck Accident
Surviving family members can file a wrongful death claim, including funeral costs and the emotional distress of their loved one's departure. But many fatal truck accident victims lose their lives after days or weeks under treatment or intensive care.
Some injuries that can lead to a wrongful death after an accident are traumatic brain injuries, spinal cord Injuries, and internal organ damage. But a victim can experience a wrongful death in many ways after being hit by a truck. An experienced attorney can look at your situation and let you know if you have a case for a claim.
Damages a Fatal Truck Accident Attorney in Huntington, NY, Can Recover
A fatal truck accident can represent an emotional loss and a financial burden for surviving family members. The good news is that they are entitled to pursue damages if someone else was responsible for their family member's wrongful death.
Some of the damages our attorneys recover consistently for our clients are property damage, emergency services, medical care, funeral costs, and lost wages. Non-economic damages, such as pain and suffering, are also present in many fatal truck accident claims.
Statute of Limitations for Huntington Fatal Truck Accident Claims
New York Statute of limitations for wrongful death cases is generally two years from the accident date. That means surviving family members have two years from the date of the truck accident to file a wrongful death claim.
However, some exceptions to this rule can shorten your time. Remembering this is important since losing the date can usually mean losing your right to claim damages. Your Huntington fatal truck accident attorney can determine how much time you have left and help you gather documents and evidence.
Contact a Fatal Truck Accident Lawyer in Huntington, NY
Hiring an attorney to handle your fatal truck accident case may be the best option since they can help you navigate New York's legal system and offer different ways to recover damages, which can be convenient if you need time to mourn your loss and spend time with your family.
Our law firm can offer you a free consultation where we can talk about your case and show you your legal possibilities. Contact Morelli Law today and let us pursue the damages you deserve and help you move forward after the tragic passing of a loved one.