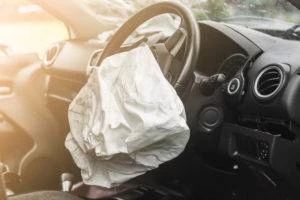 When you get in a car accident, and it's your fault, New York car accident insurance laws allow you to seek damages through your own no-fault, personal injury protection (PIP) insurance policy. The other occupants of your vehicle and everyone else involved in the accident may also turn to no-fault policies to recover compensation for their losses.
According to the New York Department of Financial Services (DFS), your no-fault PIP coverage should provide up to $50,000 coverage for your medical care, a portion of your lost wages if you miss work, and other damages.
It is important to ensure you do not admit fault or make any other statements related to fault. In some cases, drivers who believe they caused an accident might not understand the full scope of contributing factors that may have caused the accident. Admitting fault may damage your fault-based claim if you have a case against another motorist and need to take legal action.
The Other Driver May Be Able to File a Fault-Based Claim
If there is proof that you caused the accident and the other motorist or someone else suffered serious injuries, they may be able to pursue action against you. According to the New York DFS, the injured party may be able to file a claim with your liability insurance if:
Their injuries meet the state's "serious injury" threshold
They suffer permanent injuries
Their treatment and care costs exceed their $50,000 PIP policy
Their injuries incapacitate them for more than 90 days of the first six months after the accident
They pass away from their injuries
You may not need to go to court, as many cases settle without going to trial. However, if your insurer cannot reach a settlement with the plaintiff, this might lead to the plaintiff bringing a personal injury lawsuit against you.
Have You Been Injured In An Accident? Contact Morelli Law
877-751-9800
Reevaluating Fault in Your NY Car Accident
It is important to remember that even if you get in a car accident, and it's your fault, there might still be other factors that caused or contributed to the accident, which you might have been unaware of at the time. This is why we recommend not admitting fault.
Of course, if no one suffered serious injuries, there is no reason to worry about fault under New York law. However, if your treatment and losses do or will exceed your $50,000 PIP policy, it may be worth reaching out to our New York car accident attorneys for a complimentary consultation.
Even if you believe you were responsible for the accident or the police blamed you, an attorney may see something you overlooked, based on their experience with similar accidents. If your New York Uber and Lyft rideshare accident lawyer can gather evidence to show that you were actually the victim in the collision, you may have additional legal options for pursuing compensation to cover your bills and losses. You may be able to receive compensation through:
Your no-fault PIP policy
The at-fault driver's bodily injury liability coverage
Property damages coverage
A personal injury lawsuit
While there are very short deadlines for filing a claim with your no-fault policy, your attorney may have more time to investigate your accident, prove negligence and liability, and develop a case against the other motorist. Per the New York Civil Practice Law & Rules (CVP) § 214, you generally have up to three years to hold the other driver responsible by submitting paperwork and naming them the defendant in your legal case.
Recovering Damages for Your Accident Injuries
If you can pursue damages in a fault-based claim or suit, you may be able to recover financial compensation to cover a wide range of expenses you incurred. This may include both tangible and intangible losses. We often seek compensation for damages, such as:
Current treatment and medical care costs
Future and ongoing care costs related to your injuries
Current lost income and benefits
Diminished earning capacity
Property damages
Pain and suffering
Diminished quality of life
Mental anguish
We also take on wrongful death cases for our clients. You may qualify for a wrongful death case if an immediate family member died as a result of their accident injuries.
Get a Free Accident Case Review from Our Team Today
At Morelli Law Firm, our team offers complimentary consultations for car accident victims in New York City and Long Island. We also serve clients throughout the state of New York up to Albany, northern New Jersey, and Philadelphia.
If we believe we can help you navigate the claims process and recover compensation in your case, we will represent you on a contingency-based plan. You do not need to pay any upfront attorney's fees, as we will receive our fees after we secure your payout.
You can dial (212) 751-9800 today to get started.