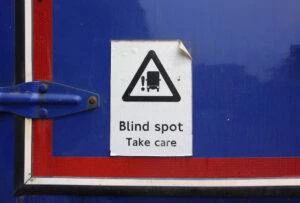 Each year, truck accidents occur largely in part because motorists drive in the blind spots, or "no zones," of an 18-wheeler or semi-truck. These areas are usually marked by a label or picture on the back of the truck or its sides that warn motorists of the dangers. Still, injuries and sometimes fatalities occur as a result of driving in these risky areas.
To prevent future harm, the Morelli Law has created a guide answering frequently asked questions regarding the no-zones on a truck, including what they are, what dangers they present, and how to avoid mishaps if you find yourself in an unsafe area.
Our personal injury law firm has decades of experience informing and representing truck wreck victims and strives to promote safety for all motorists.
What Does a No-Zone on a Truck Mean?
Where Are No Zones Located on a Big Rig?
Why Are No Zones Spots Dangerous To Drive In?
How Can Drivers Ensure Safety When Driving In or Near a Truck's No Zone?
If A Car Is Driving In a No-Zone and an Accident Occurs, Who Will Have to Cover the Damages?
What Does a No-Zone on a Truck Mean?
A "No-Zone" is a spot around a commercial truck where the truck driver's view is severely hindered or entirely blocked as it relates to truck safety. Commonly known as blind spots, these areas are to blame for over 800,000 accidents per year, according to the National Highway Traffic Safety Administration (NHTSA)
Trucks have larger blind areas than smaller cars because of their large size and layout. Therefore, to help prevent accidents and preserve general road safety, it is essential for all drivers who share the road with trucks to comprehend and be aware of these no-zones.
Where Are No Zones Located on a Big Rig?
Where and how large the truck no-zones are may vary depending on the commercial truck's design, size, and composition. It is standard for the following areas to be the general blind spots on a semi-truck or big rig:
The front no-zone:

The front no-zone is the area directly in front of the vehicle where the driver's visibility might be impeded by the truck's height and the position of the driver's seat. Since trucks have higher ground clearance, it may be challenging for the driver to see anything right in front of them.

The rear no-zone:

The region right behind the truck is known as the rear no-zone. Because trucks lack a rearview mirror and have a small field of vision from their side mirrors, they have significant blind spots in the rear. When driving behind a truck, it's essential to keep a safe following distance so that the truck driver can see your car.

The right-side no-zone:

The space to the right of the vehicle, spanning from the side mirrors to several lanes, is known as the right-side no-zone. Since this area can be rather large, vehicles moving along the right side of the truck can be seriously endangered by this blind space. To prevent accidents, it's necessary to refrain from parking or driving in this area.

The left-side no-zone:

Like the right-side no-zone, the left-side no-zone runs the whole length of the truck and is occasionally larger for right-hand drive vehicles. When driving on the left side of a truck, it's crucial to be cautious and make sure you can be seen by the driver.
Why Are No Zones Spots Dangerous to Drive In?
Truck no-zones and blind spots are hazardous to drive in because they severely restrict or block the truck driver's view. Due to the following factors, there is an increased risk of accidents and crashes in certain areas:
Limited Visibility
It can be more difficult for a truck driver to anticipate and respond to potential risks or changes in traffic circumstances when a vehicle is in a blind area since the driver may not be aware of its presence.
Increased Collision Risk
Driving in a truck's blind spot increases the risk of colliding with another vehicle. When a car is in a no-zone, unexpected lane changes, side-swipe accidents, or rear-end crashes might result from the truck or the car in the blind spot making quick adjustments. This is especially true when cars enter or leave the blind spot without giving the correct signal or taking care.
Limited Reaction Time
When a vehicle is in a big rig's no-zones, the driver has a constrained amount of time to respond to any unforeseen hazards or changes. This can entail abrupt braking, lane switching, or turning. Because the truck driver may not have enough time to evade traffic or make adjustments, the shorter reaction time increases the likelihood of accidents.
Longer Stopping Distance
Because of their size and weight, trucks need a longer stopping distance. The car in the blind area might not have enough time or space to respond in time to avoid a collision if a vehicle is in a no-zone and the truck driver needs to make an abrupt stop. As a result, there may be rear-end collisions, or the car may become wedged in between the truck and another object.
Lack of Contact
It can be difficult for a truck driver and the driver of the other vehicle to make eye contact when they are in a no-zone. This may make it more difficult to negotiate rights-of-way or convey intentions. For safe lane changes, merging, and other driving actions, clear communication is crucial.
Drivers must be aware of a truck's blind spots and steer clear of them in order to maintain road safety. Preventing accidents and fostering safer interactions between trucks and other vehicles on the road can be achieved, but in the event of a trucking blind spot accident, a personal injury attorney can help you seek damages to cover your losses.
How Can Drivers Ensure Safety When Driving In or Near a Truck's No Zone?
Drivers must be proactive, aware, and conscious of the truck's blind spots in order to ensure safety while traveling through or close to its no-zone. Here are some crucial pointers to encourage safety:
Be Aware of No-Zones

: Recognize the truck's surrounding spaces, such as the front, back, and sides, where the driver's view is constrained. To foresee potential risks, be aware of the general size and placement of a truck's blind zones.

Keep a Safe Following Distance:

When following a truck, keep a safe following distance. By keeping a sufficient distance behind the truck, you give yourself more time to respond to any sudden maneuvers or stops and allow the truck driver to see your vehicle in their mirrors.

Avoid Standing Still:

Because a truck's right side tends to have a greater blind spot region, avoid standing still in its blind spot. Maintain a constant pace as you safely pass the truck, signaling your turn intentions with your turn signals.

Make Eye Contact:

When entering or crossing a

truck driver's no-zone

, make eye contact with them whenever you can. By doing so, you may make sure they are aware of your presence and your goals.

Be Courteous:

When changing lanes or merging next to a truck, signal your intentions clearly and ahead of time. Allow enough time for the truck driver to anticipate your actions and modify their driving style accordingly.

Be Extra Careful When Turning:

When a truck is turning, drive with extra caution. Trucks frequently need a bigger turning radius; thus, they may swing out to the other side when executing a right turn. Avoid parking your car in the truck's turning route to reduce the risk of accidents.

Be Patient and Predictable:

When sharing the road with trucks, be patient and predict your next move. Be dependable in your movements, drive steadily, and steer clear of abrupt lane changes or moves that can throw the truck driver off.

Be Visible:

Position your car so that the truck driver can see you in their mirrors to make sure you are visible to them. Stay out of the blind zones, especially when behind a vehicle.
Keep in mind that increasing safety near trucks necessitates alertness, endurance, and attention to traffic regulations. You may reduce the risk of accidents and help make it safer for trucks to share the road with other cars by being aware of a truck's no-zones and adhering to these rules.
If a Car is Driving in a No-Zone and an Accident Occurs, Who Will Have to Cover the Damages?
The concept of negligence will be used to determine who is at fault if a car is driving in the no-zones of a commercial truck. Whoever is found to be at fault for failing to take reasonable care and, consequently, causing harm to another person will be responsible for paying for damages.
Since insurance coverage and liability determination processes can be complex with commercial vehicles, it is best to consult with a truck accident attorney who can assess the details of your case and provide the appropriate guidance according to your interests and legal options.