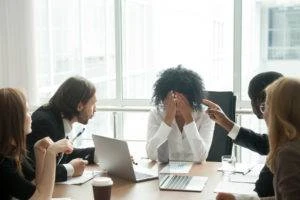 Discrimination in the workplace can take on many forms. According to the U.S. Equal Employment Opportunity Commission (EEOC), some examples of discrimination in the workplace can involve:
Age
Color or race
Disability
Equal pay
Genetics
Harassment, including sexual harassment
National origin
Pregnancy
Religion
Retaliation
Sex
If you or someone you love was the victim of one or more of these forms of discrimination at work, a lawyer in your area may help you with your case. They may define the kind of discrimination you are facing, help you tell your story, and seek financial compensation on your behalf.
Top Ten Examples of Discrimination in the Workplace
Discrimination at work can make it difficult or impossible for victims to do their job. It might even derail their careers, depending on the type of discrimination. According to the EEOC, the following were the most often reported forms of discrimination in the workplace in 2019:
Retaliation: 53.8% with 39,110 charges filed
Disability: 33.4% with 24,238 charges filed
Race: 33% with 23,976 charges filed
Sex: 32.4% with 23,532 charges filed
Age: 21.4% with 15,573 charges filed
National origin: 9.6% with 7,009 charges filed
Color: 4.7% with 3,415 charges filed
Religion: 3.7% with 2,725 charges filed
Equal Pay Act: 1.5% with 1,117 charges filed
Genetic information: 0.3% with 209 charges filed
If you believe you are facing discrimination, report everything you have endured and its impact on your job as soon as possible. A lawyer near you can help you assess your case and determine your next steps.
New York State's Division of Human Rights Defines Protected Classes
New York State's Division of Human Rights (DHR) defines the people it protects from workplace discrimination as protected classes. Its protected classes include:
Age
Sex
Creed
Disability
Race or color
Sexual orientation
National origin
Military status
Marital status
Familial status
Pregnancy-related conditions
Domestic violence victim status
Prior arrest or conviction record
Gender identity or expression
Predisposing genetic characteristics
Retaliation for opposing unlawful discriminatory practices
Speak with a law firm representative near you today if you were subjected to discrimination at work. Your lawyer may help you file a claim against the at-fault party for financial recovery.
Have You Been Injured In An Accident? Contact Morelli Law
877-751-9800
Not All Maltreatment Constitutes Discrimination
Discrimination can be difficult to endure and impossible to tolerate. No one should be made to feel uncomfortable at work. Doing so is against the law. The EEOC clearly defines acts of employment discrimination as:
Being treated unfairly in comparison to your coworkers
Receiving harassment from superiors or other workers
Refusal to make reasonable accommodations for your religious beliefs
Refusal to make reasonable accommodations for your disability
Being asked inappropriate questions about genetic information or medical information
Retaliation after you make a complaint
Not everything you might call discrimination will be defined that same way by the law. If you are unsure about where the discrimination you endured falls on the list above, or if you might have a claim for discrimination, you may consult a lawyer for legal advice.
Discrimination at work is always unacceptable and against the law. The law takes discrimination seriously and makes provisions for you to seek compensation against an at-fault employer. Your lawyer can listen to your story with compassion, apply the law to your situation, help you define your discrimination-based damages, and determine your next steps.
Defining Your Rights in the Workplace
According to the New York State Division of Human Rights, human rights laws include protection from harassment at work for any protected class. It defines an individual's right to file an employment discrimination claim, affirms the ability to seek punitive damages from a private employer, and allows you to pursue attorney's fees.
Act quickly if you want to file a discrimination complaint. The state generally limits your right to file common workplace discrimination lawsuits to a single year. However, if your complaint is based on sexual harassment, the statute of limitations may be extended to three years. Your lawyer may explain the relevant time restrictions and ensure your potential lawsuit is filed on time.
Morelli Law Firm Wants to Lead Your Discrimination Case
If acts of discrimination made your workplace intolerable, you might have the basis for a discrimination lawsuit. Talk to a member of our client intake team today to learn more about examples of discrimination in the workplace. Our team can help you understand discrimination law and how it might apply to your case. If you want legal assistance in building your case, contact our legal team by calling Morelli Law Firm at (212) 751-9800 today.