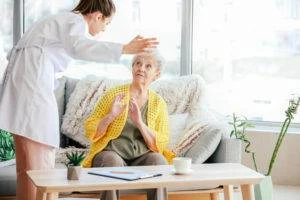 According to National Center on Elder Abuse (NCEA) research, nursing home abuse does not have to mean your loved one was physically assaulted. It can also mean they were neglected or left unattended or uncared for. Other types of abuse in a nursing home include sexual violence or harassment, intentional infliction of emotional pain, psychological trauma, and financial abuse.
If your elderly spouse or parent sustained unexplained injuries, was forced to endure unacceptable treatment, or was the victim of theft in their care facility, we can help. Our law firm will help uncover the types of nursing home abuse your loved one endured, identify the at-fault party, and prepare an insurance claim or lawsuit for financial compensation.
What Types of Compensation Can I Receive for Abuse in a Nursing Home?
According to The National Consumer Voice For Quality Long-Term Care definitions, your loved one and every nursing home resident is entitled to quality, compassionate care in a facility that enhances or improves their quality of life. When you discover your loved one was abused, you have two immediate goals – getting immediate medical care and relocating them to a safe facility. The damages we help you recover in an elder abuse case include:
Emergency, current, and future health care
Moving expenses to relocate your loved one
Physical and emotional pain and suffering
You could recoup the costs of their funeral and burial expenses if your loved one succumbed to their abuse. You can also recover the costs of providing your loved one with counseling and support as well as replacement of their finances or personal property if they were the victim of theft.
Act Quickly If Your Loved One Was Abused in a Nursing Home
The amount of time you have to file a lawsuit on behalf of your loved one can vary from state to state and can depend on the type of abuse inflicted on your loved one. Because our firm represents nursing home victims in several states, we help identify and comply with the relevant statute of limitation and remove the risk of having your lawsuit dismissed without being heard.
Have You Been Injured In An Accident? Contact Morelli Law
877-751-9800
How Can a Nursing Home Abuse Attorney Help with My Claim?
Nursing homes typically have a myriad of staff members on varying shifts throughout the day. This, combined with the reluctance your loved one may have in talking about their abuse or identifying the perpetrator, can make proving your abuse allegations difficult on your own. However, when our nursing home abuse lawyer handles your case, they will work hard to identify your loved one's abuser by:
Carefully and compassionately interviewing your loved one
Interviewing nursing home residents and staff
Obtaining surveillance video, wherever possible
Reading and reviewing your loved one's medical records
Obtaining copies of any police or incident reports
No one should be mistreated in the facility you both depended on to care for them. When that does happen, we help you and your family seek financial compensation for your loved one.
Keep Copies of Your Loved One's Medical Records.
In the aftermath of your loved one's abuse, they can require a wide array of mental and physical health care. To diagnose and treat your loved one's injuries, they may have to undergo:
A physical examination
A slew of laboratory tests
Counseling and therapy
Pain management
Any treatments required to restore your loved one's physical health and emotional wherewithal qualify for compensation as part of your case. So that you and your family can concentrate on helping your loved one recover, we gather these records for you along with other evidence we use to substantiate your case.
Injured Clients are Always a Priority for Our Law Firm
Nursing home abuse cases are legally and emotionally complicated. When we helped other injury victims seek compensation, they left us reviews and referrals like these:
"I chose the Morelli Law Firm because I had the chance to see Mr. Morelli "in action" when I was a juror…in a personal injury trial. I was truly impressed by the talent of Mr. Morelli…regarding the case." – Thomas Weber
"My entire family and I couldn't thank Michael and his team enough for what they did for us. This is an exceptional law firm for anyone who is looking for quality and professional personal injury lawyer." – Xiang Mei Cao
"They won the case in court, obtaining a significant settlement that allowed me to move on with my life. Attorney David Sirotkin was amazing… I would recommend Morelli Law Firm to anyone." – Dillon John
Learn more about our commitment to our clients by reading additional reviews and recommendations on our client reviews page.
Get Help with Your Nursing Home Abuse Case By Contacting Our Office Today
If someone you love was mistreated in their nursing home, our nursing home abuse attorney will help you define the type of elder abuse inflicted on your loved one. We also assign a monetary value to your case and negotiate a settlement on your behalf. Contact Morelli Law Firm by calling (212) 751-9800 today.