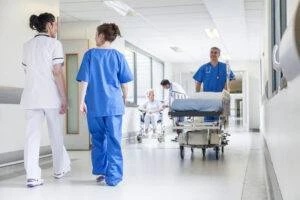 Should you go to the hospital after a car accident? The answer to that question depends on your medical condition following a collision with another vehicle. Generally, the professionals advise that you visit a hospital after any injury caused by a wreck.
You can learn more about seeking medical care after a collision with our team at the Morelli Law Firm. A car accident lawyer can help you review your options and the steps to take after a wreck, including getting treatment for your injuries.
Find out more by calling or filling out our online contact form.
Should You Go to the Emergency Room (ER) After a Car Accident?
Car accidents can cause many different injuries. Some injuries require emergency treatment, while some may allow you to visit an urgent care facility. In some situations, you may even have a chance to visit your family doctor or general practitioner.
How do you know if you should go to the ER for your injuries? Generally, the ER is the best choice if you sustain a severe injury in a collision. We recommend the ER for injuries like:
Uncontrollable bleeding

Severe trauma

Broken bones

Breathing difficulties
Keep in mind that the adrenaline rush after an accident may make it difficult for you to accurately assess the severity of your injuries. Therefore, it's often a good idea to visit the ER even if you aren't sure you have a severe injury.
Should You Go to Urgent Care After a Car Accident?
Should you go to the hospital after a car accident or visit a different kind of medical facility? Individuals hurt in car wrecks sometimes decide to go to an urgent care facility. Many urgent cares can provide care for minor injuries after a collision.
However, they do not have the equipment to address injuries like broken bones, internal bleeding, or traumatic brain injuries (TBIs). In fact, after an assessment, the medical professionals at the urgent care may send you to the ER for additional treatment.
Therefore, if you suspect you have serious injuries, we recommend that you go to the hospital first.
Can Urgent Care See You Faster After an Accident?
Urgent care facilities may provide faster treatment than an ER for relatively minor injuries depending on where you live. They may also charge less for their services. However, they cannot deal with more severe injuries.
You can consider all these factors when deciding where to go after a wreck.
Should You Visit Your Family Doctor After a Car Accident?
Generally, professionals recommend that you seek immediate treatment after a car wreck. However, waiting for an appointment with your family doctor can prevent you from getting immediate care for your injuries, and their office won't have the equipment to treat traumatic injuries.
However, you may visit a family doctor if it takes time before you notice your symptoms, which are relatively minor. For example, some individuals visit a family practice if they notice headaches or pain in their neck after a wreck.
We recommend visiting a medical professional as soon as you notice any pain, discomfort, or other symptoms following a wreck.
Why Go to a Hospital After a Car Accident?
Should you go to the hospital after a car accident? In many cases, the answer to this question is 'yes.' So why is it important to visit the hospital? For one thing, getting prompt medical care can help you recover more quickly from the collision.
Getting medical care quickly has other benefits. Doctors create official records of the injuries you sustained and the care you require to recover. Car accident lawyers can use these records to show how many losses you sustained in the wreck.
Prompt medical care also helps to show that your injuries occurred when you say they did, connecting your financial losses to the wreck.
Who Pays for Your Hospital Bills After a Car Accident?
We understand that some drivers hesitate to go to the hospital after a car accident because of the high cost of medical treatment in the U.S. Even with good insurance, an ER visit can easily cost thousands of dollars.
Fortunately, you may not have to cover the costs of your medical expenses if someone else caused the wreck. Instead, a lawyer can step in to investigate the accident, working to show that another party caused the collision through an act of negligence.
In this situation, the at-fault driver may have to cover the costs for your:
Emergency room visit

Time in the hospital

Medical tests and procedures

Medications

Physical therapy and rehabilitation
In addition to covering your medical expenses, the at-fault party may provide damages for your vehicle repairs, lost wages at work, pain, and suffering.
What Happens if the Other Driver Blames You for the Wreck?
Other drivers often try to deny their responsibility for an accident to avoid covering the costs of the collision. Fortunately, a car accident attorney can gather evidence and represent you, taking steps to bring you funds for your losses.
In many states, you also have the chance to secure some damages, even if you were partially responsible for the wreck. Again, you can learn more about these options with your attorney.
Learn More About What to Do After a Car Accident
Should you go to the hospital after a car accident? In many cases, yes, you should immediately seek medical care following a collision. However, it's also a good idea to report the accident to the police and contact a car accident lawyer for additional help.
You can get advice today from our team at the Morelli Law Firm. Learn more by calling or filling out our online contact form.