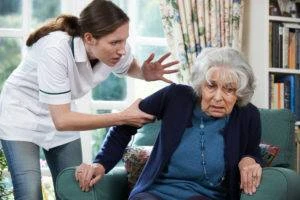 The individual who abused a resident and the facility where they were employed can be held liable for the abuse or gross neglect of your loved one. Elder abuse can come from stressed, overworked caregivers. It can also come from fellow nursing home residents. The facility itself, though, is responsible for your loved one's health, safety, and wellbeing.
When someone you love is injured in their nursing home, you have the right to know who caused their injuries and who is liable for nursing home abuse. We help you identify the at-fault party and hold them accountable for their carelessness, recklessness, or negligence. We also build a strong case for financial compensation and negotiate the favorable settlement you are entitled to.
What Are Signs of Elder Abuse in a Nursing Home?
Sometimes, nursing home abuse can be hard to spot. If you notice one of the following nine signs of abuse noted by U.S. News research, our nursing home abuse lawyer can help you investigate your loved one's facility:
Physical and behavioral changes
Evasive answers from staff members
Inadequate or flustered staff members
A high volume of staff turnover
Fear of particular staff members
Unresponsive or uncommunicative staff
Repeated episodes of dehydration
Lack of care for the facility's condition
Your gut feeling that something is amiss
If we uncover abuse in the nursing home, we guide you through the financial compensation process. Our nursing home abuse attorney will handle everything from building your case to negotiating with the facility or their insurance company.
Get Our Law Firm Involved in Your Nursing Home Abuse Case Immediately
When you discover your loved one is being abused, you want to take immediate action to have them get medical attention and move them to a safer home. While you can take these actions immediately, you should also consider contacting our team right away. Doing so means we have time to investigate and time to comply with the statute of limitations.
We represent nursing home abuse clients in three states – New York, New Jersey, and Pennsylvania. Each of these states has mandated filing deadlines that define how much time you have to seek compensation by filing your nursing home abuse lawsuit. Each state may also have more than one applicable standard. When we handle your case, we make sure you understand and comply with the appropriate statutes.
Have You Been Injured In An Accident? Contact Morelli Law
877-751-9800
What Types of Damages Are Recoverable in a Nursing Home Abuse Case?
A National Center On Elder Abuse (NCEA) report cites the following alarming statistics: 44% of nursing home residents complained of abuse, 95% complained of neglect, and half of nursing home staff engaged in some form of abuse. If an elderly family member was a recent abuse victim, we can help you seek the following recoverable damages:
Return of their nursing home payments
Medical care to treat their injuries
Replacement of any stolen property
Appropriate mental health care
Physical and emotional pain and suffering
In some cases, you may also qualify for wrongful death and punitive damages. Punitive damages are only awarded if the nursing home's negligence was particularly heinous or intentional. If these additional damages are applicable in your case, we include them in your compensation request and include evidence of your right to them in your case file.
See why Past Clients Recommend Our Law Firm
Recommendations from other injury victims can help you understand what it means to work with us. When they recommend our team to others on our testimonials page, previous clients say:
"Michael S. Schlesinger from Morelli Law firm went above and beyond to help my father… This is an exceptional law firm." – Xiang Mei Cao
"Vicky has been FANTASTIC!! They were helpful, patient, & kept me informed in all steps. I would hire them again." – Janice Miles
"Michael Schlesinger was…empathic, smart, helpful and a great communicator. Michael's team was first rate as well. I am so appreciative." – J Moses
"Attorney David Sirotkin was amazing… I would recommend Morelli Law Firm to anyone who needs a top-flight law firm." – Dillon John
"Morelli Law Firm was the best to deal with… I will be forever grateful…Thank you to all at Morelli Law Firm." – Brian Busche
Abuse of the elderly is always wrong, and we will always help victims and their families fight back. Our nursing home abuse attorneys are committed to ensuring you get the empathy and support you need to fight for the compensation you deserve.
Contact Our Office Today to Receive a Review of Your Nursing Home Abuse Claim
Was someone you love abused in their nursing home? When we help you seek compensation, we uncover who is liable for their nursing home abuse, determine the value of your case, and negotiate a financial settlement on your behalf. Find out how we will fight for you by contacting Morelli Law Firm at (212) 751-9800.