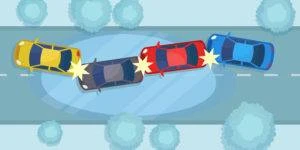 Multi-car accidents are common in a city as crowded and as icy as New York City can be. Even a simple rear-end accident can start a chain reaction accident. Once there are more than two vehicles, compensation gets complicated fast.
The lawyers at Morelli Law are familiar with multi-car pile-up claims and how to negotiate with insurance companies about them. Here's what drivers need to know about these accidents. Call us for a free consultation If you have been in one and need legal representation.
No-Fault Insurance in Multi-Car Accidents
If you carry New York auto insurance, you have personal injury protection coverage. This is what you'll use to pay for your auto accident unless your injuries meet the serious injury threshold, or if you're filing a wrongful death claim on behalf of someone.
PIP coverage cuts through questions of fault and pays drivers directly. It does not matter how many vehicles hit your vehicle, or which one in the chain reaction caused which injuries. However, you still have to prove your injuries to the insurer.
Hiring a lawyer can help you get more from your PIP coverage and see if your injuries qualify for an at-fault lawsuit. They can also protect you against insurance tactics that may try to cast blame on you for the accident.
Icy Roads Cause Huge Pileups
A poor driver rarely causes the worst pile-ups. They're caused by bad weather. Forbes wrote about a single day in February 2021 where dozens of cars got tangled up in a crash, including one that involved 133 cars in Fort Worth, TX.
Untangling who shares responsibility for these accidents is an enormous task. The insurance companies would love to pass the buck on to another company if they can, but the fighting leaves victims waiting too long for compensation they need.
Fortunately for New York drivers, the no-fault system makes handling multi-car pile-up accidents much simpler. If your injuries and property damage aren't so bad, your own insurance may cover all the costs and you don't have to worry about all the finger pointing.
The Serious Injury Threshold
The minimum no-fault insurance amount required for New York drivers is quite low and may not cover all of your expenses. Does this mean you can sue the other drivers? Possibly, but your injuries have to meet the serious injury threshold.
A serious injury is one that causes permanent or significant impairment to the victim, especially injuries that prevent you from living your life the way you lived prior to the accident. Cases of dismemberment and disfigurement are obviously serious, and fractures also qualify.
An insurer may try to argue that your injuries don't meet the threshold, but Morelli Law knows where the true line is on the serious injury threshold and we will fight to hold insurers accountable to New York law. If you do meet the threshold, here's what happens next in a multi-car pile-up accident.
Determining Fault in a Multi-Car Pileup in New York for Serious Injuries
If you have a serious injury and wish to file a lawsuit, you will need the help of a personal injury lawyer like the team at Morelli Law. Our lawyers will investigate the causes of the crash, which parties crashed into your vehicle, and determine how much responsibility you might have had in the accident.
Let's say you got rear-ended and pushed into another lane of traffic. A second car hit you in the front corner of your car. After examining the vehicle damage and your injuries, we will make an argument to the insurers which vehicle caused which injuries and property damages.
Morelli Law has access to accident reconstruction experts and our own medical experts to assess what happened in your accident. This strengthens your case and will make the insurance companies more likely to settle. If they don't, or keep arguing too much while you suffer, we will take them to trial.
What Happens if I Share Responsibility?
It may turn out that you may share some of the fault in the accident. When this happens, courts have rules about how compensation gets adjusted based on your level of responsibility. In New York, we use a standard called pure comparative negligence.
It's a simple calculation. Your percentage of fault reduces the amount of compensation you get from your case. So, if you got $200,000 for your claim but shared 20% of the responsibility, you would only get $160,000.
The "pure" part means that as long as you're not 100% to blame, then you can get compensation in New York courts. Naturally, your personal injury lawyer will work hard to lower your fault as much as possible to maximize your compensation. In a large multi-car crash, much of the blame will get pinned on the few cars that started it.
More Parties May Mean More Money
One of the few advantages of a multi-car pile-up scenario is that there are multiple insurance policies. Getting money beyond the policy limit of a single defendant is hard, especially with serious injuries. But when there are many drivers, there are many policies we can use to pursue claims.
Of course, we will have to prove that the policyholders share in the negligence to succeed in those claims, but if you're facing huge bills, then it may relieve you to know that your lawyer doesn't have to squeeze all the money you need out of one insurer.
Conclusion
New York's no-fault insurance policy makes questions about fault in multi-car pile-ups easier to handle. The usual outcome is that your PIP insurance will pay for everything. However, in serious injury cases, then you have the option of a lawsuit.
If you take this option, or just want to explore the possibility, then call Morelli Law for a free consultation. We will explain your legal options and how we will approach your multi-car pile-up claim to maximize your compensation.
Your consultation is free, and you will owe us nothing unless you win your case and receive compensation. If you are still in the hospital, we can come to you or perform your consultation via teleconference.