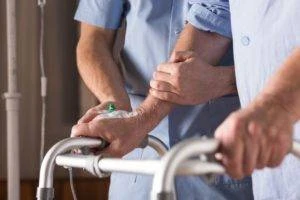 To learn who you can sue for wrongful death in a nursing home, you will need to figure out who was involved in the neglect and/or abuse of your loved one. This could involve a thorough police investigation, as well as an internal nursing home investigation, or even a private investigation if necessary. This process can determine liability.
In a wrongful death case, liability refers to the person, persons, or companies who can be held responsible for your loved one's death. Once liability is determined, you can then bring your claim against the at-fault parties. The purpose of wrongful death claims is to pay damages (compensation) to victims' surviving close family members in order to legally atone for the person's death.
Possible Defendants in a Nursing Home Wrongful Death Claim
The defendant is the person and/or company you can bring a wrongful death claim against. For nursing home claims, this could involve single or multiple staff members, the nursing home, or both.
Staff
If an orderly, supervisor, nursing home director, or another staff member was involved in abuse or neglect of your family member, this could make them responsible for the elder's death.
This could be true even if their involvement was indirect, such as knowing about the abuse and failing to stop it or make changes.
Sadly, the National Center on Elder Abuse (NCEA) reports that we do not know for certain how many elders in the United States may be suffering from nursing home abuse.
Yet anyone who works in health care or long-term care has a duty toward patients or residents, including an agreement to keep them safe and healthy to the best of their ability.
A failure to uphold this duty could result in the staff member's liability for your loved one's wrongful death.
Nursing Home Facility
Rarely are wrongful death claims brought against individual staff members alone. That is, the nursing home is often held liable in the event that they are found to be responsible for your elderly loved one's death.
When you entrust your family member to the care of a nursing home, you are putting your faith in the facility and its standards of care.
You often have to fill out paperwork that outlines the type of care you can expect for your family member, and it is reasonable to expect that your elder will always be treated with the utmost care.
A breach in the care for a resident means the nursing home did not uphold its agreement to care for your loved one's safety and well-being. Ultimately, this may mean you can bring a claim or lawsuit against the nursing home facility for the elder's death.
Eligibility for Filing a Wrongful Death Case
The following people may file claims on behalf of loved ones lost in a wrongful death event in New York:
Spouses
Children
Parents
Siblings
If none of these family members can file their claim, then the courts may appoint a personal representative for the decedent's estate.
Damages that May Be Recovered
The damages, or compensation, recovered after a wrongful death can help surviving family members in a number of ways.
Damages claimed may include compensation to pay for:
Funeral expenses
Pain and suffering
Emotional anguish
Loss of income/assets
Payments for medical care
Which types of damages you can file for on behalf of your loved one may depend on individual circumstances, as well as ways in which the loss affected your family.
How to File Your Case
When you are ready to file your case, make sure you gather all necessary documentation, such as the police report, nursing home investigation report (as the facility should have conducted one), any eyewitness accounts, and other important details. These documents could become crucial to your case.
Finally, it will be important to pay attention to necessary deadlines and required steps to ensure your lawsuit is accepted when you file. New York Estates, Powers, and Trusts Law (EPT) §5-4.1 gives surviving family members of the decedent two years to file a wrongful death lawsuit.
If you want to ensure you meet the statute of limitations and have gathered every last detail to build your case, it may be in your interest to work with a lawyer.
Let Morelli Law Firm Help You Today
Consider hiring a personal injury lawyer from Morelli Law Firm today. Reach out to us now at (212) 751-9800 for more information. Your first call is free.