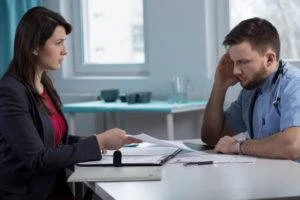 The process for how you sue for medical malpractice generally requires you to:
Collect evidence of the hospital's liability for your injuries, which may include testimony from a medical expert about the care you received
Calculate the value of your damages
File your lawsuit by the applicable legal deadline
A medical malpractice lawyer from our team can handle all of this for you. We can also make things easier by negotiating for damages or even taking your case to court.
Proving Negligence in a Medical Malpractice Case
In order to win a medical malpractice lawsuit against a hospital, you must be able to show that its staff caused your injuries. It is important to note that a bad outcome does not necessarily equate to medical negligence. For medical negligence to occur, a medical professional must:
Have a provable legal responsibility to care for their patient
Take actions that fall below the standard expected of them
Cause a "serious injury," as defined at ISC §5102, to their patient with these actions
What types of evidence do you need in order to prove these factors apply to your case? Our firm can help you collect all necessary forms of evidence, including the following.
Proof of Malpractice Damages
You will need to produce evidence of the damages you have suffered and their value to justify the compensation you are looking for. Types of evidence can include:
Records and bills from your medical treatments
Statements regarding your future treatment costs as determined by the medical experts we hire
Documentation of lost income during your recovery period, including pay stubs or a statement from your employer
Accounts of your pain and suffering or other non-economic damages
Medical Expert Testimony
The difference between what is and what is not medical negligence can be difficult to understand. This is why medical malpractice cases typically require medical expert witnesses to testify that:
The care the victim received fell below a reasonable medical standard
Another doctor in the same situation would have done something differently and prevented harm to the patient.
The injuries you are suing over are more likely than not to have been caused or exacerbated by the liable party's actions
We can determine which medical expert to hire based on the circumstances of your case.
A Medical Negligence Lawyer from Our Firm Can Help
If you are considering filing a medical negligence suit, an attorney from our firm can make the process smoother and less stressful for you. We may be able to collect evidence you otherwise would not be able to collect, thereby strengthening your case. Our team can also:
Assess your case at no charge or obligation
Hire a medical expert witness to testify on your behalf
Submit all related paperwork correctly and on time
Handle all communications with the other side
Calculate how much your injuries are worth in monetary terms
Negotiate with the hospital's insurance company for a potential settlement
Take your case to trial, if necessary
Your lawyer can also give you advice about your case, help you interpret the relevant laws and legal documents, and let you know what to expect throughout the process.
Can Any Personal Injury Attorney Sue a Hospital?
Medical negligence is a special subset of personal injury law. If you wish to sue a hospital, you need a lawyer with experience in medical malpractice cases. If your case meets the standard for medical negligence, you deserve to have someone experienced on your side.
Medical malpractice cases require deep knowledge of two of the most complicated sets of knowledge there are: medicine and law. As we mentioned, even lawyers need to hire medical experts who can testify about whether the care you received met the standards or not.
We Can Determine the Value of Your Case
Carefully reviewing the injuries you sustained and determining how much money you can collect for each is a vital part of the legal process. It may be emotionally difficult to revisit the circumstances of your injury, but our firm can help you to do so and to present an accurate assessment of how much you should sue for.
Examples of medical malpractice damages for which you could qualify include:
Medical costs, including the costs of treating the malpractice injury
Income you could not earn as you recuperated
Lost employment, if you can no longer work at all
Physical and emotional pain and suffering
Loss of quality of life due to injury symptoms
Temporary or permanent physical or intellectual disability
Meeting the Statute of Limitations in Your Case
Before you sue a hospital for medical negligence, it is important to know whether your lawsuit is timely or if you missed the deadline to sue.
Per CPLR §214-A, you have 2.5 years in which to file a medical malpractice lawsuit in New York. There are, however, some exceptions. Discovering an object left in the body long after surgery, for example, can extend the deadline to sue.
If you take too long to file your lawsuit and exceed the deadline, the judge assigned to your case could dismiss it, leaving you with no way to recover compensation for your damages. The sooner our team is able to start on your case, the more time we have to go over your options and build the strongest possible case.
How Do I Pay for My Lawsuit?
When you hire a lawyer to sue a hospital, they will do the job under a contingency agreement. This means you don't have to pay them if you lose your case. This gives the lawyer additional incentive to do the best possible job on your behalf.
If you win your case, your lawyer will take a percentage of your final settlement as their fee. This could be done in a lump sum or in payments over time as part of a structured settlement.
Let Us Handle Your Medical Malpractice Case
If you were the victim of medical negligence in New York, Morelli Law Firm can help you sue a hospital for medical negligence. We make it easy to get started by offering free, no-obligation case reviews. To learn more about your potential settlement award and how to file, call our client intake team at Morelli Law Firm today or contact us online.