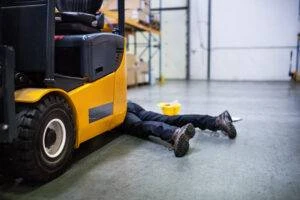 Anyone who has a forklift certification has taken courses on how dangerous a forklift can be at work. In a perfect world, workers would use these safely and bystanders would stay well clear of these heavy machines. Unfortunately, we don't live in a perfect world.
Forklift accidents happen all the time. Many times the injuries are so severe that a victim could be permanently disabled or get killed. You need to know your legal options after a forklift accident because you may be owed compensation. Our Philadelphia forklift accident lawyers at Morelli Law can help you get it.
The Risks of Forklift Accidents
Forklifts lift heavy loads on pallets on and off shelves and through the corridors of warehouses. Even a small forklift can carry a 3,000 pound load. Some can lift over 150,000! It doesn't take much imagination to see that colliding with a loaded forklift can easily crush someone.
A falling load can harm drivers and nearby workers, and a too-tight turn can make a forklift roll over and trap the driver. Rollover accidents are a major cause of forklift fatalities. Don't let their small size fool you. They're just as dangerous as a commercial truck.
If you've been the victim of a forklift accident, chances are you're facing severe injuries. You may get compensation through workers' comp, but getting the full value of your claim may require the help of a forklift accident attorney.
Can I Sue My Employer for my Forklift Accident?
It's tempting to consider suing your employer if you've been injured in a forklift accident, but workers are usually prohibited from suing their employers. Instead, the workers' compensation system pays for damages caused by workplace accidents.
Workers' comp lets you get compensation without having to prove fault. You can often get compensation much faster this way than through a lawsuit. However, workers' compensation only covers part of your damages. You can't recover all of your lost wages or any pain and suffering.
The exception to suing your employer is if they engaged in intentional negligent conduct. For example, if there is a clear record of negligence on the maintenance of a forklift and a refusal by your employer to repair it despite the dangers, you can sue them.
Where Does a Lawyer Come In?
Workers' compensation may not require a lawyer's help, though it can be vital if your claim is denied or you want to ensure your claim documents are strong. Where a forklift accident attorney in Philadelphia can really help is if you need to file a third-party lawsuit.
While you usually can't sue your employer, you can sue a third-party lawsuit. You can recover all the damages that workers' compensation doesn't cover, but you have to prove that the third party's negligence caused your injury.
A premises liability case is one example where a third party could be sued. The owner of the building your employer uses may have been negligent about maintenance and created a hazard for forklifts. Another example is if the manufacturer of the forklift or one of its parts had a defect.
Suing When You're Not a Worker
Not all forklift accidents happen to a worker on the clock. Sometimes bystanders get tangled up in forklift accidents. If this is your situation, then a forklift accident attorney in Philadelphia can help you file a personal injury lawsuit.
Since your accident happened outside of the domain of workers' compensation, you have full rights to sue the driver and their employer for all eligible damages. Philadelphia has no limits on damage caps, so your maximum compensation is limited only by the evidence and the policy amounts of the insurance.
To make a strong case, you need the help of an accident attorney. The insurers may try to argue that you had responsibility for the accident. If they can persuade the judge and jury, your compensation could get reduced by the percentage of fault you shared in the accident. If it is 50% or more, you could lose all rights to compensation.
How Soon Must I Start My Case?
There are deadlines for starting both workers' compensation and lawsuits before the state bars you from seeking compensation. If you were hurt on the job, you must report it as soon as possible to your employer. There is a maximum deadline of 120 days from when you knew your injury was work-related.
After that, you have three years to file your claim for workers' compensation benefits, though most people file far sooner than this deadline because they need the money for care. If you're using it, a different deadline applies.
The statute of limitations for personal injury cases in Philadelphia is two years from the date of the injury. If you delay starting your lawsuit until after that, you cannot receive compensation through the court. Starting early is vital to give your lawyer enough time to build a strong case and start your lawsuit before the deadline.
How Much Do You Charge?
Our forklift accident attorneys in Philadelphia all work on a contingency basis. This means that you only have to pay when you get compensation for your lawsuit or workers' compensation claim. If you are denied compensation, you will owe us nothing.
The amount we charge depends on the complexity of the case and the legal help you need, but it is often based on a percentage of the final settlement amount. When you speak with us during your consultation, we will explain the compensation rates for our services.
Morelli Law has helped our clients get billions of dollars for personal injury lawsuits over our years of service to the community. Any forklift accident lawyer in Philadelphia worth your time will explain how their help would get you more money than you could on your own. We encourage you to ask us how we'll do that for your forklift accident claim.
Contact Morelli Law for a Free Consultation
If you were injured in a forklift accident in Philadelphia, the team to call is Morelli Law. We have forklift accident lawyers in Philadelphia ready to listen to your story and help you get compensation. To get justice after your accident, call us at the number on your screen to schedule your free consultation, or email us through our website.