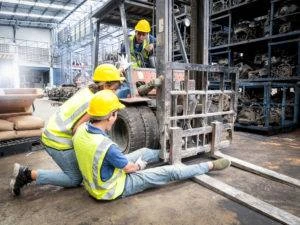 Forklifts are used in a variety of settings, such as construction sites, warehouses, big-box retailers, building sites, and even airports. Despite being a necessary piece of equipment, they can result in significant injury if not used carefully.
People can get hurt when drivers are improperly taught or safety rules are disregarded, and frequently the injury victim is not at fault. The firms involved in a forklift accident will have teams of attorneys to defend their interests, but who is looking out for yours?
If you have been hurt, you should seek legal counsel. Morelli Law Firm's Long Island forklift accident attorneys will strive to get you the most compensation for your losses. Over the years, we have recovered more than $1 billion for our clients, and our firm could be able to assist you.
Causes of Forklift Accidents
The party responsible for the forklift is obligated to ensure that it is operated as safely as possible. This means that the drivers must be properly trained, safety measures and equipment must be in place, and the forklift itself should be maintained and mechanically sound.
People can be severely injured or killed when these things don't happen. In many instances, these accidents should never have happened. Common forklift accidents include:
Forklift driving or falling off a ramp or loading dock

Getting hit by trains or trucks during the loading process

It has a run-in with some other structure or piece of machinery

Forklift load falls and hurts a coworker

Driver is thrown from the cab after the forklift turns over

Damaged mast, carriage, lifting chain, overhead guard, or crosshead

Forklift tipping forward when overloaded

Duckboards that are loose or damaged in a shipping yard

Insufficient forklift clearance; overhead guard is crushed
A forklift accident attorney in Long Island, NY, can thoroughly investigate safety failures or other acts of negligence to build your case against the responsible parties.
Injuries We Claim in Forklift Accidents
Forklift mishaps can have fatal or extremely serious consequences for workers. If a worker survives, their movement may be severely limited, and brain trauma could also damage their cognitive function. The injuries we commonly claim in forklift accident cases are:
Crush Injuries
When a worker is pinned under a large object or stuck between two objects, they can sustain crush injuries. It is not uncommon for multiple bones to be shattered and other tissues to be damaged as a result of these accidents. As a result, treating a crush injury can be extremely difficult and often requires the help of specialists, orthopedic surgeons, and physical therapists.
Amputations
Amputations happen when a worker's limbs are cut by a forklift's moving parts or become stuck in machinery. It may have an impact on your capacity to walk, work, interact with people, and preserve your independence. Recovery may be hampered by persistent pain, phantom limb occurrences, and emotional stress.
Traumatic Brain Injury
TBI is brought on by a hit to the head from either a forklift accident or being thrown from the vehicle. A mild traumatic brain injury could cause short-term changes in brain cells.
A more severe traumatic brain injury may leave the brain with physical harm such as bleeding, bruising, damaged tissues, and other injuries. The aftereffects of such wounds can be devastating, even fatal.
The costs to treat the injuries in the long term can be overwhelming, and insurance may not cover all of your losses. It is necessary to fight for the maximum compensation available, and you may need to take swift legal action.
A forklift accident lawyer in Long Island, NY, can begin building your case and protect your interests with insurers immediately to preserve your claim.
Who Can Be Liable for My Injuries and Damages After a Forklift Accident?
After a forklift accident leaves you hurt, figuring out who is responsible can be a challenge. Many times, more than one person could be held responsible for what happened. The company that owns the forklift, the forklift manufacturer, subcontractors, and any other parties may fall into this category.
Everyone involved in the operation of heavy machinery must take all required safety steps to prevent such incidents from happening in the first place because these kinds of injuries can have a long-term negative impact on the affected people's bodily and mental health.
A Long Island forklift accident attorney can investigate all aspects of the accident and identify all of the responsible parties to improve your chances of collecting the maximum compensatory damages possible.
Compensation in a Long Island Forklift Accident
Once we have established liability, we can then move forward with seeking compensation from those responsible for your injuries. A personal injury lawyer will conduct a thorough calculation of all of your losses to ensure that you do not risk accepting an undervalued settlement.
Damages in a forklift accident case can include:
Medical Costs
This can cover the price of receiving medical care, paying hospital bills, purchasing prescription drugs, paying for rehabilitation, and any other costs that may arise in the future due to the injury.
Lost Wages
You are entitled to compensation for the wages you lost while recovering if your accident stopped you from working. Loss of future earnings are also included.
Pain and Suffering
These damages are designed to compensate you for the physical and psychological pain brought on by the incident and injury. In general, the more severe the injuries, the greater the pain and suffering award will be.
Property Damage
You are entitled to compensation for the repair or replacement of any personal property that was harmed in the collision.
Loss of Earning Capacity
You may be entitled to compensation for the reduction in your earning capacity if the accident makes it permanently difficult for you to support yourself.
Loss of Consortium
This refers to the loss of affection, and support that your spouse or other close family member has to endure as a result of your injury.
Punitive Damages
These damages are only granted in exceptional circumstances when the defendant's actions were extremely severe and are intended to punish the defendant and deter future instances of the same behavior.
A forklift accident attorney in Long Island may work with professionals in the fields of medicine, economics, and healthcare planners to calculate the comprehensive value of your claim. This will help to ensure that you can collect the maximum damages possible.
Count on Experience
Morelli Law Firm's legal team have represented clients in matters that made national news. We have filed lawsuits and prevailed in court against Fortune 500 organizations, global enterprises, and countless insurance providers.
While negotiating compensation is typically the first course of action, we always prepare each case as though it will go to trial. If the financial needs of our clients are not met through negotiating, we will take the matter to court.
While many legal teams would rather avoid trial and settle for less, we will not back down and will battle in court to secure justice on your behalf.
Learn More By Contacting a Long Island Forklift Accident Law Firm Today
To learn more about your legal rights and options if you have been harmed in an accident, it is crucial to get in touch with a personal injury law firm on Long Island. A personal injury attorney can provide you with guidance on how to handle your case and assist you in understanding your rights.
For a free case evaluation, get in touch with Morelli Law Firm today. We are devoted to serving our client's needs and assisting them in securing the highest compensation possible. Learn how you can fight back to obtain the compensation you require by getting started today.