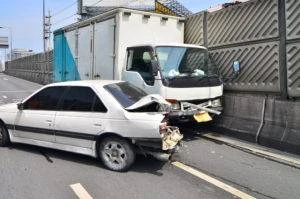 After a truck accident in New York, accident victims generally have up to three years from the date of the crash to file a lawsuit for compensation. If you are filing a no-fault claim with your own insurance company, you only have 30 days from the date of the accident to take this action.
It is important to note that, under special circumstances, the timeline for filing a lawsuit can be dramatically reduced. For instance, if you are filing a lawsuit against a municipality, you must also file a Notice of Claim within 90 days of the date of the accident.
The Statute of Limitations for Filing a Truck Accident Claim in New York
The statute of limitations in place for personal injury lawsuits in New York exists to make things fair for all parties involved. While other laws give accident victims the right to seek compensation for their injuries, the statute of limitations ensures that those at fault aren't unexpectedly facing a lawsuit several years after an accident.
With the statute of limitations for personal injury lawsuits set at three years, both sides can be prepared to gather evidence, and fight their case. The passage of time can lead to physical evidence and witness testimony no longer being reliable or readily available.
Have You Been Injured In An Accident? Contact Morelli Law
877-751-9800
New York Is a No-Fault State
New York is one of a handful of states that operates on a no-fault system when it comes to car accidents. Under no-fault laws, drivers must first file a claim with their own insurance company before they can attempt to recover compensation from the other party. All drivers in the state are required to carry personal injury protection (PIP) insurance.
The purpose of these no-fault laws is to avoid clogging up the court system with personal injury lawsuits. It operates in much the same way that workers' compensation insurance keeps employees from filing endless lawsuits against employers for workplace injuries.
However, coverage from PIP insurance is not always enough to cover all the damages that an accident victim sustained. This is especially true in accidents involving commercial trucks. When a large truck collides with a passenger car, the damage is often severe due to the disproportionate size and weight of the two vehicles.
PIP insurance in the state of New York can be as low as $50,000 in coverage. Meanwhile, expenses for those who have suffered a serious injury in a crash can easily reach the high six figures and often break the million-dollar mark.
Should You Hire an Attorney for Your Truck Accident Claim?
Anytime you are dealing with a truck accident, it is critical that you hire an experienced truck accident attorney. A truck accident lawyer can help even if you are simply dealing with filing a claim with your own insurance company. No insurance agency likes to pay out claims. They will likely look for any reason they can find to deny or undervalue your case.
When involved in a lawsuit against a big trucking company, having qualified legal representation is even more important. An experienced truck accident lawyer knows all the tricks that the trucking company will attempt to avoid liability. They also know what measures to take to counter these tactics.
In addition to having the expertise needed to properly fight your case, a truck accident attorney can ensure that you do not miss the filing deadlines. There is no way to win the compensation you need to recover from your injuries if you don't even get the chance to file a claim.
The Lawyers at the Morelli Law Firm Can Help You Build a Strong Case
Contact the Morelli Law Firm to schedule a free case review with one of our New York truck accident attorneys today. We will look over your case and advise you of your legal options. Should you choose to retain our services, we will make sure your claim is filed on time and