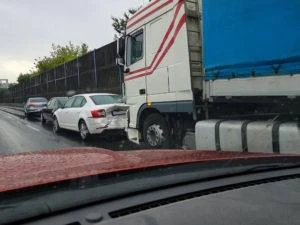 If you have been involved in a rear-end collision with a large truck in New York, you are likely curious about your options for recovering compensation. Truck accidents often result in serious and sometimes deadly consequences for those in the other vehicles involved.
Those involved in accidents with these oversized vehicles should be aware of their options for seeking fair compensation. There are several parties that may be liable for a truck accident. An experienced truck accident attorney can help you identify these parties and recover the money you need to get your life back on track after an accident.
New York Is a No-Fault Accident State
The first thing to take into consideration when seeking compensation is that when it comes to motor vehicle accidents, New York is a no-fault state. That means that drivers are first expected to file a claim with their own insurance before they can attempt to collect any money from other parties involved in the accident.
Personal Injury Protection (PIP) Insurance
New York drivers are required to carry personal injury protection (PIP) insurance. This insurance covers you for injuries and damage you may suffer in an accident. PIP insurance may also pay for lost wages and some non-economic damages. Recovering compensation through your PIP insurance will be the first step you take after a rear-end truck collision.
Unfortunately, because of the high level of damage often caused by truck accidents, the amount of PIP coverage that people carry is often not enough to cover the damage done. The minimum requirement for PIP insurance in New York is only $50,000. Meanwhile, the damages for accidents involving large trucks routinely reach the high six-digits and not uncommonly break the million-dollar mark.
In situations where accident victims suffer serious bodily injury, and the damage exceeds what is covered by their own insurance, they have the option of filing a lawsuit against the at-fault driver.
Potentially Liable Parties After a Rear-End Truck Collision in New York
There are many potentially liable parties in rear-end truck accidents. Depending on the specifics of the situation, responsible parties may include:
The truck driver
The trucking company
The truck manufacturer
A trucking parts manufacturer
The company that services the truck
A third party driver whose actions led to the truck colliding with your vehicle
Sorting out liability in these cases can be quite difficult, and potentially liable parties will often attempt to shift the blame upon one another.
Our Attorneys Can Investigate the Accident to Help You Prove Fault
One of the first things your attorney will do once hired is to begin an independent investigation into your accident. The primary focus of this inquiry will be to identify all liable parties. Beyond that, your attorney will continue to investigate to prove the responsible party's liability and get your case prepared for court.
Meanwhile, they will be in constant negotiation with the legal counsel of the opposition, attempting to reach a deal for a fair settlement.
The Statute of Limitations on Truck Accident Claims in New York
It is important to keep in mind that the statute of limitations for a truck accident lawsuit in New York is generally three years. However, depending on the specifics of your situation, that time frame can be greatly reduced. It doesn't matter who is responsible for the accident if you miss your deadline to file. You'll lose your right to recover compensation altogether.
Hiring an experienced truck accident lawyer right from the start can help ensure that you don't miss any deadlines and retain your right to compensation. Even if you have the full three years, it is always best to get started as soon as possible.
Delays can lead to evidence degrading or becoming lost. Additionally, witness testimony is less reliable the further removed from the time of the accident.
Hiring a New York Truck Accident Attorney
When considering filing a lawsuit after a truck accident, it is always best to contact a personal injury law firm as soon as possible. At the Morelli Law Firm, we offer free, no-obligation consultations. We can review your case and advise you about whether or not filing a lawsuit is the correct course of action for your situation.
Should you choose to retain our services, we will quickly get to work determining liability and building your case. We will do everything in our power to ensure you get the compensation that you need to get your life back on track. Give us a call or fill out our online contact form to get the process started today.