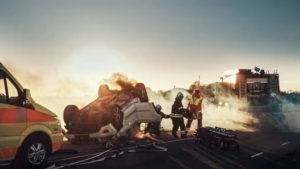 The 5 most common types of crashes generally occur because a careless or reckless driver violated a traffic law and collided with another vehicle. The severity of these accidents can range widely, from minor accidents with no injuries to serious or even fatal accidents.
The most common types of traffic accidents include:
Rear-End Accidents
Rear-end accidents are one of the most frequent types of motor vehicle accidents. Many rear-end accidents are fender benders, which may cause property damage and minor injuries.
However, this is not true of all rear-end accidents. People may also sustain traumatic brain injuries (TBIs), neck and spinal cord injuries, broken bones, and other severe injuries in rear-end accidents, especially when they involve high speeds or large commercial vehicles.
Head-On Accidents
Head-on accidents can be frightening and downright traumatic for people involved in these collisions. Because of the nature of these crashes, the force impact can be intense for occupants to endure. These collisions can lead to catastrophic injuries, including lifelong impairments, spinal cord injuries, TBIs, disfigurement, loss of limbs, and paralysis. These collisions can also lead to death.
Head-on collisions may occur as a result of:
One motorist crossing over the centerline of the highway
One motorist going the wrong way on a one-way street
A motorist going the wrong way on an entrance or exit ramp
A motorist crossing over the highway median
Improper passing on a two-lane road
Side-Impact Accidents
Side-impact collisions are sometimes known as broadside crashes or T-bone accidents. They usually occur in intersections when a driver fails to yield the right of way or fails to obey a stop sign or another traffic signal.
Side-impact crashes can be dangerous due to one vehicle crashing into the side of the other vehicle, which can severely impact either a driver or their passengers. The side of the vehicle may not have as many safety features as the front or rear end of the vehicle, such as crumple zones or airbags.
Rollover Accidents
Rollover accidents can occur for many reasons, but vehicles generally have four primary methods of tipping:
Another vehicle hit them and caused them to flip over
The driver ran off the road, and their tires got caught in the soft shoulder, causing them to flip
The driver collided with something on the side of the road, often a guardrail, and they flipped over
The driver took a turn or evasive action at high speed, and the vehicle tipped over
In any of these cases, the accident might occur as the result of another motorist's negligence, and the occupants of both vehicles may sustain injuries.
Parking Lot Accidents
Parking lot accidents tend to be low-speed collisions, and many of them involve parked vehicles. However, this does not mean all parking lot accidents only involve property damage as a loss. People may suffer significant injuries and even pass away as a result of parking lot crashes. In particular, vehicle versus pedestrian accidents can cause severe injuries.
Building a Car Accident Case in New York
Any of the 5 most common types of crashes can lead to serious injuries. If you were injured in any of these types of accidents, you may step outside the New York no-fault auto insurance laws and pursue a claim based on the at-fault driver's negligence.
According to the New York Department of Financial Services (DFS), you may qualify if:
You suffered certain serious, permanent injuries
You exhausted your no-fault coverage, which may provide up to $50,000 in benefits
You need to miss more than 90 days of work or other everyday activities over the first six months after your accident because of your injuries
Your loved one died in the accident
You can speak with a law firm representative to see if you can take legal action against the driver who caused your crash. They can evaluate your injuries and accident case, then discuss your legal options. If you can file a liability car insurance claim, you may be able to recover compensation for damages, such as:
Medical treatment and expenses
Lost wages and related benefits
Diminished earning capacity
Property damages
Pain and suffering
Wrongful death damages for survivors of accident victims who passed away
If the insurer refuses to compensate you fairly and you need to file a civil lawsuit in your case, you generally have three years from the accident date to do so, according to the New York Civil Practice Law & Rules (CVP) § 214.
Speak to a Member of Our Legal Team for Free Today
You can discuss your car accident with a team member from Morelli Law Firm today at no cost to you. We can evaluate your options and explain how we can help. We represent accident victims in New York City and Long Island, in addition to surrounding New York areas up to Albany, northern New Jersey, and Philadelphia.
You can reach our office now by calling (212) 751-9800. We can go to work for you today if you qualify.