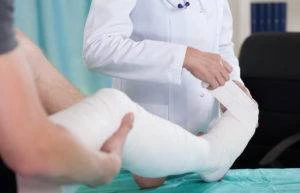 Car crashes in New York can be devastating, leaving you with medical bills that are more expensive than you could ever anticipate. If someone else was responsible for your accident, you should be able to hold them accountable. However, in New York, suing someone else for your crash isn't so simple.
Read more about what counts as a serious injury in New York so you know what your options are after an accident. If you have more questions about your specific situation or think you need to file a personal injury claim, get a free consultation with a New York car accident attorney from Simmrin Law.
New York Is a No-Fault State
New York is a no-fault insurance state, which means drivers are required to carry certain insurance coverage. Because of that, in many car accidents, a driver is responsible for paying their own damages, no matter who was at fault. In those cases, you cannot sue the other driver for your car accident even if their negligence caused it.
That's the case for many car accidents, but not all. There is a legal way to sue another driver for your damages, but only in certain circumstances. To have a legitimate personal injury claim for a car crash, you have to meet the criteria for a serious injury. If you don't, then your own insurance will have to cover your hospital bills, even if you were the victim.
There are some exceptions to this rule. If your damages total more than $50,000, then you can apply for additional no-fault benefits through your insurance provider. You only have 30 days after your accident to apply for these benefits–it's wise to do so as soon as possible.
Motorcyclists are another exception to the no-fault rule. It is legal for motorcyclists to sue someone else for their accident, no matter how much their damages were.
What Is Considered a Serious Injury in New York?
When you hear the term "serious injury," it's easy to think that you'd know one when you saw one. That's not always the case, though–New York State has very strict rules for what is and is not a serious injury. If your injury is not considered serious, then your insurance must pay for your medical damages.
In order to be eligible for a personal injury lawsuit, the following must be true:
The other driver owed you a standard of care. This is the basic level of care that anyone on the road can be reasonably expected to show to others.
The other driver breached that duty. This is known as negligence.
The other driver's negligence caused you injury.
The injuries caused by the other driver's negligence are serious.
To have a legitimate personal injury claim, in states without no-fault rules, you have to show that the other driver was negligent and that their negligence caused your accident. In New York, there is the extra step of proving that your injury passes the serious injury threshold. A skilled car accident lawyer in New York will be able to help you do so.
New York's Serious Injury Threshold
There are multiple types of injury that can count as serious in New York State. According to New York State Insurance Law §5102(d), the following injuries pass the serious injury threshold:
Death
Dismemberment
Significant disfigurement
Fracture
Loss of a fetus;
Permanent loss of use of a body organ, member, function, or system
Permanent consequential limitation of use of a body organ or member
The significant limitation of use of a body function or system
Any non-permanent injury that keeps you from performing your daily tasks for longer than 90 days
Some of these are fairly straightforward, but in some cases, it can be hard to show that you deserve to pursue compensation from the other party in your car accident. By gathering evidence and calculating your damages, a personal injury attorney could be able to prove that your injuries are serious.
What Is Significant Disfigurement?
One of the more confusing criteria of the serious injury threshold is significant disfigurement. That threshold may feel subjective. Who decides what counts as disfigurement and whether it's significant?
In general, courts consider an injury as significantly disfiguring if a reasonable person would see it as "unattractive, objectionable, or the subject of pity or scorn." That still sounds subjective, and it is. Significant disfigurement is usually decided on a case-by-case basis.
That being said, a skilled lawyer will be able to argue that your injury counts as significant disfigurement in order to get you more compensation. By showing evidence such as medical documents and professional testimony, your legal representation may be able to help you hold the other party accountable for your injuries.
If you're not sure whether you can pursue a lawsuit for your car accident, you can always get a free consultation with a personal injury lawyer in New York. Our team will review your case with you and tell you what we can do to help you move forward with your life after your crash.
Talk to a New York Car Accident Attorney for Free
After a car accident, you may feel lost, not knowing where to turn or what can be done to set things right. You deserve to have someone by your side who knows the nuances of New York law and cares about helping you recover. The New York car accident lawyers at Morelli Law Firm have extensive experience and want to make sure you have enough money to support yourself after your accident.
Call us or contact us online to get a FREE consultation with a personal injury attorney in your area. Don't just take what the insurance company gives you–you could be eligible for even more.