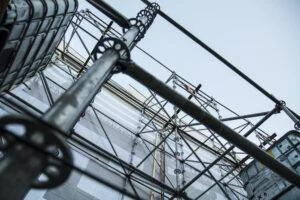 Any fall above 30 feet is almost certainly a fatal accident, yet workers in the building trades have to climb tall scaffolds and other lifts to fix and build the structures we use every day. New York has powerful protections for workers in scaffold accidents, and we can help you get compensation if you get hurt in a scaffold fall, or if you've lost a loved one to one.
Morelli Law's scaffolding accident lawyers in Yonkers, NY, can help you make a workers' compensation claim, sue under Labor Law 240, or pursue a wrongful death claim. Learn your legal options by contacting us for a free consultation.
Your Worker's Comp Responsibilities After a Scaffold Accident
If you've been injured in a scaffold accident and wish to claim workers' compensation, there are some tasks you need to do in order to claim it. There are four primary tasks you must do:
Seek medical treatment immediately

. If it is not an emergency, you need to see someone authorized by the Workers' Compensation Board. Your employer should have the names of approved local doctors posted on their labor poster. Tell the doctor you were injured in a workplace accident and give them the name of the employer. That way, you won't have to pay for the visit.

Tell your employer that you've been injured

within 30 days of the accident. If you don't do this, you can lose your right to workers' compensation.

File an Employee Claim (Form C-3) with the Board

as soon as possible. You have a maximum deadline of two years, but you should file much sooner than that. A scaffolding injury lawyer can help you with this form to maximize your claim. You may also have to file additional forms if you've hurt the same body part before.

Return to work if you can.

Ask your employer for another form of work if you cannot do your old job. You can also talk with a social worker at the workers' compensation board about vocational training to switch to a new career.
Can I Claim Workers' Compensation on My Deceased Loved One's Behalf?
If your loved one died while at work, you may be able to get survivor benefits through the workers' comp system. Unlike a wrongful death claim, which can only be filed by the personal representative of the deceased estate, the following people can make a claim under workers' comp:
Surviving spouses and dependent children

Dependent grandchildren

Dependent parents and grandparents

Dependent siblings

Non-dependent parents, or the estate of the deceased
There are several forms you'll need to complete to claim survivor benefits. These forms can be found on the death claims page of New York's worker's compensation board website.
There may be situations where you can also file a wrongful death lawsuit against a third party involved in your loved one's death. Speak with a scaffold accident lawyer in Yonkers, NY, to see if this may be an option.
Can I Sue Under Labor Law 240?
Labor Law 240, also known as New York's "scaffold law" requires owners and contractors to provide proper equipment and training to people at risk of fall accidents. Equipment like scaffolds, hoists, ladders, and other elevation devices must be constructed, placed, and operated to give workers protections.
This law is a route to sue owners and contractors who fail to comply for substantial compensation. The courts have ruled that owners and contractors have absolute liability if they break this law. This makes winning cases involving scaffolding accidents much easier.
If you've claimed workers' compensation, you will need to find a third party to sue under this law to get additional compensation. Alternatively, it may be possible to bypass workers' comp and sue under this law instead. Your scaffold accident attorney can guide you on what is the best route to get you the compensation you deserve.
How Long Do I Have to File My Claim or Lawsuit?
If you are filing under workers' compensation, you must report your accident to your employer within 30 days or lose your right to compensation through that system. After that, you have two years from the accident to file the claim with the workers' compensation board.
If you wish to pursue a third-party lawsuit, file your lawsuit within three years or the statute of limitations will deny your claim. The best way to avoid this is to work with a lawyer as soon as possible after your accident.
Starting early gives your lawyer more time to prepare your case. This could help you get more compensation and get it faster. There's no reason to delay contacting a scaffolding accident attorney in Yonkers, NY, once you've recovered enough to hold a conversation.
What Can I Get Compensated For?
It depends on which route you take to get compensation. Workers' compensation gives money to pay for medical care related to the injury and a portion of lost wages. There may also be disability and vocational rehabilitation benefits. Families making a death claim will also get funeral expenses and other damages.
If you sue, then you can also get compensation for the rest of your lost wages and non-economic damages like pain and suffering. The non-economic damages could be much higher than your economic damages, so it's worth investigating if you're eligible to file a lawsuit.
Also, if you sue and it goes to court, you may be eligible for punitive damages. If your employer or an owner acted with gross negligence, the court may fine the defendant and give the money to you. We can ask for these, but it's up to the court to decide if you should get them and how much they should be.
Morelli Law Is Ready to Help
If you've fallen from a scaffold and received serious injuries, you can't afford to make an error with your workers' compensation claim or with a lawsuit. You need an experienced lawyer that can maximize your compensation. Morelli Law is the firm to turn to for scaffolding injury representation.
To learn how we can help you, contact Morelli Law for a free case evaluation. All consultations are absolutely free and without obligation to use our services. Our firm uses contingency fees for scaffold accident cases, so you will owe us nothing for our help unless you win compensation. Call today and get help to pay for your medical bills.