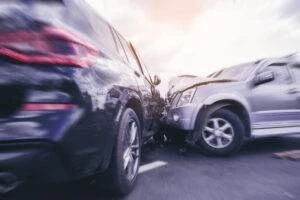 Did you know companies like Uber and Lyft must carry large insurance policies to cover their workers and passengers if they get into an accident? You may make a claim after your accident, but you need a rideshare accident lawyer in Belleville to ensure you get the full amount you're owed.
Our Belleville personal injury lawyers are ready to help you after your accident. No matter what rideshare company you were using, our team can assist you with an insurance claim or a lawsuit. We've helped many victims of rideshare accidents reach a fair settlement.
What's the Difference Between Rideshare Accidents and Car Accidents?
It's largely a matter of insurance. When you get in an accident with a rideshare driver who is on the clock, their rideshare company will have a policy to cover the accident. You may have three or more insurance policies to draw from.
This is good because it means there are more routes to compensation. The policy limits set a cap for how much you can get for your accident without going to trial. Uber and Lyft carry at least $1 million in liability coverage for accidents, which covers most situations.
However, the insurers will try to pass the blame to pay as little as possible. This can delay your case and make settlement offers confusing, but our Belleville rideshare accident lawyers are ready to help you work through the process.
Rideshare Insurance Policies
Uber, Lyft, and similar rideshare companies are required by law to carry insurance to cover damages in crashes. Amounts vary by state, but most states set a minimum of $1 million in coverage per accident. However, this limit only applies when a driver is transporting a passenger or on their way to get one.
If a driver is on the app and working but doesn't have a ride yet, the limits are much lower but often better than standard auto insurance. If the app is off, the policy does not apply and is treated like a normal car accident.
These third-party policies cover the excess that isn't covered by the at-fault driver's policy. A driver's personal policy may not cover rideshare accidents without specific rideshare insurance. We can sort through the legalese and determine which policies cover which of your damages.
Damages You Can Claim in a Rideshare Accident
The damages in a rideshare accident do not differ from any other auto accident. You can claim economic and non-economic damages as part of your compensation. Sometimes, you can also claim punitive damages from trial.
Economic damages are all the financial costs of your accident, including medical bills, lost wages, and property damage. They may also include projected future costs. For example, if you cannot work your old job because of your injuries, you can get compensated for lost potential income and investments.
Non-economic damages include pain and suffering, mental anguish, and other harms caused by the accident that aren't tied to your finances. The law recognizes that these harms deserve compensation. Our Belleville rideshare accident lawyers will work to understand how your injuries have affected you and use that information to negotiate the value of these.
How Negligence Is Proven in Rideshare Accident Claims
If you're a rideshare passenger, you're under the responsibility of your driver. It's rare for them to have a share of responsibility in an accident, so it's easy to prove that someone else's negligence harmed you rather than your actions.
If you're a driver, proving negligence happens like any other car accident. The police will review the situation and report about the crash and if any laws were broken. All sides will examine the evidence and argue the percentage of fault for all parties.
If you don't have a Bellville rideshare accident lawyer on your side, the insurance adjusters will try to lower how much they'll pay you. They may even pin the blame on you instead of the other party. People representing themselves in car accident cases have a harder time dealing with insurers.
What Happens if I am Partially at Fault?
You could still collect damages if you are partially at fault, but they will be lowered. Illinois uses a modified comparative fault standard for adjusting compensation. Each side is assigned a percentage of fault, and the court compares the two to decide damages.
You can collect compensation if you are less than 50% at fault. If you are 50% or over, you must pay the other party instead. It's rare for a case to be exactly 50% at fault for both sides. In that case, according to the law, each would be responsible for their own damages.
The court will lower your compensation amount by how much fault you carry. So if you got $100,000 in a court award and were deemed 25% at fault, you would only get $75,000. This adjustment is only enforced in trial awards. If you settle with an insurer, you get paid what you're agreed to, but the insurer will try to argue fault percentage as part of their negotiations.
The Statute of Limitations
A statute of limitations is a deadline for starting a lawsuit. After this deadline, the court will deny your claim. This is because evidence and memory can get lost or degrade over time. If too much time has passed, getting a fair trial can be impossible. It also prevents plaintiffs from holding a potential lawsuit over a defendant's head.
In Illinois, the statute of limitations for personal injury is two years. For property damage, it's five years. This deadline is why you should hire a Belleville rideshare accident attorney as soon as possible after your crash. It gives us time to investigate and negotiate before we're forced to sue.
Hire a Belleville Rideshare Accident Lawyer Now
Working out the insurance details of a rideshare accident is complicated, and you only get one shot at a settlement or trial. So make sure you go with the firm that has helped clients get over $1 billion in compensation. Go with Morelli Law and our team of rideshare accident lawyers.
To get started with a free consultation, call or email our offices. During your consultation, we'll explain your legal options, the strength of your case, and how we can help you. There is no obligation to use our services, so see how we can help you by calling now.